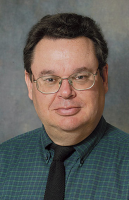 Mike Konz
Enterprise Editor
Bio

Mike, the Hub's enterprise editor, enjoys the many facets of journalism and the Kearney community. Mike writes the Hub Opinion and covers Kearney City Hall and the Buffalo County Board of Commissioners.
The company will be expanding its facility by an additional 70 megawatts of infrastructure, or about three times the original 20-megawatt power demand.
n Friday evening, many of those two- and four-legged friends flanked First Avenue near Neil's Hilltop Pet Clinic to say "thanks" for his caring touch.
It now becomes an individual decision to wear masks, but businesses and other public venues will have the authority to decide whether to require masks.
The $150,000 to $350,000 bridge project is on Tuesday's Kearney City Council agenda.
breaking
featured
top story
When everyone wears a mask and practices other personal prevention strategies — social distancing, frequent hand washing and wiping surfaces with sanitizer — it greatly increases the effectiveness of masks.
The Hoffs have continued the "come one, come all" tradition with their new cabin, which accommodates 33 lake lovers with an assortment of sleeping quarters, a pair of laundry rooms, three bathrooms and a large kitchen and dining area.
When it comes to cold, Jeremy Hurt knows his stuff, and he officially declared Tuesday as miserably cold.
COLUMBUS — In most cases, it's impossible to notify electrical customers that a rolling blackout is about to occur.
Normally, temperatures in mid-February are about 17 degrees, meaning today's temperature at dawn was almost 40 degrees below normal.
Bitter cold has extended across such a broad swath of the United States that suppliers are struggling to get enough natural gas where it's needed.
View all