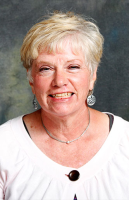 Mary Jane Skala
Lifestyles Reporter
Bio

Mary Jane Skala writes features and covers health issues. She also writes a weekly column about moving to this sometimes-quirky corn and cattle country after 40 years as a newspaper editor in Cleveland.
Dancing with the Stars, the Kearney Rotary clubs' fundraising event normally held in October, will return March 27 at the Younes Conference Center.
Normally David Cantral said it takes years for vaccines to be developed, but currently, COVID-19 vaccines are being fast-tracked. "Personally, I'd be surprised if this and one or more of the other three vaccines in Phase 3 trials aren't approved by the FDA by January," he said.
Candi Benge, married and the mother of five, started her garden business with her husband David in 2018.
With Saturday's 38 new cases, and Friday's 95, the total of new cases this weekend was 200, an all-time high.
Two Rivers Public Health Department reported 38 new cases of COVID-19 in its seven-county region Saturday.
For Doris Geist, DreamFit Boutique has been a labor of love, but due to her age and health issues, Oct. 31 will be her last day in business.
Kermit Wilke keeps about 50 old cars on their Wilcox farm, including a 2/3-scale Model T that he started building when he was about 24 and finished five years later. 
Health director for Two Rivers Public Health District, is urging Phelps County residents to hold no social gatherings unless absolutely necessary, and to limit such gatherings to 10 people or fewer.
Ninety-five new cases of COVID-19 were reported by Two Rivers Public Health Department in the seven-county region it serves for Friday.
Searching for a Kearney phone number a few days ago. I opened the telephone book, but it wasn't there. Silly me. Phone books are as out of dat…
View all