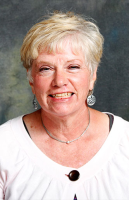 Mary Jane Skala
Lifestyles Reporter
Bio

Mary Jane Skala writes features and covers health issues. She also writes a weekly column about moving to this sometimes-quirky corn and cattle country after 40 years as a newspaper editor in Cleveland.
Church members paid off Prince of Peace's $7.2 million debt this spring.
Due to lack of demand, both Platte Valley Medical Group and Family Practice Associates in Kearney have stopped offering vaccines.
breaking
featured
top story
This morning Two Rivers reported 77 new cases in the past week (July 23-29), more than triple the 22 new cases last week.
Jane Kleeb called the plan "a starting point," adding, "where it leads over the next decade will be determined by the ideas and leadership of local communities."
As cases of COVID ("a preventable disease") creep up in Nebraska, Dr. Cary Ward, chief medical officer of CHI Health, is worried. Fewer than half of Nebraskans have been fully vaccinated, and that figure shrivels to 30% in some rural parts of the state.
Saturday, Clover Kids were invited to show something important and special to them in front of a crowd of their peers, family and friends.
COVID vaccinations rose 15.8% this week, with 624 doses given July 13-19 compared with 539 shots the week of July 6-12.
"To not get a vaccine is the same as being afraid of flying and driving. People are not upset about 600,000 COVID deaths, but they are afraid of a few vaccine deaths," said Hugo Gonzales.
The pantry, open 2-4:30 p.m. Mondays and Thursdays, is tucked inside a space on the church's lower level dubbed The Belly of the Whale. Most of the food is donated by church members. Others donate money toward the cause.
Plump pots of flowers spill over her deck railings. An old barn door, a fountain and a bench are nestled among daylilies. Behind the house sits a new garden shed, repurposed from old silos, where Hubbert happily makes bouquets to deliver to friends and strangers.
View all