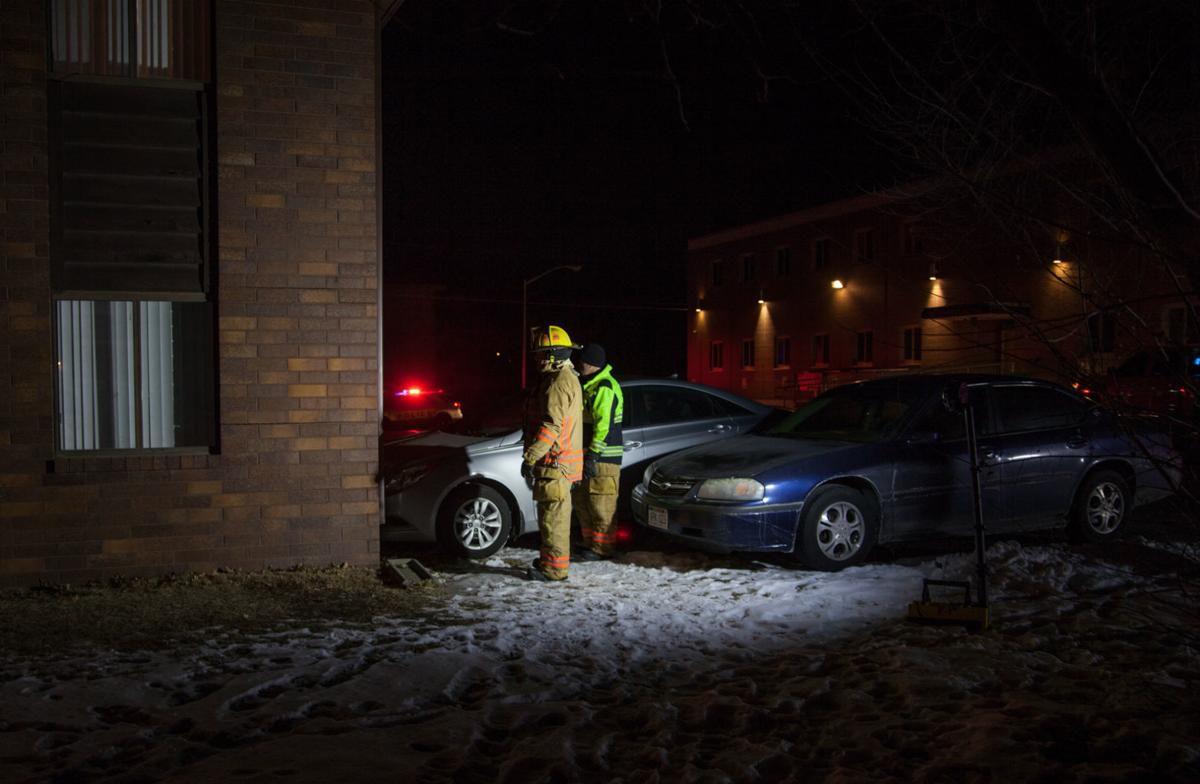 A federal judge has dismissed an excessive force lawsuit filed by a Beatrice man shot several times by a U.S. marshal in 2018 in a Lincoln apartment building parking lot.
Senior U.S. District Judge Joseph Bataillon said nothing supports Thomas Sailors' "bald allegation" in his lawsuit that he was asleep when Deputy Marshal Paul Keyes started firing 19 rounds at him.
"In fact, that contention is belied by the evidence in the video," the judge said.
Bataillon said the video shows that shortly after Keyes activated the lights of his car and bumped Sailor's SUV, Sailors revved the engine and reversed at a high speed, crashing into a Lincoln police cruiser.
The judge said the video clearly depicts Sailors appearing alert and driving in a way that endangered human life. He crashed into at least one other vehicle and demolished the wall of an apartment building as he drove away.
Former U.S. Marshal fired 19 times at Beatrice man in stolen vehicle, officer testifies
At the time, Sailors was wanted on a felony warrant, had a significant history of evading law enforcement, and was thought by law enforcement to be armed, the judge said.
"He actively attempted to evade arrest by crashing into a police cruiser with an officer next to it, crashed into another car and a building while fleeing, and led officers on a dangerous chase. He clearly posed an immediate threat to the safety of officers and the public," Bataillon said.
Under those circumstances, he said, it was objectively reasonable to believe that Sailors posed a danger to the officers and the public.
With that, the judge found that Keyes, who died of cancer a month after the incident, was entitled to qualified immunity and his estate is not liable to Sailors, according to the order filed Thursday.
The judge previously had dismissed from the suit two Lincoln police officers whom Sailors also had sued.
Sailors' attorney, Vince Powers, argued that reasonable people who saw the evidence, including dash cam footage, could reach different conclusions about when the shooting started and whether the officers were in imminent danger.
The incident happened at about 8 p.m. on Jan. 5, 2018, in a parking lot near 17th and Prospect streets, after Keyes spotted Sailors in a stolen 2007 GMC Yukon Denali and followed him there and, in an attempt to box him in, struck the SUV's front bumper with the front of his unmarked pickup.
The U.S. marshal started firing as Sailors backed up, forcing a Lincoln police officer to dive into his cruiser, his feet being dragged on the pavement.
Police said the officer suffered minor injuries.
Sailors drove away with shrapnel in his forehead and gunshot wounds to his left hand and left leg, with a bullet traveling through his right leg and lodging in his buttocks.
Sailors drove himself to a hospital and later filed the federal lawsuit alleging excessive force. In March 2019, he pleaded no contest to third-degree assault on an officer and operating a vehicle to avoid arrest and a month later was sentenced to five years in prison.
Prosecutors said Sailors had stolen a vehicle in Gage County and fled law enforcement in it, prompting U.S. marshals to be looking for him.
Be the first to know
Get local news delivered to your inbox!