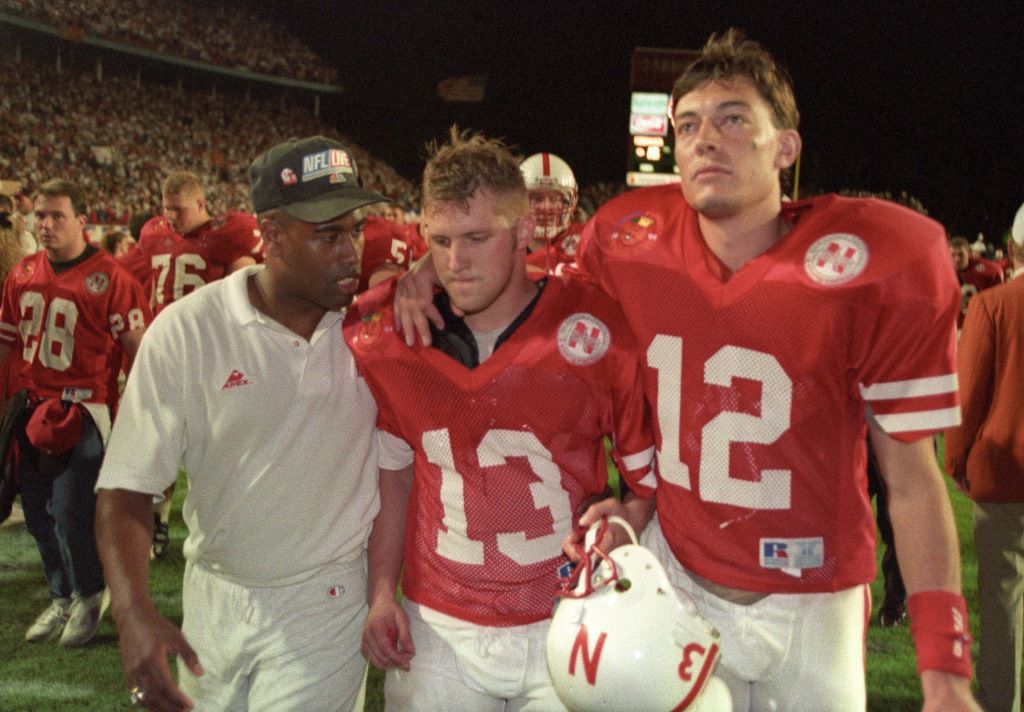 Which was the best Nebraska football team to not win a national championship?
World-Herald staff writer Sam McKewon first posed the question on Twitter with four options — 1982, 1983, 1993 or 1999. Then Tuesday afternoon Tom Osborne was asked about it during an in-studio appearance on "The Bottom Line."
"Probably '82 and '93 were the most complete teams that did not win a national championship," Osborne said.
The former Husker coach spent a lot of time reflecting on that 1993 team, which went undefeated in the regular season before falling to Florida State, 18-16, in the Orange Bowl. Osborne said there were at least 10 blown calls in that game that went against the Huskers, though he stopped short of blaming the loss on officials.
He said that team was the best Bobby Bowden had at Florida State.
"We gave a great effort," Osborne said. "I always felt bad for those players, because I felt they played good enough to win in most circumstances."
Osborne covered a lot of topics during Tuesday's interview. He offered his thoughts on legalized sports gambling, the use of instant replay, his biggest recruiting misses, how Scott Frost earned the respect of his teammates and a lot more. Watch video of the interview at the top of the page, or check out a transcript of select excerpts below.
On "CEO coaching styles":
"There are different styles of coaching. There are some coaches who are primarily CEO types that have an offensive coordinator, that have a defensive coordinator, that have a kicking game coordinator, and they do the interviews, and they do some of the recruiting and they do the P.R. stuff. But if you ask them, they really can't draw a play. You'd be amazed at how many coaches who are household words that really aren't technically involved.
"I was always more interested in being involved in the game, so I called the plays, I coordinated the offense and tried to do the other stuff too. There's different styles, but I didn't want to be at a disadvantage on Saturday afternoon when I didn't know what do do."
On players being more focused on the NFL:
"There was not the amount of money in professional sports (in Osborne's early coaching days). Today in recruiting you have an awful lot of young guys and their families who will start talking to you about the next level before they've ever played a down of college football. In those days that wasn't much of a discussion."
On Bob Devaney's first teams:
"When Bob Devaney came here he was amazed at the talent level. He'd been at Wyoming and been successful, but I think they felt they'd died and gone to heaven when they looked at that roster. They had no idea that there was as many good players as there were."
On the late Dave Humm and other recently deceased former Huskers:
"That was probably the most positive guy that I've ever dealt with given his circumstances. At the end he was in a wheel chair, and had some really difficult things, but he was always upbeat when you talked to him. A great guy. Somebody we certainly miss. ... We lost those guys, Dennis Clarridge, and we also lost Travis Hill recently. He was a great defensive end for us. It's been a tough two-month stretch."
"The overall quality of life (in Nebraska) is really about as good as any place in the country right now. There's speculation it would bring in maybe $100 million in sports gambling, and a 7 percent tax on that would be $7 million. But in the greater scheme of things, $7 million isn't a huge amount, and what's going to happen is you will see an increase in dysfunction, more problem gambling, and as the governor said, the social cost will outweigh the financial benefits.
"It gets to the point where people aren't there to watch a great football game. They're there to win a bet. My experience over the years I was a coach, most of the really negative, nasty stuff that I ran into usually was involved with a fan who'd lost a bet. And I had fans who'd come up and say 'You lost me $1,000' and it was because I put the second team in. ... It will definitely make life harder for the players and coaches."
On the two-point conversion against Miami in the 1984 Orange Bowl:
"It was just one of those things that didn't work out for us. I never heard a player say, 'Well I think you should've kicked the point.' There might've been some in the locker room that said differently, but I didn't think we ought to try and back into it. ... At that time there was no overtime, and you either had to win it or kick the point and settle for the tie."
On his most painful recruiting misses:
"There's a lot of them. Emmitt Smith was one. Emmitt indicated on the day of his signing day (he'd) put a Nebraska hat on, that whole charade they do, but he didn't come. We had a lot of guys that we missed on. Larry Station going to Iowa hurt. He was a great linebacker. You always particularly hated to lose guys from your state. I hated to see Scott Frost go to Stanford. That was a big blow. We recruited Scott really hard, but he eventually did come back and that was a great thing. He's come back twice now."
On Frost earning respect on the scout team:
"He went through a lot. He was a tough guy, and he really won the hearts and respect of the players because of the way he handled that. He was a guy that was a high-profile recruit, but he took his lumps and he held up really well."
On scheduling Colorado and other Big Eight rivals:
"I would like to see Big Eight teams on there, and so that's a good thing. We have Oklahoma scheduled home-and-home ... and that'll be sentimental, a good chance to reminisce and be a good football team. I hope maybe someday we get Kansas State back on there, Kansas, Missouri. But the problem is now in the Big Ten you're playing nine conference games, so you don't have a whole lot of breathing room in the other games."
Be the first to know
Get local news delivered to your inbox!