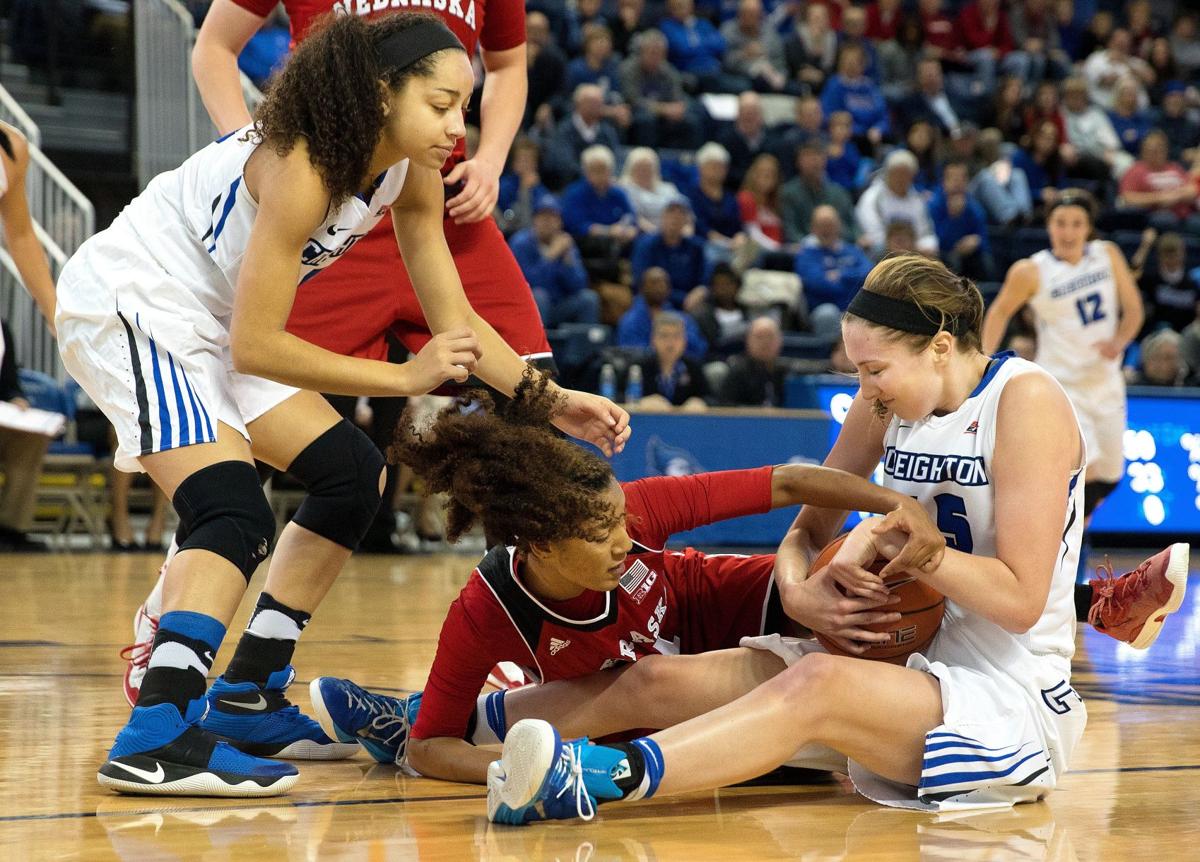 OMAHA — Creighton coach Jim Flanery asked Marissa Janning to shoot more, and what he received Sunday was the best game of the season from his senior guard.
Janning hit 7 of 11 from 3-point range as the Bluejays finished with 15 treys in rolling to an 80-64 win over Nebraska at Sokol Arena.
"She's too good of a shooter to pass up some of shots she's passed up," Flanery said. "I've pleaded with her to be more shot-ready. Hopefully today, hitting seven of them, now it's, 'Now I see what I can do when I do look at the basket every time.' We need her to score more."
Janning, who averaged 15.6 points per game in 2014-15 but missed last season with a leg injury, entered Sunday's game averaging 8.4 points. She hadn't hit more than two 3-pointers or scored more than 15 in a game this season before scoring a team-high 22 Sunday.
"I definitely felt more aggressive, more ready to shoot," said Janning, who also dished out nine assists. "It's weird because I haven't been really confident about my 3-point shot."
Janning hit three of her treys in the final seven minutes of the first half, when Creighton took control of the game.
The Jays (5-4) and Huskers (4-7) were tied 19-19 before Janning put CU up with a 3-pointer at the 6:55 mark. That started a 14-2 run over the next 4 1/2 minutes.
The run included a four-point play by freshman reserve Jaylyn Agnew. After stealing the ball in the frontcourt, Agnew drove in for a layup and was fouled by Jasmine Cincore. The foul was called intentional, and Agnew hit both free throws to make it 27-19. Those were her only points of the game.
"You look and see (Agnew) was 1 for 6 and you don't think she impacted the game, but I thought the turning point in the game was her making a couple of plays and then Audrey (Faber) making some shots," Flanery said.
Faber and Janning each hit two 3-pointers in the final 3:04 of the first half as the Bluejays stretched their lead to 44-28 by halftime. In its 30-point second quarter, Creighton went 9 of 14 from the field, including 5 of 8 from 3. The Jays also forced Nebraska into eight turnovers in the quarter.
"We had critical turnovers there in the second quarter," Nebraska coach Amy Williams said. "At halftime, I think they had 17 points off our turnovers. To me, that was the difference in the ballgame to that point."
Nebraska never got closer than 13 in the second half as Creighton continued to work the ball for open looks and knock down 3-pointers. The Jays hit three in the final 70 seconds of the third quarter to make it 68-42.
Through three quarters, Creighton was 14 of 30 from behind the arc. Both Williams and Husker sophomore Jessica Shepard said NU didn't communicate well enough to slow the more experienced Jays.
"We weren't talking on defense. When you play an in-state rival on their home court, you can't give them open shots like that," Shepard said. "We didn't communicate, and that killed us.
"Like coach said, on a couple of them, it was like they were playing H-O-R-S-E. They were wide open for shots."
Shepard led Nebraska with 22 points and 11 rebounds, but she struggled shooting most of the day. She missed eight of her first nine field goal attempts and was 4 of 18 through three quarters.
"We did a good job on Shepard, not great," Flanery said. "The first half I thought we did (better)."
No other Husker scored more than six. Besides Janning, three other Jays were in double figures — Faber had 16, Lincoln Southwest grad Lauren Works had 11 off the bench and Sydney Lamberty had 10 points and seven assists. The Jays finished with 24 assists on their 26 field goals.