Folsom Field in Boulder — and its fans — have a reputation among Husker loyalists.
We asked for the good, the bad and the ugly that have come from trips to Boulder for the Nebraska-Colorado rivalry game. And, like many things on the Internet, the bad outweighed the good.
But things are going well so far this visit, said Jeff Sheldon, a Nebraska Alumni Association spokesman. He said no one had complained to the group about their experiences in Colorado.
"The Nebraska-Colorado rivalry is a long one and a lot of people are excited to go up to Denver because of the proximity and the tradition," Sheldon said. "I think it's going to be a great time for our travelers."
The Week 2 matchup on Saturday will mark the Huskers' first trip to Boulder in a decade. Husker fans bought out the 3,000 tickets Colorado allotted and have been trying to gobble up more. Kickoff is at 2:30 p.m.
Husker fans have plenty of horror stories from years past. Some are their own and others have become lore, passed down from family, friends or mere acquaintances.
Dozens said that they have been hit by projectiles while in Boulder, including trays of hot nachos, batteries, snowballs, beer and balloons filled with urine.
Think twice before driving your car with Nebraska plates to the stadium, some travelers warned. A handful of fans said on Twitter that they've had tires slashed, windshield wipers snapped and windows broken.
But others say Buffs fans aren't as bad as ones you'll find in Wisconsin or Missouri. And they advised steering clear of inebriated fans and the student section.
Wendy Frenzel, a past president of the UNL alumni chapter Coloradans for Nebraska, said she's heard the horror stories. But all of her experiences have been positive.
"Somebody can have 10 great experiences, but they're only going to remember that one bad one because it sticks in their head," said Frenzel, a '95 UNL grad.
She has seen on TV that Colorado students have been removed from student sections and some fans were poor sports. She hopes this game is different.
"The old mother hen part is to treat people how you want to be treated," Frenzel said. "If somebody is starting to be a jerk, walk away. Don't feed the jerk. Hang out with other Huskers."
Everyone can agree on one thing: The view inside the stadium is beautiful.
James Mussman found his 15 minutes of fame during one of the rivalry games. He and his friends painted their faces and sported homemade kilts at the 2005 Nebraska-Colorado game in Boulder.
They went nuts when they spotted an end zone camera pointed in their direction at the end of the third quarter.
Mussman, who was born and raised in Lincoln, learned after the game that his attire and antics earned him screen time during the broadcast. Lucky for him, it was recording on the VCR at his Denver home. His appearance would later make it into an ESPN montage.
During the game, Mussman said, his group encountered a few fans who mocked them and another who screamed at them to go back to Nebraska — nothing major.
Mussman, 40, and his wife, Katherine Gregg, went to the game last year in Lincoln. This weekend, they'll be at the game in Boulder.
Erik Burkhart, 32, has been a Husker fan for as long as he can remember. The Lincoln resident tries to make it to at least one or two games a season.
In 2007 and 2009, he made the trip to Boulder with his parents. On both visits, they had no trouble with Colorado fans at Folsom Field.
But, knowing that fans might be "ruthless," they sported Husker gear under neutral-colored coats.
Oh, and to be safe, they parked their car a good distance from the stadium. It was left unscathed.
"Other than that, the city itself is beautiful," Burkhart said.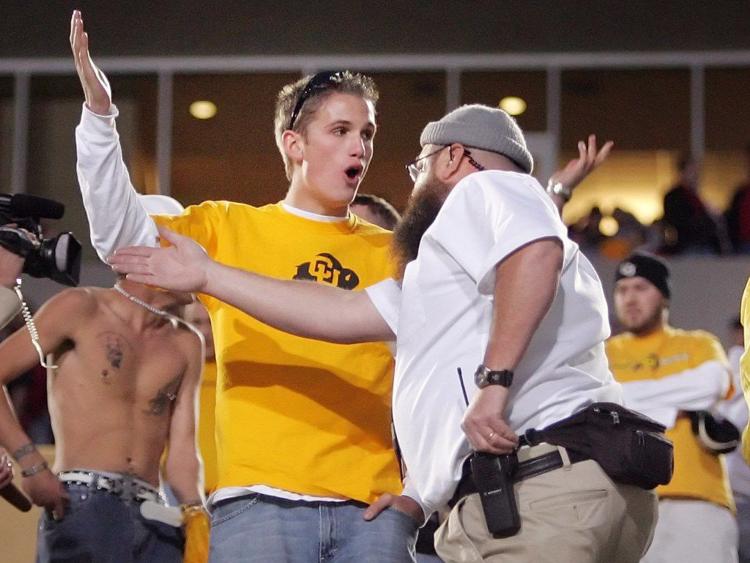 Greg Miller, 44, has been to the rivalry game in Boulder four times. Each time he had the same takeaway: The Buffs have a beautiful campus.
Growing up in the Nebraska Panhandle, he followed the rivalry in The World-Herald and on Denver radio stations.
The 1986 game was Miller's first Husker experience at 11 years old. He encountered cheerleaders flipping his group off, drunk students and profanity-laced signs and chants.
In 1997, he saw Scott Frost lead the Huskers to victory as quarterback. That year, students, who appeared to be under the influence, invaded the Husker section and were escorted out. The Colorado band played the Michigan fight song each time the Huskers scored. (The Wolverines were battling Nebraska for the No. 1 ranking at the time.)
This year, the Seward, Nebraska, resident is back in Boulder and hopes to "roll the dice" and find a ticket on game day. Online prices are too expensive, he said. In the stadium or not, "it's going to be fun to see another Big Red invasion in Boulder."
Dominic Schmit describes himself as a die-hard Husker fan. The 22-year-old has three CU-NU matchups under his belt. He didn't have run-ins with unruly Buffs fans while in Boulder.
Schmit, who lives in South Sioux City, Nebraska, said the fans are annoying and obnoxious, but didn't feel like much of a hassle. The city is nice to visit, but be prepared to take some flak from Colorado fans mocking Nebraska losses.
"I always manage to smile and walk away because obviously the Big Red is going to win," Schmit said.