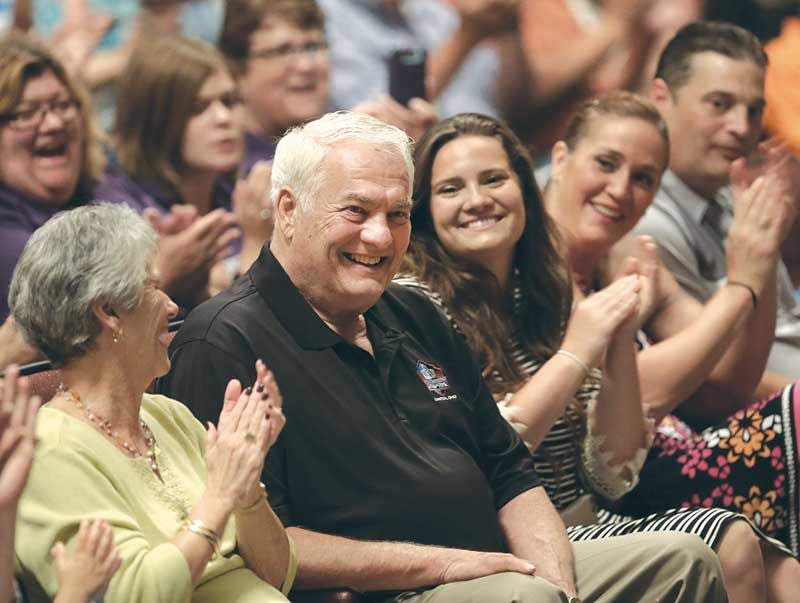 LEXINGTON — It's been 58 years since Mick Tingelhoff walked the halls of Lexington High School.
His accomplishments on the football field at Lexington lead to an opportunity to go to the University of Nebraska and play for the Cornhuskers. He was able to parlay that into a career with the Minnesota Vikings. His impressive resume at football's highest level, the National Football League is what led him back to Lexington Saturday night.
A crowd gathered in the auditorium of Lexington Middle School to recognize Tingelhoff's enshrinement into the NFL Hall of Fame, which will happen Aug. 8 in Canton, Ohio.
As part of the night, Tingelhoff was awarded the key to the city, as well as numerous prizes.
Tina Reil-Lux, the Director of Lexington's area Chamber of Commerce started off the ceremony by welcoming Mick and the dozens of Lexington graduates that came to support him.
"Lexington is a miraculous place and people leave an impression here. Mick has left his impression being humble and showed hard work. We're honored to celebrate him," she said.
Lexington Mayor John Fagot declared July 18th Mick Tingelhoff Day from here on out in Lexington and is making efforts to make that statewide.
"You may have moved away, but this is still home and we want you to know it's home," Fagot said.
Tingelhoff's great-nephew Tyler Tingelhoff, who played football and graduated from the University of Nebraska at Kearney this spring was at the ceremony and was thrilled to hear there is now a Mick Tingelhoff Day.
"I think that's awesome. It's well-deserved," the younger Tingelhoff said. "He deserves everything he's ever gotten through hard work. I'm happy for him. I really am."
Tingelhoff is battling some health issues and did not talk to the audience. The majority of the speaking was left for Steve Smith. Smith was the quarterback for the 1957 Lexington football team that featured Tingelhoff at center and went on to win the Class A state championship.
One story Smith talked about on the evening was how during their championship season, he joked that he thought quarterback sneaks were so successful that season was because of his running ability. He laughed that having a center that would go on to win the 1969 Offensive Lineman of the Year may have been the bigger reason.
"It was good to hear Steve Smith tell stories about Mick because some people might not know about Mick because he obviously played a long time ago," Tyler Tingelhoff said. "It's always good to hear those stories and see the support people showed for Mick,"
Tingelhoff took pictures and signed autographs for people in attendance afterwards.
"Today was all about the honoring of Mick Tingelhoff. This was a guy born in Nebraska, went to school in Nebraska and is now in the Hall of Fame. This is huge for the town and for the state," Lexington city councilman John Salem said. "You saw the University of Nebraska was here and it was really just unbelievable. To be honored like this to be in the Hall of Fame is just huge and big for Mick."
Tingelhoff isn't one to wear his emotions on his sleeve, but Salem said he thinks the ceremony left a lasting memory on Tingelhoff for years to come.
"I'm sure this was very special for him because he came home and you could tell he was very happy," Salem said. "Everyone gave him a standing ovation at the end and he said that was enough because he's just that humble man. He loves his home and that's why he came back."