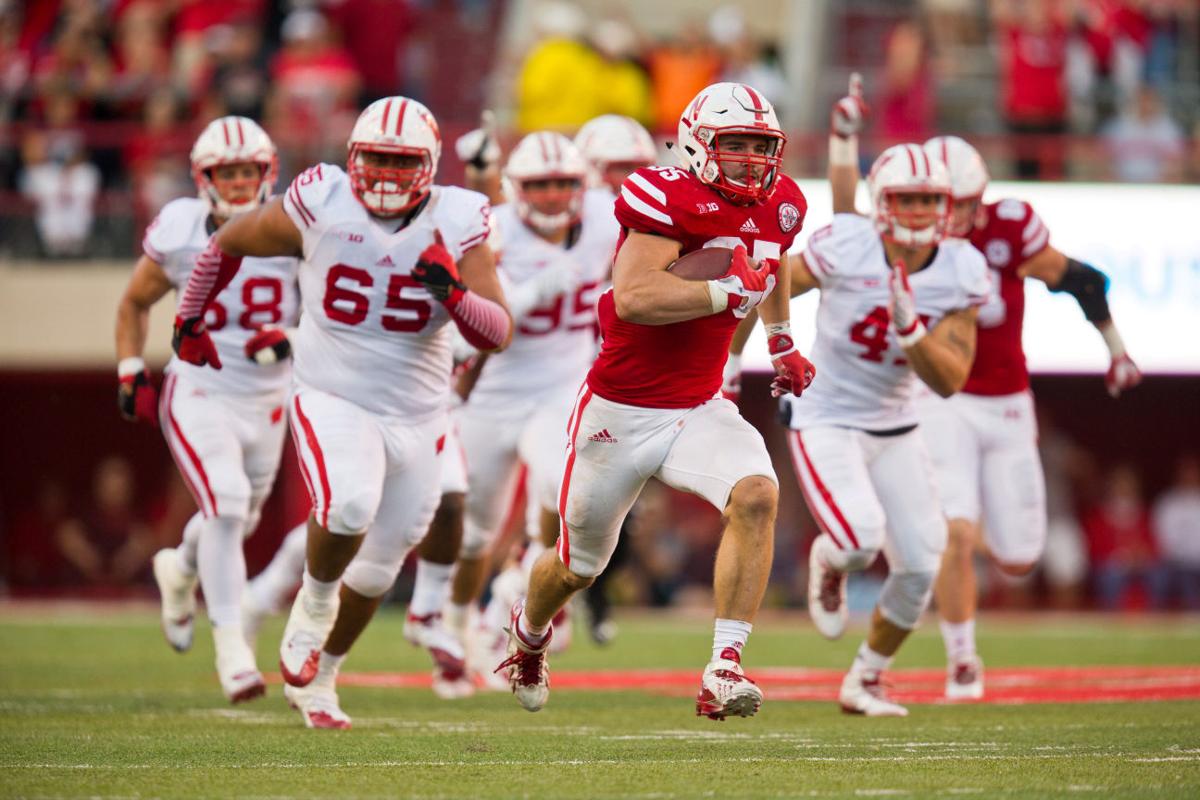 LINCOLN — Andy Janovich is careful to say that the NFL is still anything more than a dream for him, and the former Nebraska fullback really has no idea how his next few months will play out.
But it also wasn't long ago that Janovich wouldn't have entertained even the smallest hopes of playing football beyond his senior season at NU.
"Not at all, just because I didn't really have any film to show people," he said. "If I was lucky, I was playing one to five snaps a game at fullback, and whatever special teams. I'm sure I wasn't even on the radar.
"But after this coaching staff gave me a shot, it opened my eyes."
With the 2015 season behind him, Janovich recently began preparations for the Huskers' pro day in March. The 6-foot-1, 230-pounder also is spending the start of this week at the College Gridiron Showcase and Symposium in Bedford, Texas.
On Thursday night, he will be at the Outland Trophy banquet at the Downtown Doubletree to be honored as the NU recipient of the Novak Award, given annually to the Husker senior who "best exemplifies courage and determination despite all odds" in the manner of former All-America center Tom Novak.
Janovich already had been a special teams ace, but padded that résumé with work this season that Husker coach Mike Riley said should catch NFL attention. Janovich then made the most of becoming part of the NU offense after having just three rushing attempts the prior three years.
After running for 31 yards and a touchdown on six carries in the Foster Farms Bowl, Janovich finished the season with 265 rushing yards — the most by a Husker fullback since Joel Makovicka in 1998 — and averaged 6.3 on his 42 attempts.
Among the highlights was a 55-yard dash against Wisconsin with 3:38 left that briefly looked as if it would be the game-winning score.
"I never expected to touch the ball," Janovich said. "It was great. This whole staff came in and gave me confidence because they were confident in me. I just wanted to go out and do the best I could for them, because they had that trust in me."
Janovich is now on his own, ready to spend 10 lifting sessions a week in the Osborne Complex weight room and do some field work in the Hawks Center with former teammates like Jack Gangwish and Imani Cross.
The motivation won't be any kind of problem for the Huskers' 2015 lifter of the year.
"I've always taken a straight-on approach," Janovich said. "I like doing it. It's one of my favorite things to do. So I can't really go any harder than I already have."
Janovich realizes it might be an understatement when he says that NU pro day will be a "pretty big deal" for him. He wants to run a 40-yard dash in the 4.7-second range and maybe a vertical jump around 33 to 34 inches, and then show well in cone drills and position work.
Janovich surely will post a big number on the bench press, saying on Twitter last summer that he could do 52 reps of 225 pounds (the NFL Combine record is 51).
NFLDraftScout.com currently has Janovich listed No. 23 among fullbacks, but several ranked above the Gretna High graduate are fullback/tight end/H-back hybrids like Northwestern senior Dan Vitale.
But Janovich knows specifically who he is and what he does, and sees Green Bay fullback John Kuhn and others thrive in the position.
"I haven't watched a lot of NFL, because I usually take Sunday as a day off, but there are quite a few teams that use a fullback," he said. "But I've been told my whole career that fullback is a dying breed, so special teams is going to be the really big thing for a guy like me."
Janovich was part of every NU special teams unit but kickoff coverage. Plus, he estimated that he was on the field for about 30 percent of the Huskers' offensive snaps last season.
Janovich also has noticed that Riley knows lots of people in the football profession, and maybe those connections help somewhere down the line, too.
First he has to do his part.
"There's still a lot of work to do, so I'm not really banking on anything," Janovich said. "But obviously I'm kind of trying to take that next step. If it works out, it'd be great."