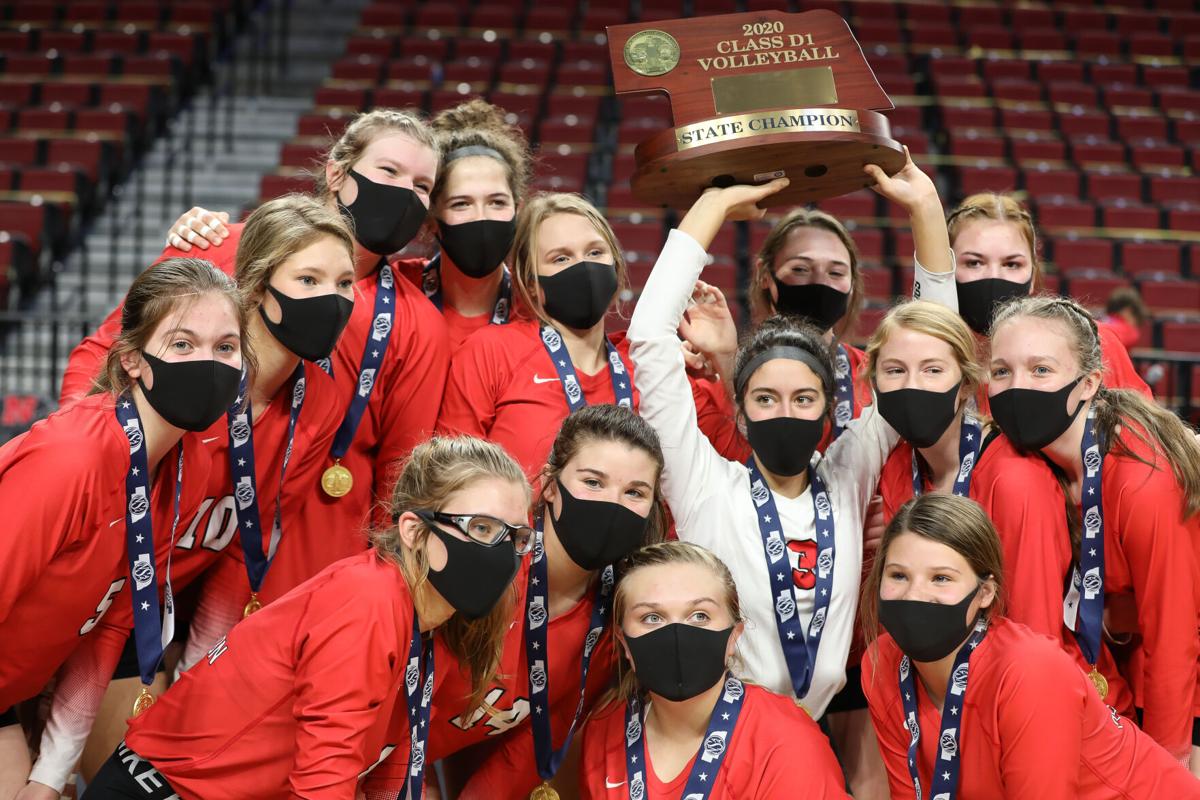 LINCOLN — Pleasanton has been confident all season.
Why would the state championship match be any different, even against a team that beat it in the state tournament the past two years?
The top-ranked Bulldogs kept that confidence going against No. 3 Fremont Bergan for a 25-12, 25-17, 25-20 win to claim the Class D-1 champion Saturday at Pinnacle Bank Arena.
The victory caps a 33-0 record as Pleasanton claimed its first state championship since 1976.
Bergan had beaten the Bulldogs in the state semifinals the past two seasons. But Pleasanton beat Bergan in basketball in the D-1 title game last March. Senior Isabelle Paitz said that gave them confidence going into the match.
"It was in the back of our minds that we could do it because of what we did in basketball," Paitz said. "That gave us the confidence that we could do it today."
And confident the Bulldogs were.
Kaitlyn Linder led Pleasanton with 22 kills with a .656 hitting efficiency, while Paitz chipped in 18 at a .600 efficiency. Overall, the Bulldogs hit .422 with 54 kills while Natalie Siegel dished out 44 assists.
"I thought this was the best consistent match we had played all year," Pleasanton coach Shane Nordby said. "Our serve-receive was just incredible today and Natalie did a great job of getting the hitters in position to be successful and they just took over from there."
And Pleasanton wasted little time, jumping to a 20-10 lead in the first set and a 21-14 lead in the second to take a 2-0 lead.
But Bergan led for much of the third set, including 18-15. But after a Linder kill gave serve back to Pleasanton, Paitz had back-to-back kills to help tie the match 18-18 before a Linder block gave the Bulldogs the lead for good. Chelsea Fisher and Paitz put the finishing touches on the title with back-to-back blocks.
Bergan — playing in its third straight D-1 title match — had only one senior on the court in Lauren Baker, who led the Knights with 13 kills. With mostly freshmen and sophomores, coach Sue Wewel said youth played a factor in the match, where Pleasanton had seven players who played a lot the past two years.
"I think we had a little bit of that deer in the headlights and were just in awe of Linder," she said. "Plus, this is a big deal playing under the lights and on the big stage. I think that affected the girls a little bit. But we did do some great things today, but it just didn't fall into place for us today."
Nordby said Pleasanton had confidence all year, and it showed.
"These girls just played well all seasonlong," Nordby said. "Since the first week of practice, I remember asking our coaches in where do we go because we're just so good. They didn't disappoint us and just elevated their game week in and week out. They just got better and better as the season went on.
"And this senior class has been a confident bunch since their freshman year. They never wavered under pressure and have been successful. It was a fun season to coach these girls this year."
Siegel, who played middle blocker before moving to setter her junior year, said this was a great way for the six seniors to go out.
"We've been playing with each other forever and I'm just thankful that I got to play with a bunch of great girls over the years," she said. "Coach Nordby and the community supports us in what we do. This is just great."
Fremont Bergan (26-11) ..... 12 17 20
Pleasanton (33-0) ............... 25 25 25
FB (kills-ace-blocks): Summer Bojanski 0-0-0, Kaitlyn Mnarik 10-1-1, Paige Frickenstein 3-0-2, Rebecca Baker 1-0-0, Lauren Baker 13-1-2, Carlee Hapke 0-0-0, Linden Nosal 0-0-0, Adler Gilfry 0-1-0, Kennedy Beacon 2-0-1.
P: Regan Weisdorfer 0-0-0, Natalie Siegel 1-0-2, Hailey Mollring 1-0-0, Isabelle Paitz 18-0-1, Kinsey Linder 0-0-1, Katelyn Linder 22-2-1, Taryn Flood 1-1-0, Chelsea Fisher 7-0-4.
Assists: FB, R. Baker 27, L. Baker 1, Hapke 1. P, Siegel 44, Weisdorfer 3, K. Lindner 2.
Be the first to know
Get local news delivered to your inbox!