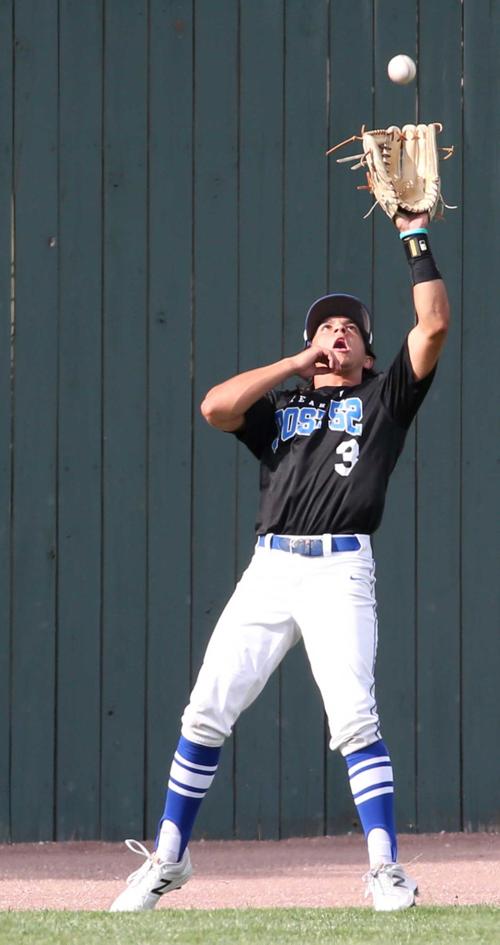 KEARNEY — Kearney Post 52 fought its way back into the Cornhusker League championship playoff.
After trailing 4-1 Monday evening at Memorial Field, Kearney cut the lead to 4-3 in the sixth inning.
Then, on the first pitch of the seventh inning, Lincoln John Baylor Prep's (Southwest High School) Jhett Jacquot snuffed Kearney's hopes. Jacquot launched Seth Stroh's initial offering over the left-field fence to give the visitors a 5-3 victory.
"That's a blow," Kearney coach Matt Connot said. "You come back from 4-1 to 4-3 and they immediately — first pitch, they didn't even give us two pitches — and they extended their lead even further.
"I don't think that's insurmountable for us by any means, because we can score runs, but their pitcher did a great job. He's one of probably the top two or three guys we've seen. He had pretty good command of his fastball and his slider was pretty good. We don't see a lot of guys with a good slider so it was tough to get anything going or keep anything going."
Ryan Jungers, the Southwest pitcher, worked through a 1-2-3 seventh inning to close out the victory. Jungers threw just 97 pitches getting the complete-game victory, limiting Kearney to six hits while striking out five. He walked only one, and that turned into the first run of the two-run rally in the sixth.
Post 52's Brayden Miller, who had homered over the left-field fence in the first, drew the walk to lead off the sixth. Corbin Foster followed with a triple over the right fielder's head. Then Foster scored on an infield groundout by Jaxon Worley.
But for the first four innings, Jungers was in total command. After Miller's home run, he sat down the next nine batters before Miller singled in the fourth. Worley and Trey Rodriguez singled in the fifth, but Post 52 (28-12) left the bases loaded.
Southwest had just slightly better luck at the plate, collecting 11 hits off Miller and Stroh. Miller started, giving up two runs through the first four innings. He ran aground after getting two outs in the sixth, allowing four straight singles that produced two more runs. Stroh entered and got out of the inning and got through the sixth before giving up the home run in the seventh.
"It's the little things — a couple mislocations on the mound, a couple balls that dropped in the outfield that maybe shouldn't have dropped in the outfield, plate approach, little stuff like that," Connot said.
But Post 52 will use it as a learning experience.
"Big picture, you want to win the league, but if you don't, you still have two more weeks of the season at least," Connot said. "That's the level of competition we're going to see. Everyone's game steps up a notch.
"It's good for them to be in that type of game instead of one that's a blowout one way or another and you're seeing below-average pitching."