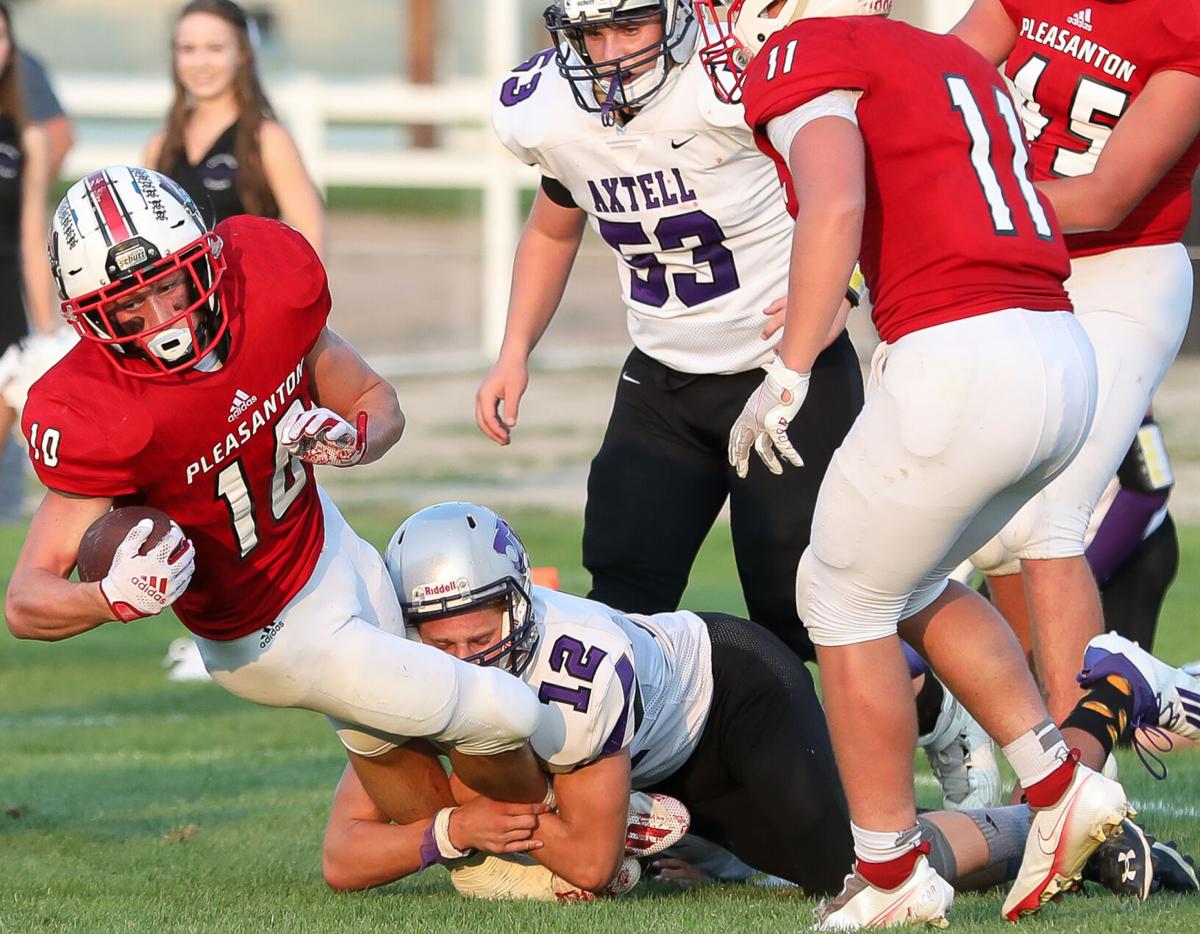 PLEASANTON — When Treven Wendt touches the ball, he's likely going to score.
In only three carries, Wendt went the distance with 256 rushing yards and four touchdowns to lead Pleasanton to a 34-14 win over Axtell. The Bulldogs move up to 2-0 while the Wildcats are in search of their first win.
"He's a gifted kid. He's just a great individual on the football field," Pleasanton's coach Ricci Westland said after the game. "He did a great job tonight reading blocks. A lot of it he created on his own with cutbacks but that was apparently so with the blocking system by the line. He read them really well in the cutback lanes."
Wendt created an offensive spark needed after a low-scoring first half. His first three touchdowns were more than 60 yards. The Bulldogs as a team had 329 yards on the ground. Wendt may own the stat sheet, he knew couldn't do it out with his blockers upfront.
"I love running the ball. We got big boys upfront and this tank right here (a reference to Chase Pawloski) blocking for me, and they just cleared it for me," Wendt said.
At first, Pleasanton's offense was dominated by their passing attack. A pair of deep throws from quarterback Kray Kingston set the Bulldogs up in scoring positions in the red zone. However, the Bulldogs settled for eight points after a one-yard run by Pawloski at the start of the second quarter. Pawloski admitted that the Bulldogs underestimated the young Axtell team in the beginning before making some adjustments at halftime.
"Our heads weren't in the right spots in the beginning," Pawloski said. "We thought we were just going to come in here and just run all over them. Our heads were way too high. Then we got down and treated them like any other team and started changing up some plays."
Axtell created three turnovers to keep them in the game.
One interception was made by Brennan Runge. The second cover was muffed ball recovered by Weston Loeffelholtz. Runge, who started at quarterback had an injury after a hit in the fourth quarter. For Axtell's coach Ryan Ambrose, it created fuel for the Wildcats with five minutes left to play despite being led by a freshmen group. Axtell avoided being shut out with a scramble by freshman quarterback Jacob Halvorsen. Then after fumbling the ball on fourth down to give the Bulldogs the ball back. Axtell recovered Pleasanton's fumble at the 29. Quin Bertrand picked it up for a scoop-and-score. Wildcats only trailed 28-14 with less than five minutes left to play in the fourth.
"Honestly, it was the blindside hit that really lit the fire on our guys," Ambrose said. "We spread them out and ran down the field and got them some opportunities. That's the culture we wanted to bring to the program. Just keep swinging. We played the No. 1 team in the state last week and now Pleasanton got a nice rating."
Wendt sealed the deal with his fourth touchdown run before the two-minute mark. Along with 256 rushing yard performance, he led in receiving yards with 61 in two receptions. He also added 10 tackles and a sack on defense. Pawloski led with 11.5 tackles and 2.5 tackles for loss.
"We're gifted with the size of the line. We're gifted with two great running backs, and a good quarterback back there," Westland said. "That's just the hands that we were dealt and we're going to ride it."
Pleasanton hosts Overton next Friday at 7 p.m. Axtell will return home as they will take on Ansley-Litchfield.
---