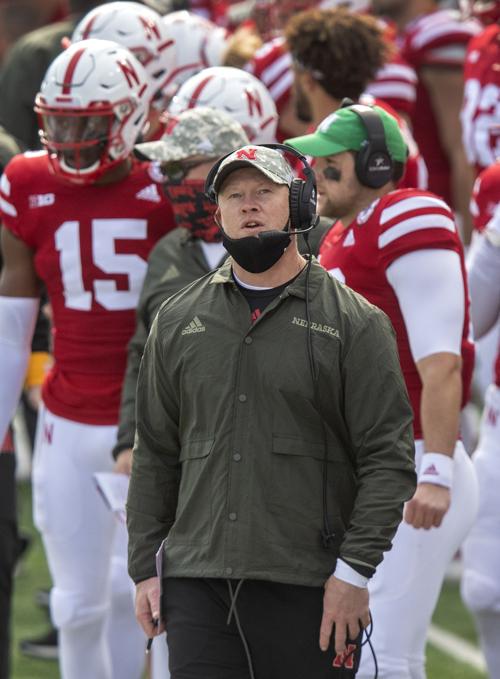 Scott Frost chuckled Saturday when he was asked what he remembers most about Jason Peter as a player.
"Jason had a mindset, man," the fourth-year Nebraska head coach told the Journal Star. "You just didn't want to mess with him. That's the best thing I can say. You didn't want to tangle with him. Ever."  
If you've been around the Nebraska football complex lately, you've perhaps noticed Peter and Jay Foreman — two of Frost's teammates on the 1990s Husker championship teams — on the scene on a fairly regular basis in volunteer roles. 
This is Frost pulling levers to get more out of his program. Makes a lot of sense, right? 
"Jason's going to assist in the weight room," Frost said. "And Jay's going to assist Marcus Castro-Walker with player development." 
Castro-Walker recently took over as Nebraska's director of player development. That allowed Frost to move Ron Brown into a new role as senior offensive analyst. Brown is absolutely one of the best skill-position coaches I've ever dealt with during a quarter-century of covering the program. Moving him into a more football-centric role seems like an excellent idea. 
So does involving Peter and Foreman, two of the best defenders in program history. They retain a colossal amount of pride in the program, and obviously want Frost to succeed in leading it back into prominence. 
"They've been in the weight room with the guys just kind of observing and giving guys advice," Frost said. "I guess at the end of the day, I just think if a little bit of their intensity and experience rubs off on our guys, it's a good thing." 
Because of Frost's 12-20 record as Nebraska's head coach, many fans constantly try to poke holes in just about anything he says or does. Guess that makes sense, too. But involving Peter and Foreman as volunteers seems like a potential home run. Same goes for the hiring earlier this month of 55-year-old Bill Busch as a defensive analyst. Busch's résumé speaks for itself. Don't be surprised if Frost doesn't somehow find a way to tap deep into Busch's impressive special-teams acumen. 
As for Peter and Foreman, it should be noted they're not allowed to work directly with players on the field. 
"This is more of a mentoring and leadership-type deal — a support-type deal," Frost said. "You know, they're in the weight room trying to help guys with mindset and intensity. They can be out on the field, just not instructing. They can help guys approach things the right way and think about things the right way, and help the leaders." 
Both Peter and Foreman have a hard edge. To this day, they have a no-nonsense manner when it comes to football. What's more, they care deeply about the program.
Is there a downside to any of this? 
Nebraska, coming off a 3-5 finish in 2020, is in the midst of winter conditioning, an intense part of the calendar. The Huskers will begin spring practice in late March in advance of a fall season in which three of their first four games are scheduled to be on the road. 
"They'll be around our team as long as they're willing to do it," Frost said of his two former teammates. "I don't think it'll be every day; they have lives. They can be there as much as they want to be there when the players are doing something active. I just think they'll rub off. I'd love to have Jason Peter rub off on some of the defensive linemen and Jay rub off on some of the linebackers, and hopefully, it goes beyond that." 
A native of Locust, New Jersey, Peter finished his college career as a two-time All-Big 12 selection and consensus first-team All-American in 1997. He started every game in his final three seasons (47 contests). During his time in the program, the Huskers were 49-2, with three national championships and four bowl victories.
Yeah, those credentials can make an impression. 
Same goes for Foreman's. The Minnesota native was a full-time starter as a linebacker on the 1995 and 1997 national championship teams. He had 61 tackles for the 1997 defense and hurried the passer nine times.
Frost remembers Foreman for "being tough and athletic." I would add that Foreman was highly intelligent. 
"He was huge for us, a Blackshirt through and through," Frost said. "Same goes for Jason, obviously." 
"I'm just grateful that they would sacrifice their time and effort to help with the program," the coach added. "Those two guys embodied what it meant to be part of our program and are examples of what we want in the program. Both of them take a lot of pride in Nebraska football." 
You can still hear that pride in their voices. Bottom line, Frost's players will hear that pride.
"It's great they have a little ownership, and I think they'll be good role models for our kids to be around."