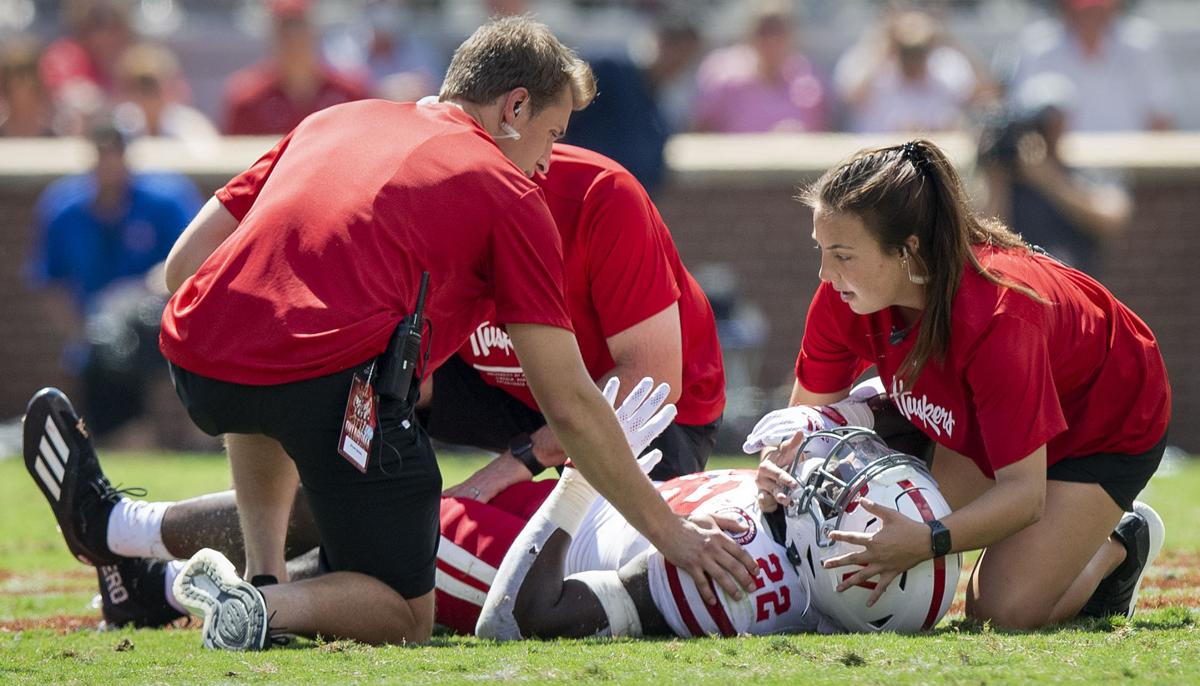 Nebraska freshman running back Gabe Ervin suffered a patella tendon injury to his right knee in the third quarter of Saturday's loss at Oklahoma and could be lost for the season.
NU coach Scott Frost confirmed the nature of Ervin's injury during his Monday news conference, and said the young back from Georgia is going to miss an extended amount of time.
"We're still evaluating to see how long it's going to be, but he's going to be out for a while," Frost said.
Ervin tried to cut up field during a run and went down without any contact from a defender, immediately grabbing at his right knee. On the season, he had 124 yards (3.4 per carry) and two touchdowns.
Frost said the injury is potentially season ending.
"It could be. I'm waiting to get final results from the doctors," he said. "I don't want to say too much, too soon."
The Huskers are still searching for a feature back, Frost noted. Rahmir Johnson got his first career start against Oklahoma after Ervin started the first two games of the season and Markese Stepp started against Buffalo. Frost also noted that Marvin Scott III, who has not traveled to either of NU's road games so far, had a good day of work on Monday.
Prochazka doesn't plan to redshirt: Freshman tackle Teddy Prochazka has played in each of Nebraska's past three games. In addition to time with the No. 2s late in wins against Fordham and Buffalo, he played tight end in a special, heavy package the past two weeks.
At this point, the former Elkhorn South standout said he's not planning on redshirting, which would require appearing in four or fewer games.
"Right now, I'm not planning on redshirting. I don't think it's going to happen," Prochazka said. "I'm making sure that I'm giving the coaching staff reasons to play me and making sure that they have to have me on the field."
Frost again praised the midyear enrollee, who has seen his stock take off since the middle of preseason camp and who is currently about 6-foot-9 and 310 pounds.
"He's going to be in the mix and in the conversation for playing, I think, going forward," Frost said. "If he keeps improving at the rate he's been improving at, it's going to be hard to keep him off the field."
LG battle ongoing: Junior Trent Hixson started at guard against OU after Ethan Piper had that spot for the first three games. Hixson went down during the game, so Piper filled in down the stretch.
Those two will continue to battle for playing time, and junior Broc Bando is among the others that could be in the mix once he's back from a non-COVID illness.
"Bando is getting healthier and I think he's close," Frost said. "It's going to be competitive. … At times Trent's done a great job, at times Piper's done a great job. Bando's done well in practice. Nouri (Nouili)'s doing good things. We've got a lot of guys that can do it. We'd love it if somebody grabbed a hold of that spot and took it. We're waiting to see if that happens. We've got a lot of guys that are capable, we just need a little better play at that spot."
"We need him": It's been a rough couple of weeks for senior kicker Connor Culp, who has missed five of his past six field-goal tries, including two at Oklahoma.
"He knows how much we need him," quarterback Adrian Martinez said. "I haven't lost faith in him and I know the guys haven't either."
Frost said he still has faith in Culp, but the kicking position appears to be an open competition heading into Michigan State preparations.
"People go through slumps," Frost said. "That being said, we're going to let that position be competitive like any position. I trust (Culp) to get it right, but we've got to do what's best for the team and play the guy at any position that gives us the best chance to win."
The next man in on Saturday was freshman walk-on Kelen Meyer. The Ord native, though, had his lone kick, an extra point, blocked. Culp attempted NU's final PAT later in the fourth quarter and made it.
Aggressive, to a point: Nebraska center Cam Jurgens on Saturday said he's not going to change how he plays after picking up two penalties for unnecessary roughness after plays against OU. On the first, he jumped on a defender after throwing him to the ground. On the second, he finished a block about 50 yards down the field and drew a flag that he — and NU's sideline — strongly disagreed with.
"I talked to Cam. We just have to be a little bit smarter," Frost said. "If we're going to get penalties, I'd rather have them be aggressive penalties. I'd rather tell a guy 'whoa' than 'giddy up,' so we'll calm him down a little bit, but that's the attitude we're looking for."
Northwestern game on BTN: Nebraska's Homecoming week game against Northwestern on Oct. 2 is set to be broadcast on Big Ten Network.
The kickoff time, 6:30 p.m., had been set since before the season began. Now, so is the broadcast slot.
That will make for back-to-back evening starts for Scott Frost's team, which visits Michigan State for a 6 p.m. kickoff Saturday on FS1.
After those two games, the only other kickoff time that is set is a 12:30 p.m. start on Big Ten Network against Iowa on Black Friday.