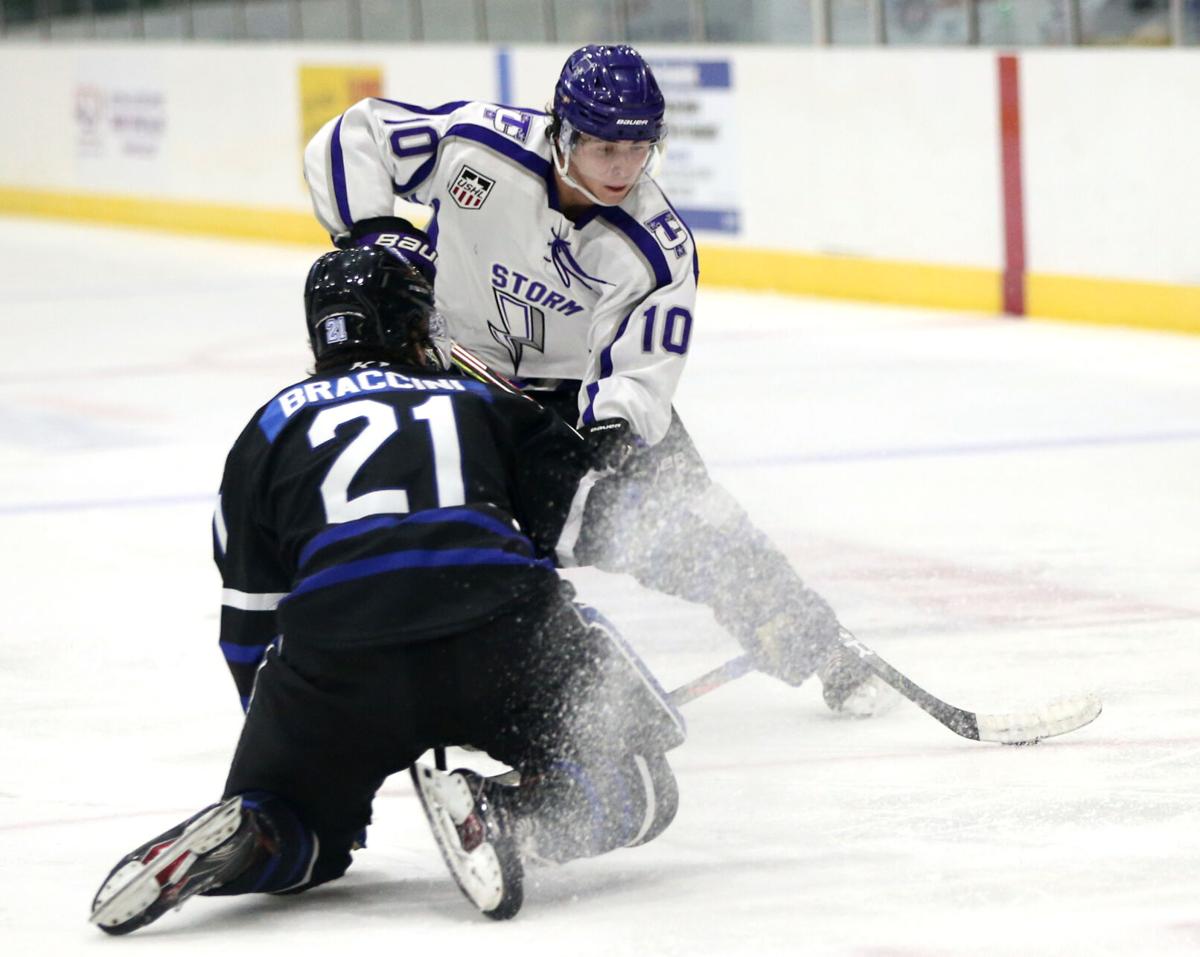 KEARNEY — The Tri-City Storm dropped the opening game of the weekend, 5-2, to the Fargo Force Friday night at the Viaero Center.
Kieran Cebrian and Mark Estapa scored the Storm's goals in the loss. Tri-City returns to action tonight (Saturday) in another home game against Fargo. Puck drop is scheduled for 7:05 p.m.
Tristan Broz netted the opening goal of the game at 3:57 of the first period to give Fargo a 1-0 lead. At 9:09 of the period, Tri-City's Cebrian scored his first career USHL goal.
Isac Jonsson and Josh Eernisse recorded assists on the scoring play. Eernisse's assist was his first career assist and first career point in the USHL. Fargo's Ryan Siedem scored a goal with less than 3 minutes to play in the period to give the Force another lead in the game. Jake Braccini scored at 18:26 of the first period to increase Fargo's lead to two goals.
Tri-City outshot Fargo 13-9 in the first period but trailed 3-1.
In the second period, Fargo continued its offensive production with two additional goals.
Tri-City goaltender Grant Riley was replaced by Todd Scott after recording nine saves on 13 shots. Nick Strom scored the final goal of the second period to give Fargo a 5-1 advantage. Tri-City outshot Fargo 9-5 in the second period but trailed.
The Storm's Estapa scored the only goal of the third period on a goal assisted by Vinny Borgesi and Nicholas Donato.
Tri-City outshot Fargo 8-5 in the third period and 30-19 overall. Goalie Scott finished the game with five saves on six shots.
A limited amount of tickets are available for tonight's game with seating capacity at the Viaero Center limited to 25%. Fans wishing to attend the game are strongly encouraged to purchase tickets online or at the Viaero Center Box Office in advance. Masks are required to enter the arena, while walking on the concourse, in the restrooms and while in line at the concession stands. Although masks are not required once you are sitting down in the seats, the Tri-City Storm strongly recommend masks are worn while seated.
Be the first to know
Get local news delivered to your inbox!