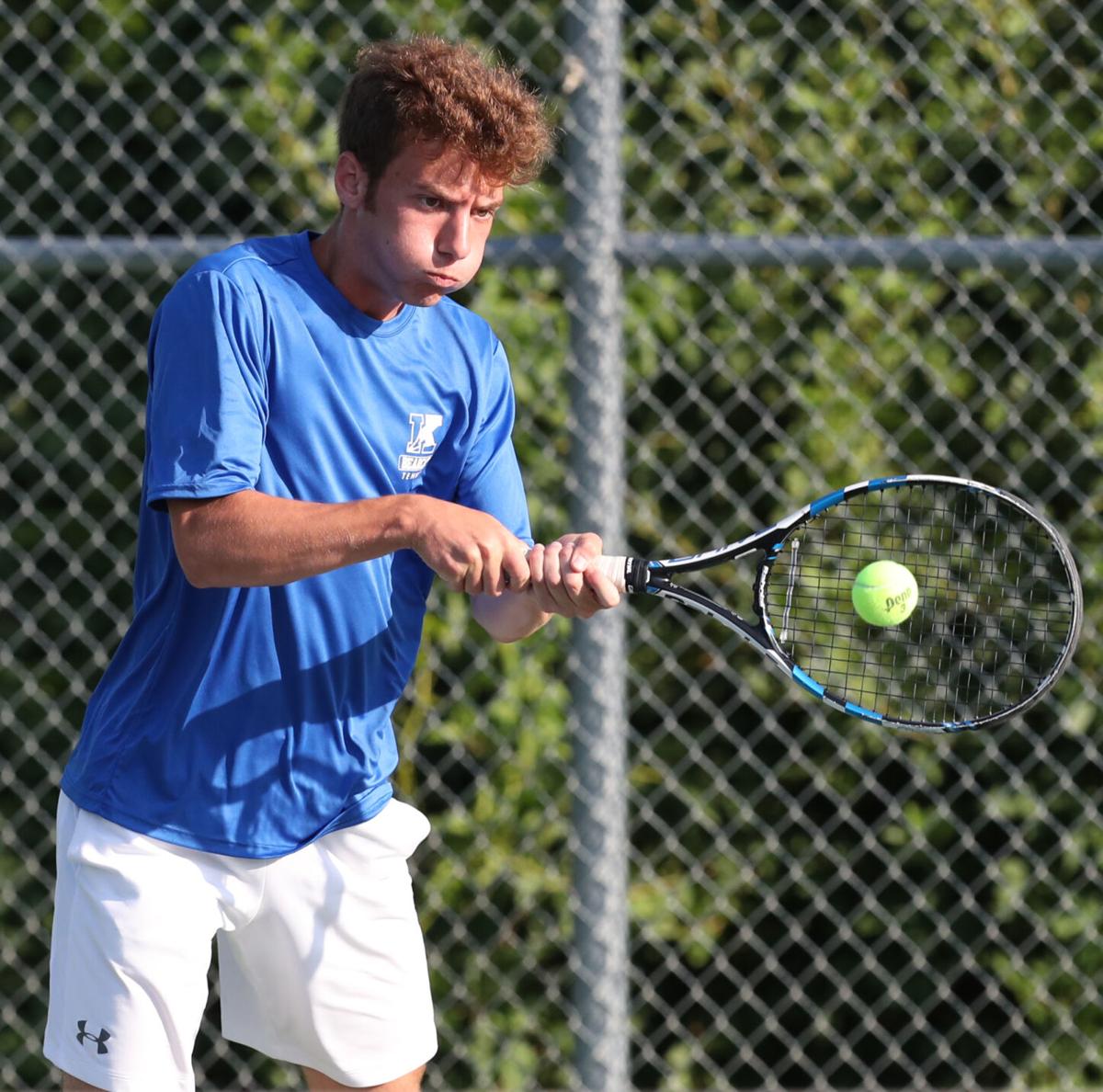 KEARNEY — The Kearney High School tennis team finished third in the Kearney Doubles Invitational hosted by the Bearcats.
The eight-team tournament included most of the top teams in the state, according to KHS coach Troy Saulsbury.
The third-place finish "was a really strong performance for our team from top to bottom," Saulsbury said. "Overall, I really liked how well we competed. We did a much better job of finishing games."
Sam Rademacher and Charlie Brockmeier finished third at No. 1 doubles, relying on holding serve throughout the day.
"In their final match of the day with Creighton Prep, we held serve every time. Sam and Charlie were able to get a timely break at 6-5 in the first set to win the set 7-5," Saulsbury said. "The second set had no breaks of serve, however, we dominated the tiebreaker 7-0. ... They really played solid on the crucial points.
"Sam and Charlie were able to hit timely first serves and solid returns when we needed them. They also did a great job of being aggressive at the net throughout all of our matches."
Carter Goff and Jackson Bokenkamp had a strong performance finishing second at No. 2 doubles. They went undefeated in pool play defeating Creighton Prep and Lincoln North Star.
Saulsbury said they "do an excellent job of controlling the net. They both did a great job of setting each other up for put away shots. Carter and Jackson do so well picking off balls in the middle of the court. Their aggressiveness was the difference in their matches."
Against Creigthon Prep and North Star, Goff and Bokenkamp took early leads and let their oppoonents get in a rhythm. In the finals, the Kearney duo fell behind 3-0 in the first set and didn't recover. In the second set they forced a tie-breaker before losing 10-7.
"Carter and Jackson showed the potential they have to be one of the top No. 2 teams in the state," Saulsbury said.
At No. 3 doubles, Quinten Shaffer and Asher Saulsbury finished fourth. The same was true for Andy Vu and Kalu Obasi at No. 4 doubles.
Team Scores: Lincoln Southeast 71, Lincoln Southwest 66, Kearney 60, Creighton Prep 57, Omaha Westside 41, Lincoln North Star 34, Millard South 19, Grand Island 12
KHS softball team goes 0-2 at Norfolk Invitational
NORFOLK — The Kearney High School softball team dropped a pair of tough losses Saturday at the Norfolk Invitational.
Omaha Marian rallied for six runs in the bottom of the fourth inning for an 8-7 victory in the first game.
The game was shortened to four innings by the time limit.
KHS scored two in the top of the fourth to go ahead 7-2 before Marian rallied.
Marisa Chamberlin was 2-for-3 with a double and two RBIs to lead the Kearney offense. Bella Molina also had two hits and scored twice.
In the second game, Norfolk pitcher Brandy Unger held Kearney to three hits and struck out 11 in a 3-0 Panther win.
Kyan Nickel, Kenzie Bonner and Molina had Kearney's hits. Chamberlin went the distance pitching, striking out three and allowing six hits.
Bearcats' Hannah Godwin winner
at Cozad cross country meet
COZAD — Kearney High School's Hannah Godwin won the Cozad Invitational cross country race Saturday at the Cozad Country Club.
Godwin ran the 5,000-meter course in 19 minutes and 22 seconds. Hastings' Chlesey Espinosa finished second in 19:38.
Kearney High originally was scheduled to run in the Omaha Burke Invitational but the meet was canceled when Omaha Public Schools canceled fall sports. Without the Burke meet, Kearney entered the Cozad meet, but didn't figure in the team scoring.
Backing up Godwin were Emma Bond (20:59) and Emma Bonsall (21:03), who finished seventh and eighth. Beatrice Lebsack (22:01) finished 19th while Sam Stava (22:31) was 27th and Alivia Olson (22:39) was 30th.
In the boys' race, Kearney's Matthew Dahlke and Cisco Rivas finished third and fourth. North Platte's Evan Caudy won the race in 17:15. Dahlke finished at 17:43 with Rivas 10 seconds behind Dahlke.
Bearcat Micah Torres (18:20) was 13th with Charlie Shea (19:10) and Noah Abraham (19:10) in the top 30.
Lexington runner-up at own volleyball tournament
LEXINGTON — St. Paul defeated Lexington 25-14, 25-10 to win the Lexington Invitational volleyball tournament Saturday.
Broken Bow defeated Hastings for third place and Hershey beat North Platte St. Patrick's for fifth place in the eight-team tournament.
Lexington opened the tournament with a 25-19, 25-21 win over North Platte St. Patrick's, they defeated Broken Bow 25-21, 25-17 in the semifinals.
Junior Cordelia Harbison led Lexington with 32 kills in the tournament. Jackie Ostrom had 13 kills and Taylor Woehrle had 11.
Get in the game with our Prep Sports Newsletter
Sent weekly directly to your inbox!