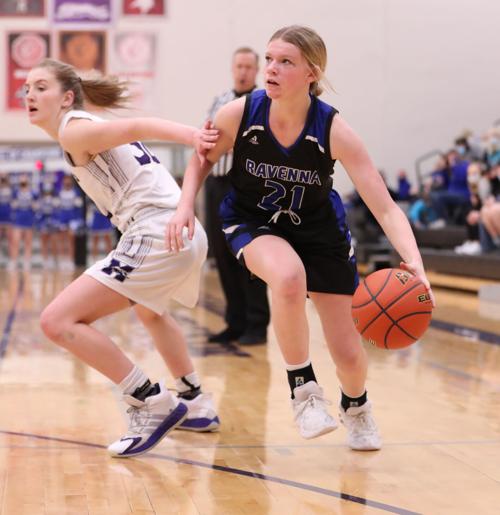 The Ravenna girls got close enough last year they could taste the joy of the state tournament.
Unfortunately, a 47-40 loss to Lourdes Central Catholic in the district final kept them home. But the goal of state hangs on their minds this year.
"We bring back three key starters that have been playing a lot the last two years. That should allow us to be pretty competitive this year," coach Noah Maulsby said. "We have some other girls that have some experience that need to fill bigger roles for us with the loss of some post play and leadership from the previous season."
Back from last year's 19-7 team are 5-4 junior guard Morgyn Fiddelke, 5-7 junior guard Tori Sklenar and 5-8 junior guard Kennedy Hurt. Together, they averaged more than 26 points per game.
Other letter winners back are 5-10 junior post Claire Coulter and 5-7 junior post Aspyn Wick.
"I expect a strong group of juniors and our lone senior to become the leaders that will make us successful," Maulsby said. "Some of things that we will focus on early is buying in defensively, pushing the ball and creating depth.
"We have a number of girls that have the ability to hopefully provide that depth. If we can do these things and jell together as a team, we can have a pretty successful season."
With four returning starters, the Ravenna boys basketball team hopes to improve on last year's 5-17 record.
"We return a good core of guys who gained a lot of experience last year," coach James Habe said. "We will need to improve offensively and develop some consistent scorers, but I do feel like we have guys capable of doing this."
Returning starters for the Bluejays are 6-3 senior forward Trey Anderson, 5-10 senior guard Eli Schroeder, 5-10 senior guard Wil Fiddelke and 6-foot junior guard Zach Lewandowski.
Anderson and Schroeder averaged eight points per game last year and Anderson collected six rebounds per game.
Ravenna's other letterman returning is 6-3 junior forward/center Gavin Standage.
The Ravenna wrestling team sent half a dozen wrestlers to the state tournament last year, placing 16th in Class C with 41 points.
Four of those wrestlers return and the Bluejays will compete in Class D this season.
"We have a good mix of youth and experience in our lineup," second-year Ravenna coach Trey Rossman said. "We are led by a solid core of four returning state qualifiers who are hungry for more success after last year. In addition, we have some outstanding young men that just missed out on qualifying for the state tournament last year.
"Overall we have some very good depth and will be able to fill weight classes for duals. As a team in tournaments, we are going to lean heavily on our returners to score some major points."
Returning state qualifiers are 106-pounder Garrett Wedemeyer (30-19), 120-pound Clayton Wedemeyer (38-12), 138-pound Hunter Douglas (44-8) and heavyweight Thomas Psota (25-6).
Other returning lettermen are Carter Jasnoch, Morgan Treffer, Mason Wendt, Caden Larsen, Guy Bitz II, Samuel King, Chase Rager, Owen Woodward and Theron Cole.