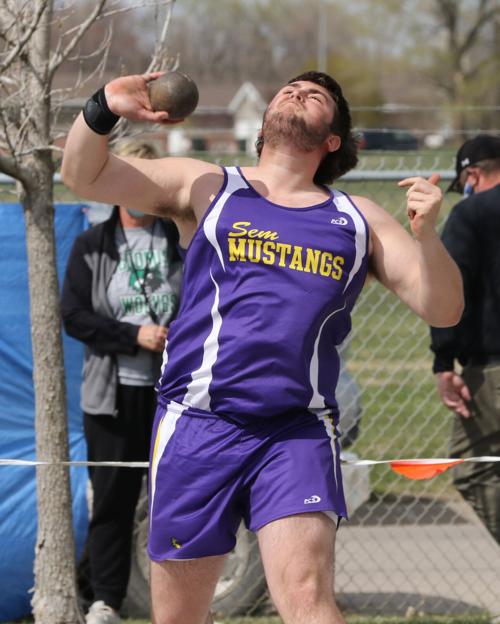 LEXINGTON — S-E-M's Carson Rohde had a record-breaking day at the Don Bader Lexington Invitational on Friday.
He just didn't win any gold medals.
The Mustang senior led the shot put and discus going into the finals, but in both events, North Platte's Nic Davis edged him in his final two throws.
But Rohde celebrated reaching two of his goals.
He said this year "has been going pretty good. The weather hasn't been the best but we got a really good day today and ... we all took advantage of it. I took advantage of it in two events and broke the school record in both."
Rohde threw 168 feet, 5 inches in the discus, losing by two inches to Davis. In the shot put, Davis threw 56-2 1/4 on his last throw, beating Rohde, who threw 53-3 1/2.
"I've been working pretty hard (to break those), I hit the weight room every day then go out and throw. ... I've broken half my goals and I'm all ready to go for the final two: To win the state championship," he said.
He would really like to post a discus mark of at least 170 feet and a shot put throw of 55 feet.
"I've still got a little bit more to work on and more bending to do. I think as soon as I get it all figured out, it will be there," he said.
During the football season, Rohde verbally committed to walk on and play football for the Nebraska Cornhuskers. But he has since changed his mind and recently signed with Concordia University in Seward.
"Concordia is a great college. Throughout everything that's been happening, they've been there for me. No matter what they do and what I do, they've always been there for me. They've helped me and with them always being on my side ... it made my decision easier," he said.
Nebraska, he decided, wasn't the place for him. Between the end of basketball season and the start of track season he decided to make the switch.
"I decided that it was going to be too big for me, I decided to stay small," he said.
Rohde has a busy few weeks planned. He'll be playing in the Shrine Bowl, the West Nebraska All-Star-Game, the Kearney All-Star basketball game and with the Fort Kearny Conference All-Star basketball game.
"I will have a busy June for sure," he said.
Kearney High had a strong performance at the meet led by D'Andre Ndugwa who won both hurdles events, including a personal-best 14.33 time in the 110-meter high hurdles.
Bearcats also won both jumps with Miguel Molina winning the long jump and Ehren Smolik the triple jump.
Kearney also won the 4x100 relay with Zander Reuling, Kaden Miller, Molina and Theo Huber carrying the baton.
In the girls events, Kearney's Emma Bond won the 3,200.
Don Bader Lexington Invitational
100 — Ethan Klingenberg, Bertrand, 11.62. 200 — Tate Janas, North Platte, 23.31. 400 — Kymani Sterling, North Platte, 49.79. 800 — Daniel Bashtovoi, Sidney, 2:01.87. 1,600 — Bashtovoi 4:37.41. 3,200 — Ian Salazar-Molina, Lexington, 10:21.44. 110m Hurdles — D'Andre Ndugwa, Kearney, 14.33. 300m Hurdles — Ndugwa 40.54. 4x100 — Kearney (Zander Reuling, Kaden Miller, Miguel Molina, Theo Huber) 43.16. 4x400 — North Platte 3:29.30. 4x800 — Sidney 8:18.64.
Shot Put — Nic Davis, North Platte, 56-2 1/4. Discus — Davis 168-7. High Jump — Richard Harbols, Kearney, 6-3. Pole Vault — Owen Kaps, Bertrand, 14-0. Long Jump — Miguel Molina, Kearney, 22-2. Triple Jump — Ethan Smolik, Kearney, 43-6.
100 — Bella Rickertsen, Gothenburg, 13.17. 200 — Shawna Wilkinson, McCook, 27.01. 400 — Wilkinson 59.37. 800 — Talissa Tanquary, Sidney, 2:20.93. 1,600 — Lindee Henning, Ogallala, 5:52.47. 3,200 — Emma Bond, Kearney, 12:01.67. 100m Hurdles — Samantha Moore, Mullen, 16.04. 300m Hurdles — Moore 48.60. 4x100 — North Platte 53.45. 4x400 — Ogallala 4:15.02. 4x800 — Sidney 10:13.13.