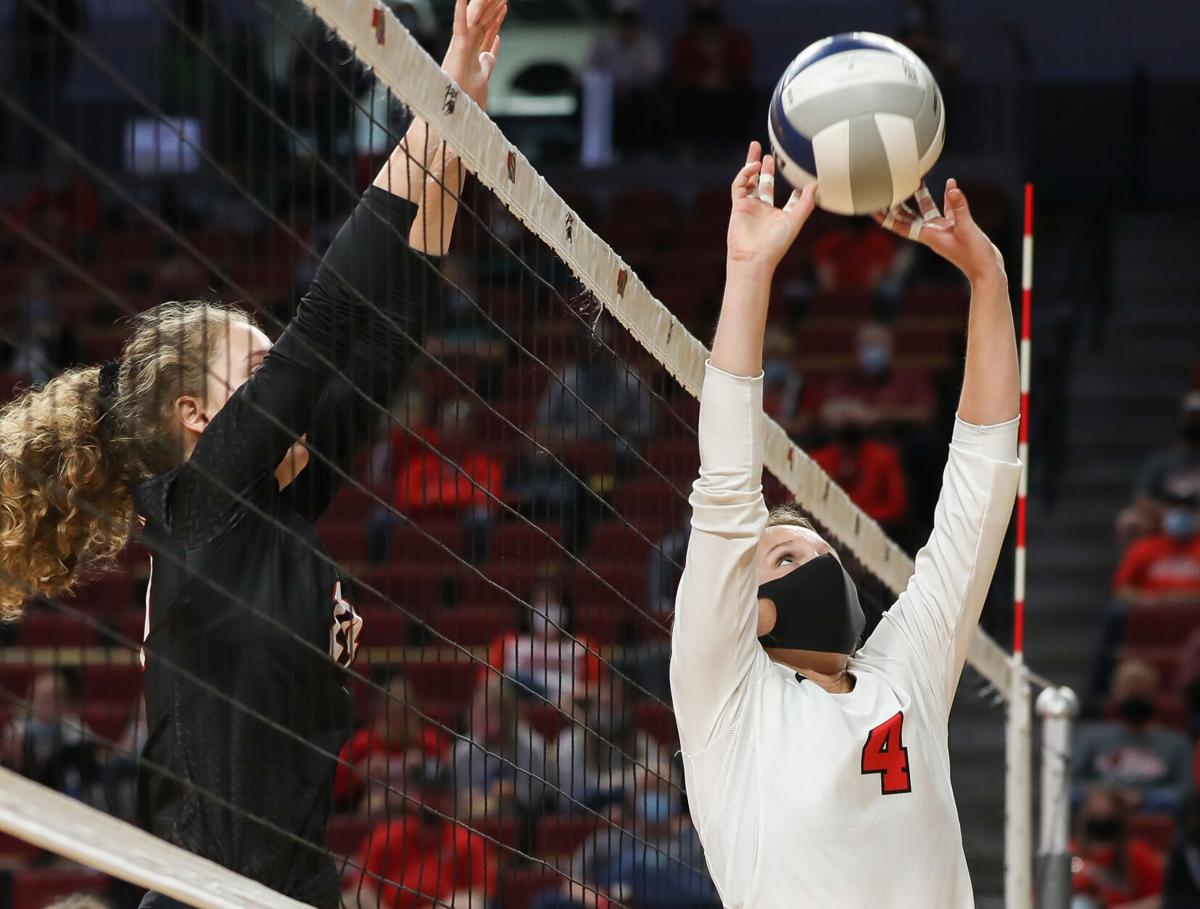 LINCOLN — While Pleasanton volleyball coach Shane Nordby answered questions about his team's state tournament semifinal win over Mead, Archbishop Bergan — the Bulldogs' nemesis — warmed up for its semifinal match only a few feet away.
"Obviously if we get Bergan, we have a little payback to send their way," said Nordby, whose team's state championship hopes have been crushed by the Knights the past two years. "We got a little bit of payback last year in the championship basketball game, so Bergen probably would like to see us too."
They'll see each other today (Saturday) in the second match of the 9 a.m. session at Pinnacle Bank Arena, the same place where Pleasanton's girls broke through the semifinal ceiling last year on their way to winning the Class D1 state basketball championship. The volleyball team is marching down the same path today.
Beating Mead 25-15, 25-8, 26-24 Friday morning, the Bulldogs advanced to today's (Saturday's) state championship. Getting over that semifinal hurdle "is big for us," Nordby said. "Before this weekend we hadn't won a match in this facility at all and to come in and win our first two, obviously we're pleased about it, but we're even more excited about the way that we're playing and that consistency that we're showing game in and game out."
The Bulldogs stomped on Mead right away.
Katy Lindner had four kills in the first seven rallies and Taryn Flood served for an ace. It set the tone for the match.
Lindner went on to have 17 kills in the match as the Bulldogs outhit the Raiders 39-23. They also had an 11-4 advantage in ace serves with Isabelle Paitz scoring four aces to go with her nine kills. Flood had three ace serves as did Kaci Pierce.
Mead, led by Brianna Lemke and Becca Halbmeier who had nine kills apiece, rallied in the third set and led most of the way.
"We didn't take care of the ball as well as we could have at the beginning of the set, and our serve receive was a little bit lax," Nordby Said. "We didn't push the ball up so we didn't have any options."
In a timeout trailing 23-21, Nordby instructed his team to get the ball up to setter Natalie Siegel.
"She's super athletic and she's in the front row where she has a dump option. If the ball's tight, she can work with it and she'll get the ball where it needs to go," he said. "I think we did that better those last four or five points."
Three kills by Lindner and one by Hailey Mollring wrapped up the victory.
Nordby thinks he's taking a better team into this year's finals.
"I think we got better at blocking and serving from last season. That was probably our weakest spots, and if you don't serve tough down here, the teams you face will make you pay a little bit more than they do in the regular season," he said.
Pleasanton carries a 32-0 record into the final, while Bergan is 26-10 after beating BDS 25-17, 25-13, 22-25, 25-14 Friday morning.
Nordby thinks the Bulldogs will be ready for the challenge.
"This group, they've been poised since their freshman year when they came in. Winning is what they want, and then they've had a lot of success in every sport that they play. ... I'm just glad we got over that hurdle of volleyball struggling in this gym and moved past that."
Overton faces Clarkson/Leigh in consolation game today
LINCOLN — Overton came out of the box strong Friday against Norfolk Catholic in the semifinals of the Class C2 Nebraska Volleyball Championships.
The Eagles took the first set 25-18 but fell short in the final three sets — 17-25, 19-25, 21-25 — against the Knights.
"Tonight didn't go as we had hoped but we were excited to be playing in the state semifinal game," Overton coach Hayley Ryan said. "We came out fired up and kept the momentum the entire first set. But they had bigger runs throughout the rest of the game. We kept the games close and played well.
Haley Fleischman had 22 kills to pace Overton, which will play in a consolation match today (Saturday) against Clarkson/Leigh (22-8).
Overton (27-3) also got 19 kills from Rachel Ecklund. Norfolk Catholic's Mary Fennessy and Channatee Robles each had 14 kills each.
Kenzee Scheele had three ace serves for the Eagles. Meanwhile, the Knights scored 10 ace serves and Carly Marshall had 39 assists.
Get in the game with our Prep Sports Newsletter
Sent weekly directly to your inbox!