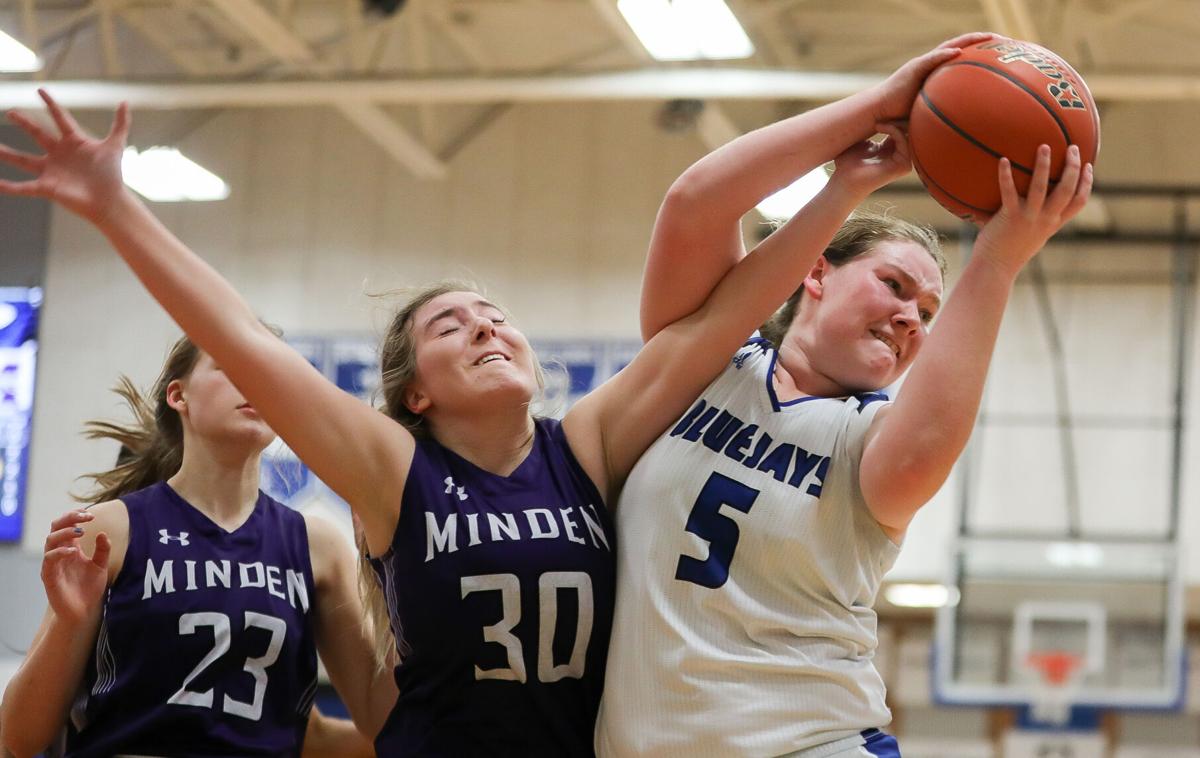 RAVENNA — The annual Maulsby brothers' coaching rivalry returned to Ravenna High School on Tuesday. For two seasons previously older brother Noah Maulsby had his younger brother Taylor's number.
Not this year. In a battle of turnovers, 10-0 runs, different lead changes, Noah Maulsby's fifth-ranked Ravenna girls basketball team fell to Taylor Maulsby's Minden team, 50-45.
The Bluejays had 30 turnovers against Whippets' pressing defense. Adjustments were made but not enough to close the deal as Ravenna suffered its second loss of the year.
"It is kind of hard to see something like that during practice the way they do it," Noah said. "We were trying to go too fast. We needed to slow down and break it so we can run an offense and we want to score right away. We panicked, but it is something we can learn from moving forward. We got people in the right spots. We just have got to make better decisions."
Minden has won three straight games since its loss to the Kearney Catholic. By beating Ravenna on the road, the Whippets are even with the Bluejays at 11-2.
"Obviously, they're a really good team, really well-coached, but whenever you can obviously beat your brother, that's a good thing," Taylor said. "I thought the girls played really hard, hard as we have played all season."
Both teams exchanged baskets and turnovers in the first quarter. After a 4-3 score, Ravenna was off to a 7-0 run to pick up a 10-3 lead. Minden caught Ravenna with a 7-0 run of its own. Payton Webber knocked down a pair of triples to keep the Whippets ahead 14-12 to end the quarter. Minden took advantage of Ravenna's turnovers and picked up its largest lead of the half at 19-12.
After trailing 22-16, the Bluejays made a comeback by scoring nine straight points, including an inside pass from Kennedy Hurt to Sarah McKeon to end the half, 22-15. Minden was held scoreless in the final three minutes of play and committed 11 turnovers.
"I thought we changed things up," Taylor said. "I thought the girls did a great job buying in ... having a little more ball pressure. I thought we did a good job getting them sped up, and we got them playing too fast, especially early."
Ravenna continued its momentum early in the third quarter. Morgyn Fiddelke had the hot hand as her back-to-back 3-pointers led Ravenna on a 10-2 run and a 33-25 lead.
Mattie Kamery's 3-pointer for Minden stopped the run.
"We did a good job, since we made that run at the end of the first half, getting the ball inside. Even if we weren't scoring, we were making them collapse on their outside shots," Noah said. "We got away from that in the second half."
Just seconds into the fourth, a 3-pointer by Kamery tied the game at 38. It was a 12-0 run, going back to late in the third quarter, that put Minden back ahead, 42-38.
From there, it came down to free throws, which was in Minden's favor.
Tori Sklenar, who also finished the night with 15 points to tie Hurt for Ravenna's scoring honors, retied the game with a quick steal and score, but the Bluejays fouled Rozie Nelson right after and she made one of her two free throws to regain the lead with a minute left.
Instead of attacking the paint, the Bluejays forced some 3-pointers late, but none dropped.
"Sometimes we kind of fall in love with the 3s," Noah said. "When it's not going in, we need to make a conscious effort to get it to Sarah (McKeon) and Claire (Coulter). It is something we have to work on going forward, especially against zones. We just can't rely on shooting 3s."
Priscilla Madriz, who shot 70% from the line, finished the night with 14 points. Kinsie Land, also dropped 14 points for Minden.
"I thought we did a good job not panicking," Taylor said. "We hit a couple of shots from the outside, which has been a little bit of a struggle, and they were the right kind of shots, the inside-out shots."
The Bluejays can bounce back against the winless Central City Thursday night, while the Whippets will be tested again against another top-tier team, Hastings St.Cecilia.
"St. Cecilia, obviously, is going to be real tough on Thursday, and we have a lot of games in a short stretch," Taylor said. "So continuing to battle and continue to play defense, I think, as we improve, we can beat anybody."