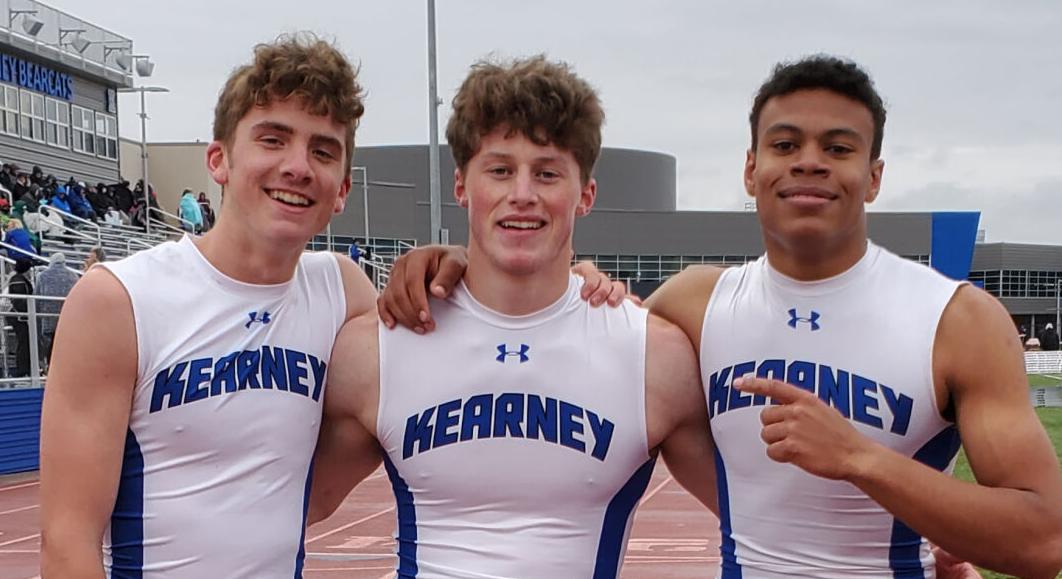 KEARNEY — The Kearney High boys track team has itself a three-headed monster running the hurdles.
D'Andre Ndugwa, Alex Schall and Jack Dalhgren have been consistent in finishing in the top three in both the 110-meter hurdles and 300-meter hurdles. Friday's KHS Invitational was not any different.
"We're out here doing it for each other, so we just want to be one of the top teams in the state," Schall said. "We want to compete and make each other better. I think we did pretty good today."
The hurdling trio and the rest of the boys' team ended up winning their invite with a total score of 146 points. Creighton Prep finished in second with 120.5 points, and Lincoln Southwest came in third at 81.5. Hays, Kansas, came to Kearney to compete and finished the day with 73 points
Ndugwa led the Bearcats with a first-place finish in both events. In the 110, he finished at 14.58, and then Schall came in second with a time of 15.21. Dahlgren took third at 15.74. Ndugwa was also impressive in the 300-meter hurdles at 41:27. Schall recorded 42.95 and Dalhgren at 43.35. Every week, the three continue to complement one another whenever they are on the track.
"We just pushed each other every day in practice. We're always helping each other in being the best version of ourselves," Dahlgren said.
This is the Bearcats' second home meet this year. Ndugwa likes the benefit of competing at home.
"That's a huge advantage," Ndugwa said. "We don't have to sit in the bus, or not have to stretch out more. I mean we're sitting inside the locker room. Other teams are just sitting out here or under the bleachers because it's still cold, but we're inside the locker room, warm. We know where everything is."
The biggest challenge is coming up for the Bearcats as they will take on the Omaha Central team next Thursday at Omaha Burke High School. For Schall, he's not backing down to a challenge. About 10 more players finished in the top five for the Bearcats.
"We've all got that competitive energy," Schall said. "We don't like to lose. It doesn't matter if we're going against a Class C team or guys from the metro, we're going to go just as hard and try to win every time."
Also winning on the boys, Colby Spangler won in the triple jump at 42-7 3/4. Gabe Van Winkle added another first-place win at 50-4 1/2 in the shot put. Richard Harbols was victorious in the high jump.
For the girls, the Bearcats were led by Hannah Godwin, Haidyn Skeen and Lily Novacek. Godwin took first in 1600 at 11:19.77, and third in the 3200. Skeen won the discus throw while Lily Novacek took second. Novacek did win the shot put in at 30-4. The Lady Bearcats scored 77 points, falling behind Papillion-La Vista South (112.5) and Lincoln Southwest (159)