KANSAS CITY, Mo. — Kearney High likely never will have an athlete quite like Drew Anderson again.
Anderson was a three-sport star for the Bearcats and played American Legion baseball during the summers from 1996 to 2000.
With many athletes now concentrating on a specific sport and KHS boasting a baseball program, no athlete likely will have a career similar to Anderson's.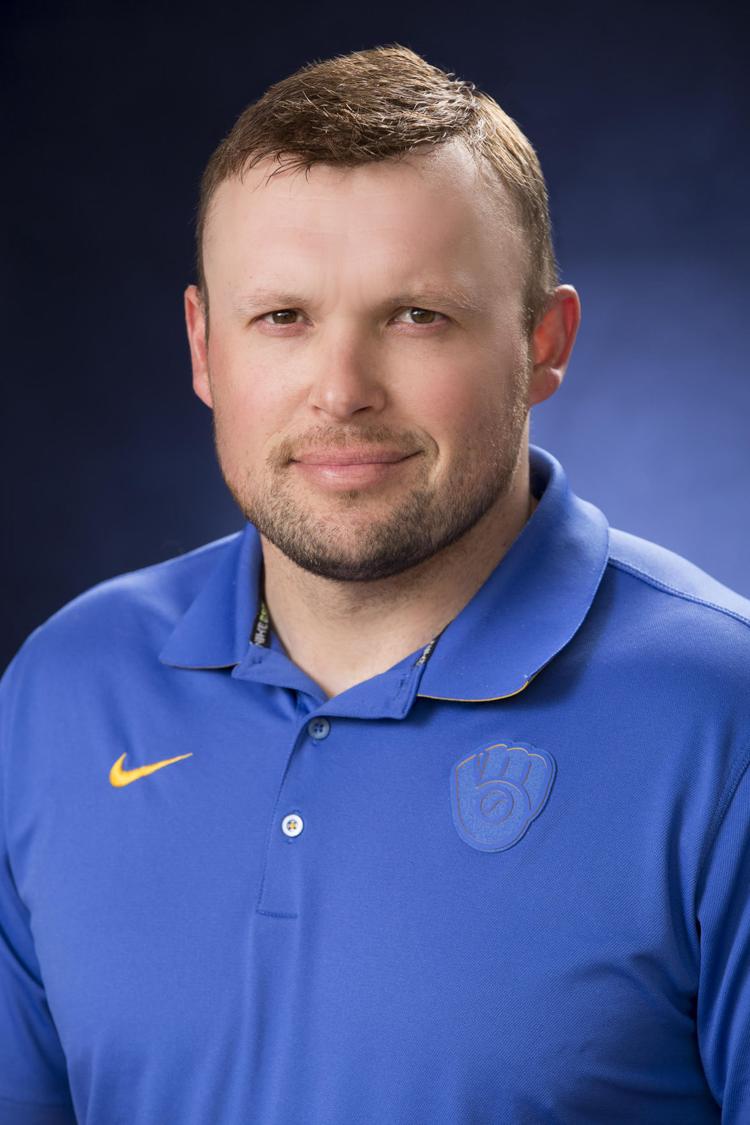 His dedication to playing a variety of sports inevitably helped his career, he believes.
After high school, he played three years of baseball for the Nebraska Cornhuskers before embarking on an 8-year professional baseball career, which included nine games with the Milwaukee Brewers in 2006.
Anderson has worked in the Brewers' scouting department since November 2010. He served as an area scout before being promoted to regional supervisor in the Midwest last year.
"That's one of the things that shaped my athletic career was being in the middle of Nebraska and not having high school baseball," said Anderson in a telephone interview. "It allowed me to do four sports. It would've been extremely difficult for me to have chosen track or baseball at that time.
"I never got burned out with any one sport because I played all four sports. Once I got to college, baseball was a new sport for me. It was never my dream to be a major leaguer because I played so many sports. I just enjoyed sports in general."
Anderson wasn't immediately a superstar for the Bearcats. It took time for him to develop as an athlete. But once he was an upperclassman, he was one of Nebraska's best multisport athletes.
He played American Legion baseball his first three years of high school, hitting .443 with 41 extra-base hits and 75 RBIs as a junior in 1999. He was too old to play his senior year, so he played with the Beatrice Bruins, a collegiate summer team.
As a senior for the Bearcats in 1999-2000, Anderson had a remarkable finish to his prep career.
He was one of the state's top receivers in football, hauling in 38 passes for 818 yards and nine touchdowns. On the basketball team, he averaged nearly 20 points per game.
In track, Anderson won the all-class gold medals in the 110-meter high hurdles and 300-meter low hurdles, accomplishing his goal he set as a freshman.
During his KHS career, Anderson helped the track team to four consecutive undefeated state championship seasons. That four-year stretch was part of the Bearcats' state-record 11 consecutive state titles from 1994 to 2004.
"We built that kind of reputation and expected to win," Anderson said. "We were so dominant and no one wanted the streak to end. That was the biggest thing our class could do is make sure we kept that streak alive. We took extreme amounts of pride in that. Everyone was so wrapped up wanting to be a part of that dynasty. No one ever came close to us in any event or meet or state meet. It was one of the highlights of my high school career."
Nebraska recruited him in baseball, football and track. But baseball was the sport Anderson had the most passion for and he joined the Huskers in 2000-01.
As a freshman, Anderson was the Huskers' only true freshman position player on the roster. He appeared in 27 games and batted .293 with nine stolen bases in a reserve role for the Huskers, who appeared in the College World Series.
Anderson experienced an increase in playing time as a sophomore on the College World Series bound Huskers. He played in 63 games and posted a .266 batting average with five doubles, one triple, one home run, 32 RBIs and eight stolen bases.
He struggled as a junior in 2003. He posted a .238 batting average with four doubles, three home runs and 19 RBIs in 57 games. He only started 28 games, which was 19 fewer than he did as a sophomore.
Anderson admits his "confidence was shot" in his junior season. With a talented roster and playing under-then first-year head coach Mike Anderson, who would pull him midgame if he had a bad at-bat. Drew Anderson knew he needed to perform if he wanted to play every day, he said.
Despite his struggles, the Brewers saw potential in the left-handed hitting outfielder and selected him in the 24th round of the 2003 MLB draft.
Anderson signed with the Brewers, despite receiving just a $7,500 signing bonus. He felt it was a chance for a fresh start and was eager to start a pro career.
After excelling in his first four seasons in the minor leagues, Anderson was called up to the majors by the Brewers in September 2006.
He didn't have much time to settle into the major leagues. About 24 hours after he received the news, Anderson was in the batter's box in Pittsburgh against Pirates closer Salomon Torres with two runners on and two outs in the top of the ninth inning with the Brewers trailing by one run.
Anderson struck out swinging in his first career major-league at-bat.
Ten days later, Anderson received his first career start against the San Francisco Giants at Miller Park in Milwaukee.
Anderson hit sixth in the lineup. In the bottom of the second inning, Anderson laced a line drive to left field off right-hander Matt Morris. The ball landed in front of left fielder Barry Bonds for a single and his first career hit.
"You're in awe when you first get there," Anderson said. "It's all super surreal. Getting told and then getting to call my family was the greatest moment of my life at that moment. It was a lot of hard work and effort put in. I went from not playing in college to getting to pro ball and having to survive and beat the odds every single year to getting that call to the major leagues."
Anderson went on to play nine games with the Brewers that season. He recorded one hit in 10 plate appearances, drawing one walk, for a .111 batting average.
That stint marked Anderson's only appearance in the major leagues. He played three of his final four years in the Brewers' minor league system, spending 2008 in the minors with Cincinnati, and retired at 29 years old after the 2010 season. He hit .298 with 51 home runs and 435 RBIs in 865 career minor league games.
"I don't think I became a good baseball player until I got to pro ball," Anderson said. "It was the first time I actually got to play every day. It took some of the pressure off. I was able to relax a little bit because I put so much pressure on myself at Nebraska, and I think that's why I didn't do as well as I wanted."
Anderson, 38, resides in Kansas City, Mo., with his wife, Ashley. They have been married for three years and met in Kansas City. Ashley is originally from Lexington and is the daughter of Dr. Ted Harvey, who played football for the Huskers and is in the Nebraska High School Sports Hall of Fame after a decorated career at Lexington in the early 1970s.
Anderson and Ashley have a 20-month-old son together while Ashley has a 10-year-old son. Anderson also has two daughters, ages 11 and 9, from his first marriage.
Anderson travels regularly for his role with the Brewers to scout players for the yearly MLB draft. He enjoys his role and finds himself thinking back to the moment when he was drafted and how it affected his life, he said.
Even though its been 20 years since he graduated from KHS, Anderson actively follows the Bearcats and remains a fan of the athletic program.
"I am proud to be a Bearcat," Anderson said. "To play four sports, that doesn't happen very often. I can't imagine not being able to do that in high school. It's amazing where sports has allowed me to go in life.
"Now in my current role, my office is a baseball field. I'm gone a lot, and it's hard on my family but my wife is amazing. It's a dream job. I love my job and getting to see players every day play. Being at Kearney High and Nebraska has gotten me to this point."