KEARNEY — Theison Anderson has been selected as the head volleyball coach for the Kearney High Bearcats. Currently, Theison is the men's head volleyball coach at Morningside College in Sioux City, Iowa.
"Theison brings an intriguing balance of high school, club, and college-level coaching experience to the Kearney High School volleyball program," said Ryan Hogue, KHS assistant principal/activities director.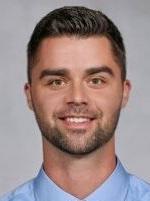 Anderson is returning to Kearney as a fourth-grade teacher at Kenwood Elementary. Previously he was a past teacher at Meadowlark Elementary in 2017-20, an UNK graduate assistant in college volleyball in 2018-20, and served as a substitute teacher and varsity volleyball coach in Ravenna in 2015-17.
As a UNK graduate assistant, Anderson worked with head coach Rick Squiers who led the Lopers to 20 NCAA Division II National Tournament appearances, three of which ended in the Elite Eight.
"I am incredibly honored to be selected to lead the Bearcat volleyball program. I am excited for the opportunity to return to my roots in Kearney," said Anderson. "In a community that is already so supportive of volleyball, I will look to continue to grow youth interest and expand opportunities for the current athletes as well as the future Kearney High athletes. To be able to step in and lead a well-established and highly skilled program like Kearney is something I am beyond grateful for!"
"One of the areas that sold us on Theison was his four years of experience as a practice player and graduate assistant under one of the most successful Division II coaches in the country, Coach Rick Squiers," said Hogue. "You cannot duplicate what he gained from that time at UNK and also his experience as a head college men's coach at Morningside College this past year."
Anderson has a master of arts in education in physical education and a bachelor of arts in education in elementary education from the University of Nebraska at Kearney.
"With Coach Anderson's coaching background, youth and drive to compete at a high level, I strongly believe we have our coach for years to come, therefore setting up our student-athletes to achieve excellence on and off the court," said Hogue. "The future looks very bright for the Bearcat volleyball program."
Theison replaces Jessica Day, who left coaching to spend more time with family.