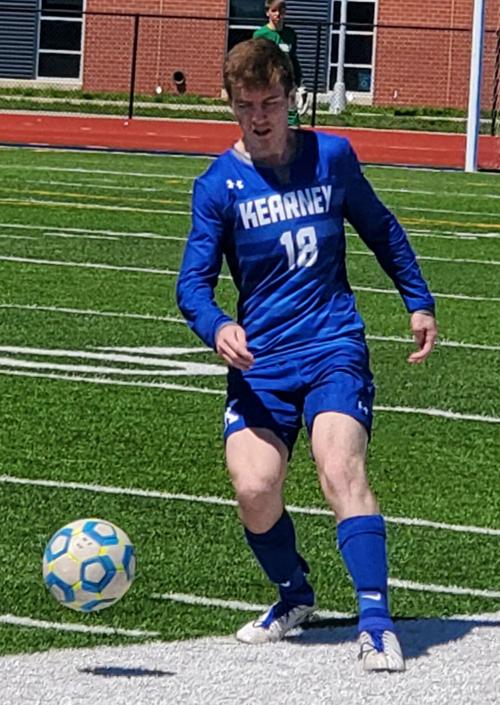 KEARNEY — For two consecutive seasons, minus last year, the I-80 Cup belonged to the Kearney High School boys soccer team. However, the trophy is heading back to Lincoln.
The Bearcats came up short in a 2-1 loss to Lincoln Southwest on Saturday. The Silverhawks remained undefeated after notching their ninth win on the year. Kearney dropped to 4-4 in another hard-fought battle against a state-caliber team.
"Like I told the kids in the locker room, they should feel really good about the way they played," KHS's coach Scott Steinbrook said after the game. "The rate of our improvement right now, week to week, game to game, is as high as any team that I have coached in a long time. Two weeks ago, we weren't very good. Two weeks ago, we talked about the Lexington game and the Fremont game — we're continuing to get better, and if we continue to get better when the stakes are higher later in the year once we hit the postseason, we're going to be an awfully tough team to beat."
The Bearcats gave the Silverhawks a run for their money, especially midway through the first half. Kearney had an opportunity to be on the board first and get ahead of Southwest after a corner kick attempt, but it was hit and miss. Southwest caught a break in the 23-minute mark. Eli Rhodes scored off a penalty kick to give the Silverhawks the lead. The Bearcats were able to even the score with another corner kick attempt that they executed.
Jackson Bokenkamp scored for Kearney, and Carter Goff had the assist. Things were starting to go the Bearcats' way until the Silverhawks scored their second goal at the 61-minute mark.
"Sometimes the breaks go your way, and sometimes they don't, and we got caught a couple of bad breaks today, but our guys played so hard," Steinbrook said. "You play as hard as they did, that will sometimes make up for some mistakes that we made or make up for when we're playing a team that is as talented as Lincoln Southwest, but I couldn't be more proud of how our guys competed today.
"Southwest is one of the top one or two teams in the state right now. We're talking about a state-rated and a nationally rated team, and we went toe to toe with them. They probably had the ball a little bit more than we did. They probably had a few more shots-on-goal, but we picked our spots, we had a couple of corner kicks, one we scored, the other we didn't."
The Bearcats will be put to the test once again at 7 p.m. Tuesday when they host Lincoln Southeast High School (6-2). Then they are on the road to take on Norfolk High School (5-4) on Thursday and then return home to host Omaha Central on Saturday.
Two-goal performance lifts Silverhawks girls over KHS
LINCOLN — Kayla Hassler scored a pair of first-half goals to lead Lincoln Southwest to a 2-1 win over Kearney High on Saturday.