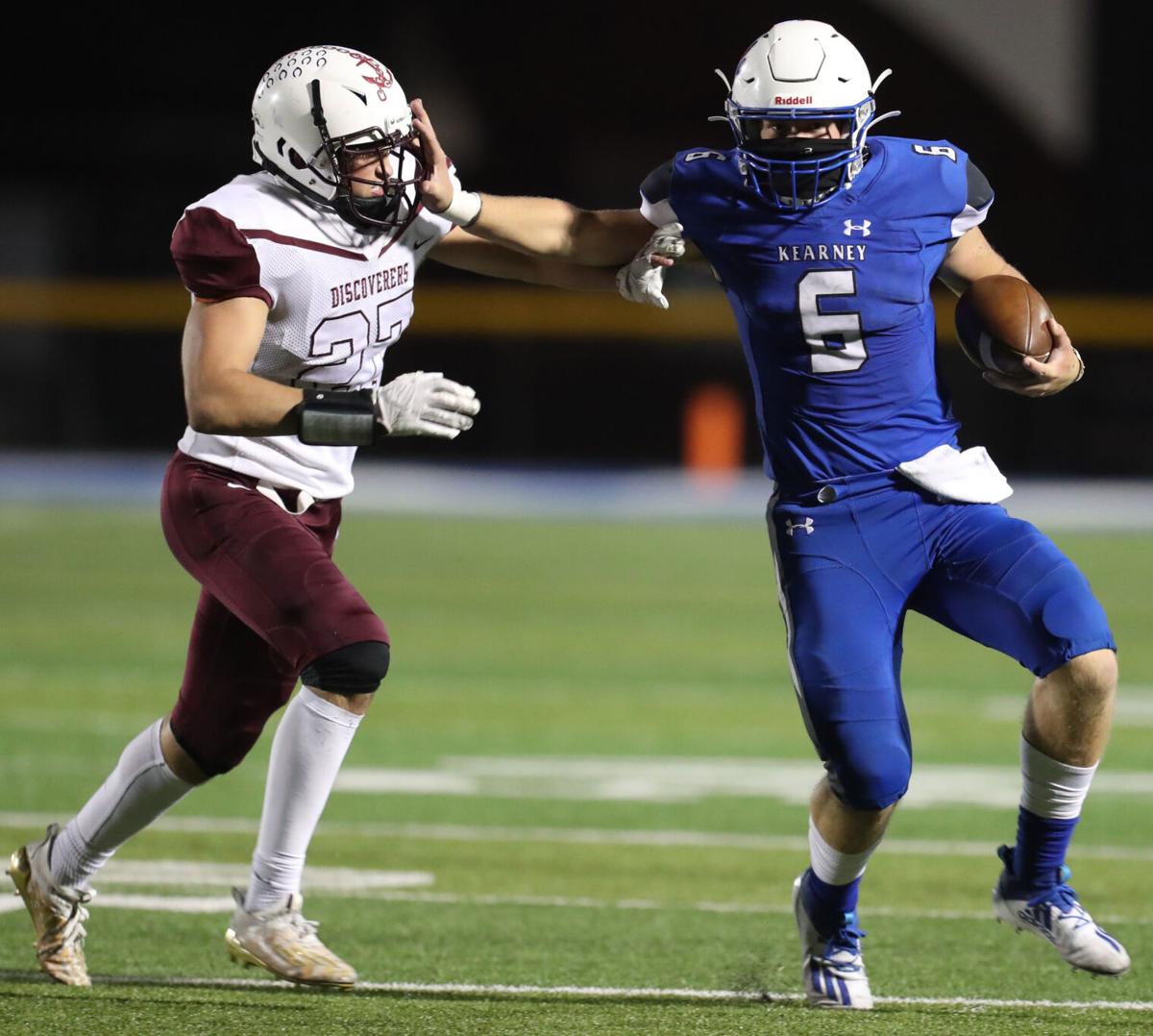 KEARNEY — Kearney High finally broke into the win column.
With quarterback Preston Pearson scoring four touchdowns on the ground, and passing for another, the Bearcats cruised to a 41-19 win Friday night over Columbus at UNK's Ron and Carol Cope Stadium at Foster Field.
"We've never been in a position where we didn't have any wins in September, that's for sure," KHS coach Brandon Cool said. "So it's a good feeling for our kids. They played extremely hard and they've played hard all year."
Kearney came into the game 0-3, playing three of the top-ranked teams in the state and sitting out two games with coronavirus issues. And even though Columbus, which only had lost one game, scored first, the Bearcats dominated every phase of the game.
Kearney rushed for 226 yards, passed for 101, had an 86-yard kickoff return and forced three turnovers. Defensively, the Bearcats stuffed the Discoverers' running game except for an 80-yard run by Trey Kobza in the third quarter.
Pearson led Kearney's ground game with 19 carries for 99 yards. He scored on runs of 2, 9, 2 and 3 yards. He also completed 7 of 9 passes for 101 yards and connected with Alex Schall on a 12-yard touchdown pass.
"Preston did another terrific job. He's a terrific leader. He's a great role model for our youth. When you have a guy like that running your offense, you're always going to be in good shape," Cool said.
The Bearcats' other touchdown came on a 12-yard run by halfback Parker Wise, who drove through multiple Columbus defenders to get to the end zone.
Wise finished with 49 yards on seven carries and Chris Dutenhoffer gained 53 yards on nine carries.
"You have to run the ball in the game of football and we've got some great game experience against some great defensive lines. So, we wanted to challenge our kids to get their hands in the turf and work downhill and we got some nice plays in that run game," Cool said.
The Bearcats scored on three of their four possessions in the first half, driving 80 yards and 56 yards before a recovered fumble gave them a short field for a 22-yard drive.
Another Columbus fumble to start the second half set up a 35-yard drive for a Bearcat score and a 27-7 lead.
Kobza dashed 80 yards for a touchdown to give Columbus a spark, which Miguel Molina immediately extinguished with his 86-yard kickoff return. Three plays later, Pearson scored from 2 yards out and he capped a 59-yard drive on the next possession before turning things over to the Bearcats' back-ups.
"We took advantage of some turnovers and took advantage of some great field position and defensively, our defensive guys were able to create some turnovers. So it was nice for us to get back home on Homecoming and pull out a victory," Cool said.
n Kearney 41, Columbus 19
Columbus (4-2)7   0   6   6 — 19
Kearney (1-3)6  14  14   7 — 41
CHS — Trey Kobza 15 run (Garrett Esch kick) 8:14
KHS — Alex Schall 12 pass from Preston Pearson (kick failed) 1:57
KHS — Parker Wise 12 run (James Dakan kick) 7:44
KHS — Pearson 2 run (Dakan kick), 5:39
KHS — Pearson 9 run (Dakan kick), 6:57
CHS — Kobza 80 run (kick failed) 6:44
KHS — Pearson 2 run (Dakan kick), 5;11
KHS — Pearson 3 run (Dakan kick), 11:56
CHS — Ernest Hausmann 15 pass from Brody Mickey (kick failed), 5:37.
Get in the game with our Prep Sports Newsletter
Sent weekly directly to your inbox!