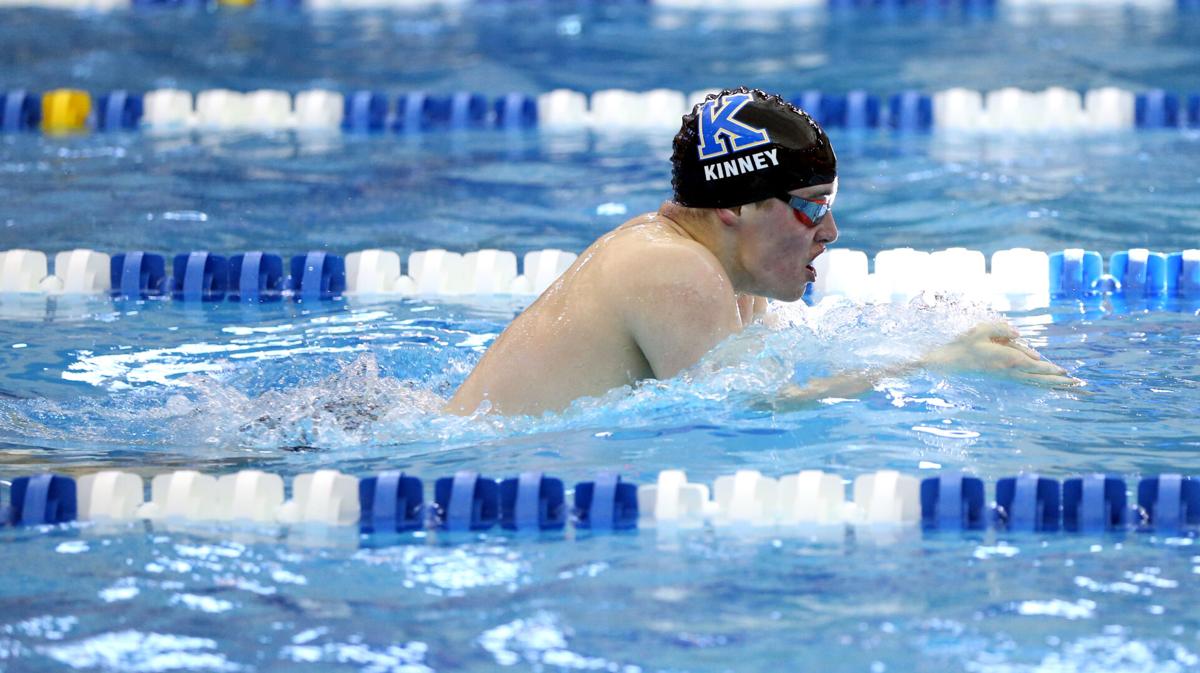 KEARNEY — Last season, coach Jane Bartee sent 21 swimmers and divers to Lincoln and exceeded all expectations while finishing second in the Heartland Athletic Conference. Now that seven seniors are gone, the remaining 14 state qualifiers are looking to pick up the momentum from last year's state championship performance to this season.
Bartee is excited about seeing this year's group.
"We're looking to get out there and improve each week and see how things go," Bartee said. "It's always an interesting situation to see how we do this year. We'll see how we'll start in the beginning of the meets. We're just trying to get better each meet."
The strength will continue with the boys as the Bearcats will return all four members of the 200-freestyle relay team. Zebediah Black, Russell Dietz, Ethan Kinney and Logan Arnold are all part of history after breaking the school record with the time of 1:26.93, which was held by the 2004 team. The relay placed fourth that year, and the boys' team overall finished ninth at state. Expectations couldn't get any higher for the returning swimmers.
"I think the experiences are beneficial," Kinney said. "The season is long and can wear you down, but you just know what to expect, setting goals and knowing how to go through it. It's big having that experience."
Days before winter practice, Kinney signed his letter of intent to swim for Augustana University. Kinney believed it was the right fit for the senior and is glad that he made his decision before the season.
"I kind of wanted to get it out of the way so I can focus on the season," Kinney said. "It kind of felt right. The coaching styles are similar to Coach Jane a lot."
Across the state, the Bearcats expected this season to be just as challenging as they opened the season, hosting a triangular against Grand Island High School and Hastings High School. Kinney mentioned that all the schools in Lincoln could be the toughest this year.
"All of them is going to be pretty competitive," Kinney said. "All the Lincoln schools are going to be really competitive. Southwest is going to come out. They are loaded. Pius has really good, dedicated guys. Those are the main ones I'm thinking of."
For the girls, Bartee will have quite a handful of participants this year. A total of 38 girls joined the swim/dive team this year, which is the most Bartee has ever had. It didn't take much effort to convince them, especially those who wanted to learn how to swim for the first time.
"I think I'm kind of different than the other sports because I can let anyone come and swim and dive, so it's like a lot of them are learning how to swim in the beginning," Bartee said. "Just seeing the progression from learning … Especially the boys that made it to state just from learning as freshmen. It's kind of fun to see the progression as they get older each year."
The Bearcats girls will lose their four-time state qualifier Hannah Hepner, but will have Callie Bartee back after a strong freshman season. Callie Bartee placed 12th in state last year in the 100 breaststroke. As she enters her sophomore year, she expects to step up in the leadership role.
"I really want to bring up the girls team because I feel like it is not what it's expected of them than the boys' team and they might get let down a little bit," the sophomore said. "So, I want to try to motivate them, push themselves."
Kearney's home invitational is scheduled 4 p.m. Dec. 2. Then on that Saturday, the Bearcats will be in Hastings at 9 a.m.