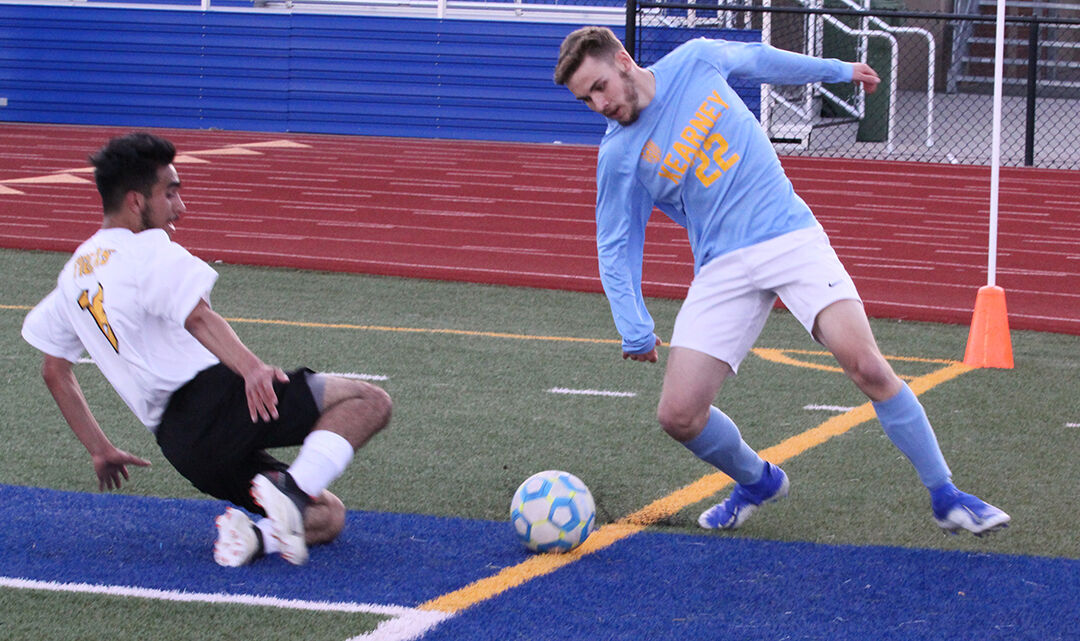 EARNEY — The Kearney High boys soccer team bounced back after the Lexington loss on Tuesday to dominate Fremont, 3-0, on Thursday to improve to 4-3 on the year.
Kearney's coach Scott Steinbrook considered Thursday's win the most complete match he's seen from his Bearcats thus far, mainly on defense. Fremont had a hard time getting away from Kearney's pressure.
"Well this is going to sound kind of interesting, but we've talked about our two or three attacking players that they have to set the tone defensively," Steinbrook said after the game. "When we're pressuring, if we lose the ball, we have a shot block, or we give possession up, that we can't just sit there and hang our heads and be sad that we didn't score a goal. The defense has to start immediately."
The Bearcats led 1-0 in the first half. In the 29-minute mark Colt Straka knocked the first goal for Kearney with the assist by Josh Bean. The Bearcats added two more in the second half, starting with a lone goal by Ryland Garrett10 minutes into the half. Then, with less than a minute left, Kearney sealed the deal with a corner-kick play by Carter Goff, which led to Kearney's third goal by Jackson Bokenkamp.
"We probably could have scored a couple more, but defensively we didn't give Fremont very many chances," Steinbrook said. "In terms of the overall big picture this was probably our best effort so far."
As the Bearcats gain momentum, they will be put to the test on Saturday as Lincoln Southwest will be in town for an afternoon matchup. Southwest is coming off a triple overtime win over Skutt Catholic and remains undefeated at 7-0.
"It's a good week to be at home," Steinbrook said. "We're going to have to build on what we did on Tuesday night even though we lost, build what we did tonight and then hopefully, we just got to get better, and it's time to test ourselves. This will probably be the first Class A top five or top 10 that we play this year. It's a good measuring stick to see where we're at. We've played seven games now, so we've played half of the games in our schedule, so it's time to be tested against one of the big dogs in the state, and that's Southwest coming to town."
Saturday's match is set for 1 p.m.