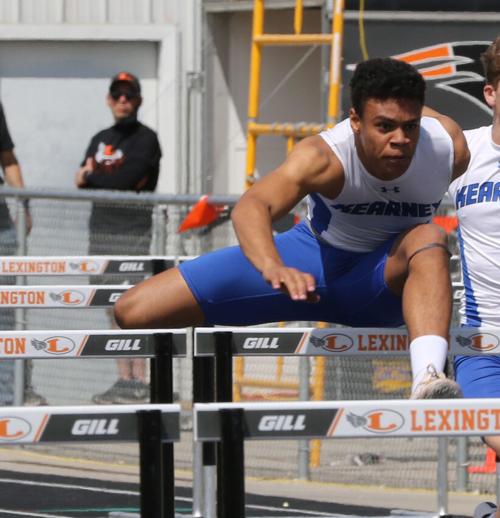 KEARNEY — D'Andre Ndugwa of Kearney High School was one of the top hurdlers in the state, but one of the toughest challenges he had to overcome was hurdling with a bad hamstring. It was the only thing that slowed the junior down.
For his performance this season Ndugwa has been selected the 2021 Kearney Hub Male Track Athlete of the Year.
"I've worked three years to put my name out there, and this is just the beginning," Ndugwa said. "This year has been great. I've had great coaching and great teammates that encouraged me even after I got hurt. If I didn't have them, I don't think I could've pushed myself to the max.
Ndugwa had the fastest time in the 110s, at 14:44, which he ran at the Columbus Invitational. He was 0.01 shy of breaking the meet record held by KHS grad Drew Anderson.
He sustained a hamstring injury during the Heartland Athletic Conference. Despite the top hurdlers in the state and a heavy favorite to win it all in finals, he still had to qualify.
"Being able to mentally come back from an injury situation for athletes," KHS track and field coach Broc Howard said, "D'Andre carries himself in a calm and collective manner that we just had a strong feeling that he would be able to bounce back and give a great effort."
During the Class A District finals, Ndugwa didn't qualify in the 300 hurdles, but he did in the 110s with his Bearcats teammates Alex Schall and Jack Dahlgren.
All season long, the three hurdlers consistently would finish in the top three in the 110s, which has been the goal for the trio. Ndugwa led the pack. Every week, Ndugwa had to get treated, which includes stretching out his hamstring. He would be day-to-day, but he still would be ready to go on the day of his meets.
"Over the hurdles, it was kind of tight, but I can run," Ndugwa said. "I had to stretch out more. During practices I had to stretch, and I couldn't do a full workout, and then the next day I stretched again and was able to do a full workout."
In the Class A State Finals, Ndugwa placed second in the 110 hurdles, finishing behind Schall. Ndugwa knew that if he was fully healthy, he could have taken home the gold medal, however it didn't matter to him. He was pleased to finish in the top three with his teammates.
"Going 1, 2, 3 at state, how many people can do that?" Ndugwa said. "I'm forever going to remember that. We'll see what next year looks like, but with this group, it will not be the same."
Howard believed that Ndugwa's defining moment has nothing to do with how he is on the track. He would describe his character and willingness to accomplish something bigger than his indivdual scores.
"People want to talk about how good D'Andre is on the track, and they have every right to talk about it because that is what they see from the outside," Howard said. "Most athletes in his situation would be upset not winning the state meet after leading the state all year. Watching him cross the finish line and being truly ecstatic for Alex and Jack shows so much about his character. It didn't matter the order in which they finished. They just wanted to finish 1, 2, 3."