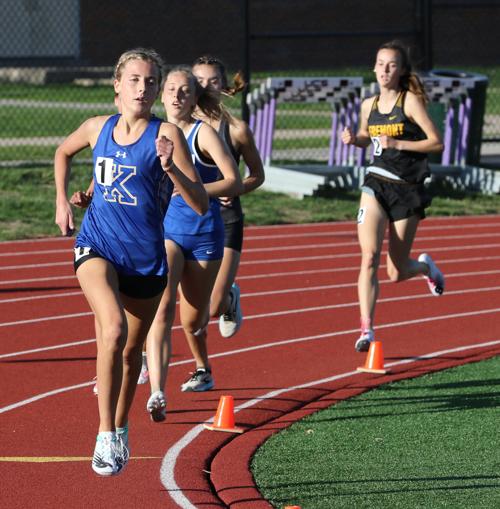 KEARNEY — Hannah Godwin had some numbers in her head.
Numbers that belonged to someone else.
Now, she has those numbers.
The Kearney High senior rewrote the Bearcats' record book this season with all-time bests in the 1,600- and 3,200-meter runs. However, she couldn't turn those numbers into gold medals at the state track meet.
But that was a credit to her opponents.
"The distance girls in the state of Nebraska right now are top-notch," KHS coach Nate Polacek said. "There were really four in each race and it was going to come down to who could go out, who could compete and who could hold it together.
"Hannah went down and had two of the best times she ran all year back-to-back against tough fields, and in both races she put herself in position to win. She put herself right in the mix. She ran and executed the race plan. I was proud of how she went down and competed."
Godwin's impact on the school records and her competitive drive in the face of tough competition are reasons to bestow on her the label of Kearney Hub Female Track Athlete of the Year, an award she shares this year with teammate Lily Novacek.
At the state meet, Godwin finished second in the 1,600 on Thursday and third in the 3,200 on Wednesday. Her times — 5 minutes, 3.86 seconds in the 1,600 and 11:03.41 in the 3,200 — were within an eyelash of the school records she had set earlier.
"I thought it was a really good year. Coming into the year my goal was breaking the school records so I was really happy about that. I wanted to get a first-place medal at state, which didn't happen, but I was just happy to come up with those records."
The two races at state were different for Godwin.
She led most of the way in the 1,600 before Fremon't Elli Dahl passed her and won the gold.
Dahl won the 3,200, too, but she didn't need to pass Godwin on the final lap.
"The 3,200, it went out super fast and I kind of got caught a little behind," Godwin said. "I was in third and fourth most of the race. That made it really difficult to catch up to everybody. ... It just made it tough to stay up in that one, two position.
"So going into the mile ... I wanted to stay up front right in the beginning and push the pace more."
Godwin's running career started in seventh grade. She had been doing everything — soccer, softball, basketball — but when she got to seventh grade, the only sport in the fall was cross country.
"So I did cross country and I ended up really liking it. ... I liked how competitive it is. It's an individual and it's a team sport, which makes it kind of fun because you can compete against yourself and you can compete against other people with your team. I was kind of drawn to that aspect of it," she said.
Cross country turned into track and Godwin raced into both.
This year's state cross country meet foretold what track would be like. Godwin's fourth-place time in cross country would have won the meet in many of the previous years. So would her times at this year's state track meet.
"It's kind of 'any given day.' There's days where I'll come in first and there's days where I'll come in third. It depends on who's on their 'A' game that particular day," Godwin said. "In cross country ... nobody really knew who was going to win state. The top four spots were really up for grabs."
It was the same at the state track meet where the top runners all were within seconds of each other.
Godwin set her school record in the 3,200 at the Nebraska Trackfest in Papillion. The 1,600 record fell in the district meet. She hoped they would fall again at state.
"I was pretty disappointed in my time at state (in the 3,200). It was a second slower than I did when I broke the record, and I was really hoping to go sub 11 ... and in the mile I wanted to go sub 5 but sometimes that's just how the race works," she said.
Godwin now will take her running skills to the University of Nebraska-Lincoln. She committed to the Huskers earlier in the year because she believes it's a place where she will improve her skills.
"I already know some of the girls on the team just from competing against them in high school or running camps or whatever, so that was kind of nice. Also, the coaches were really nice reaching out to me and recruiting me," she said.
It's also close enough that family friends and coaches can see her compete.
From her talks with the coaches, she expects to compete any distance between 1,500 and 5,000 meters.
"I'd really like to try the 3,000-meter steeplechase. ... People say it's one of the toughest races you can do. It requires a lot of athleticism because you're not just running, you're jumping over barriers," she said. "And ... it also kind of looks cool, you know, people jumping around and there's the water pit so yeah, I'd like to try it."