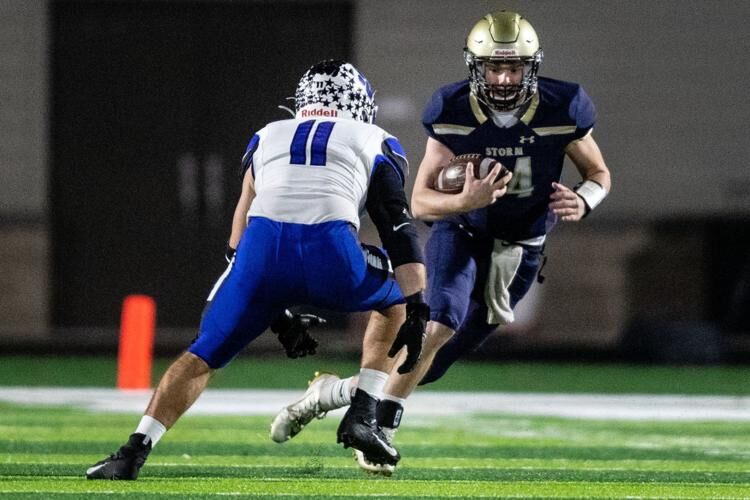 ELKHORN — The Kearney High Bearcats came up just short Friday night against a stifling defensive effort and the tough running of Cole Ballard of Ekhorn South. The Storm defeated Kearney 10-3 Friday night at Elkhorn Stadium.
Elkhorn South (10-1) seeks its first Class A crown after capturing the Class B title in 2015 and 2016. That final will be played next Friday night at Omaha Westside, the highest remaining seeded team. The NSAA announced Friday night that none of the state finals would be played at Lincoln's Memorial Stadium this year due to COVID-19 concerns.
"Hats off to Kearney and (coach) Brandon Cool," Storm coach Guy Rosenberg said. "We have outstanding players who banded together tonight to get it done."
One of those players was Ballard, a 5-foot-11 sophomore. He rushed 31 times for 127 yards on a frigid night and scored the game's only touchdown.
"Oh, boy," Ballard said. "That was a great effort by our defense and we rushed the ball down their throats."
Rosenberg said the running back deserved credit for his effort, which included 21 carries in the second half.
Kearney, coming off its upset win last week over second-ranked Bellevue West, scored the only points of the first half. The Bearcats marched 55 yards to the Storm 23, and James Dakan nailed a 40-yard field goal.
Elkhorn South had its chances in the opening half, recovering a pair of fumbles. But one drive ended on a fourth-down stop and Carsen Crouch missed a 25-yard field goal just before halftime.
The Storm made a statement on the second-half kickoff when Guy Hunt smashed Kearney's Kaden Miller at the Bearcats' 14. In four third-quarter drives, Kearney never got past its own 26.
"(Assistant coach) James Kerwin had his defense ready to go," Rosenberg said. "We made some big plays tonight."
While the Bearcats were bottled up, the Storm took advantage of a strong wind to take the lead.
Crouch — son of former Husker Eric Crouch — nailed a 20-yard field goal to tie the game midway through the third quarter. That capped a drive that began at the Kearney 49.
The Storm took the lead late in the period when Ballard crashed over from the 1. Both scoring drives were engineered by backup quarterback Will Skradis, who took over when starter Dilan Krause left the game with an ankle injury.
"We hope Dilan will be back for our next game," Rosenberg said. "Skradis did a good job of running the offense."
Kearney mounted its only second-half scoring threat early in the fourth quarter, moving from its 49 to the Elkhorn 9. The Storm stopped quarterback Preston Pearson on fourth-and-1 but Kearney called timeout just before the play was run.
Given a second chance, the Bearcats again called on Pearson. But he was stopped short by several Storm players, with senior lineman Kyle Salanoa at the bottom of the pile.
Kearney had one last chance, taking over at midfield with four minutes left. But three plays netted 1 yard and then Pearson was sacked on fourth down by 6-9, 300-pound Nebraska commit Teddy Prochazka.
The Storm picked up a first down and ran out the clock to end the Bearcats' season at 5-5.
"By far this is the best team I've ever been a part of," Pearson said. "It hurts to lose but Elkhorn South is tough."
Kearney (5-5)................. 3 0 0 0 — 3
E. South (10-1)..............0 0 10 0 —10
ES: Cole Ballard 1 run (Crouch kick)
Rushing: K, Parker Wise 10-48, Preston Pearson 17-20. ES, Cole Ballard 31-127, Dilan Krause 3-8, Trevor Winterstein 1-4, Blake Daly 2-4, Will Skradis 4-2, Ben Warren 5-25.
Passing: K, Pearson 12-19-0 76. ES, Will Skradis 8-12-0 52; Krause 3-3-0 26.
Receiving: K, Kaden Miller 3-12, Peter Glandt 1-6, Jack Johnson 4-49, Wise 1-6, Max Myers 2-3. ES, Winterstein 4-29, Warren 1-8, Daly 1- -4, Chase Anderson 1-13, Ballard 2-1, Zach Michener 1-7, Guy Hunt 1-24.
Get in the game with our Prep Sports Newsletter
Sent weekly directly to your inbox!