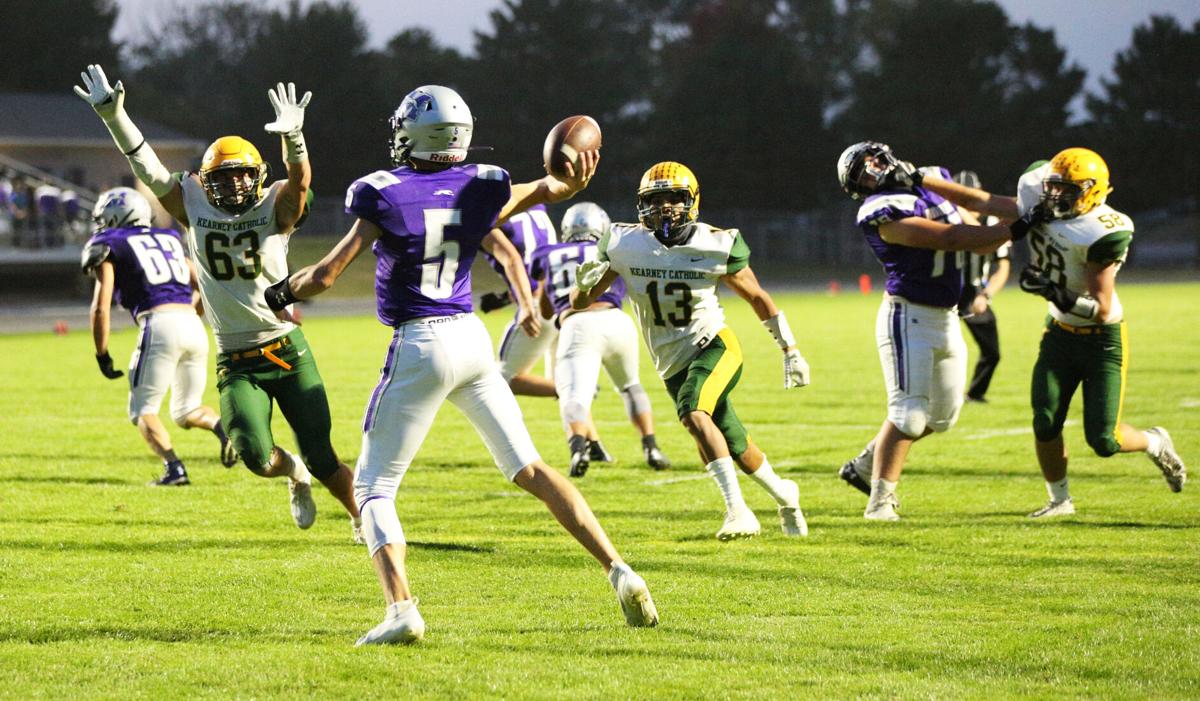 KEARNEY — Kearney Catholic made its mark on this football season when it upset previously undefeated Adams Central, 33-22, on Oct. 9.
And, the Stars could have won by a bigger margin.
Kicker Spencer Hogeland had kicked four field goals in the first round as the Patriots' defense stopped the Stars in the red zone and forced them to turn to their reliable kicker.
When Kearney Catholic travels to Adams Central for the Class C1 state semifinal game Friday night, "We have to turn those field goals into touchdowns to get a victory," KCHS coach Rashawn Harvey said.
The Stars (9-1) really found their run defense against the Patriots, and they'll need it again Friday.
"Our defense was the highlight. We stiffened our backs late in the game," Harvey said.
The Stars also will need to repeat their running-game performance from the first game. In fact, they would like to see a lot of things go the way they did before. But as all of Kearney learned last week, playoff rematches don't always finish with the same results.
"As a coach I don't like rematches but that's the hand we're dealt," Harvey said.
Expect some differences
Harvey believes Adams Central (9-2) may try to loosen up the Stars' defense with a little more passing this time around. But the Patriots' strength is still with the run.
"Adams Central does what Adams Central does," Harvey said.
Defensively, he knows the Patriots' goal is to get the Stars in second-and-long and third-and-long situations where they can play eight defensive backs to try to force Kearney Catholic quarterback Heinrich Haarberg to force passes into small windows.
Where they want to be
Yes, Kearney Catholic had plans from the start to make a deep run in the playoffs. It was more than high hopes.
"We knew we were a talented team with the amount of juniors and seniors we had, we knew we had an opportunity if our young men prepared like a state championship team," Harvey said. "Our kids have bought into that philosophy."
Harvey looks at a talented receiving corps and knows they all would like to make five catches a game. But the Stars' strength is in the run game and receivers who need to make key blocks.
"The kids are doing what they need to do to get there," he said.
Along the same lines, Haarberg has stayed in the center of the team effort.
The Husker commit "has sold out to doing whatever the team needs him to do to get to a state championship and win a state championship," Harvey said. "He could sit back there throw 40-50 times a game. But that doesn't fit into our scheme. He's bought into that and hasn't been selfish."
Defense, Defense, Defense
Karney Catholic's most glaring flaw in recent seasons has been its run defense.
That had to change this year.
"We could score points, we knew that. If we couldn't stop anybody, that wasn't going to help us at all," Harvey said.
Back in January, the KCHS coaching staff attended a coaching clinic and came away with the idea to change their basic defense. Out went a four-man defensive front. In came a three-man front and an effort to "get an extra athlete on the field."
The coaches started to install the new defense during spring Zoom meetings with the players. It has paid off. The defense the second half of the season has been the Stars' strength.
Besides making the defense better, the switch to a 3-man front has given the offense a boost.
"Having a rotation in our defensive line that keeps us fresh on the defensive line also keeps us fresh on the offensive line," Harvey said.
Can I get a mulligan?
If there's one part of the season Harvey would like to have over again, he said it would be the first few series of the loss to St. Paul when dropped passes essentially cost the Stars three touchdowns.
"But as Coach (Mike) Pacheco says, 'You don't get any do-overs in this game, you learn from your experiences and move on,'" Harvey said.
Get in the game with our Prep Sports Newsletter
Sent weekly directly to your inbox!