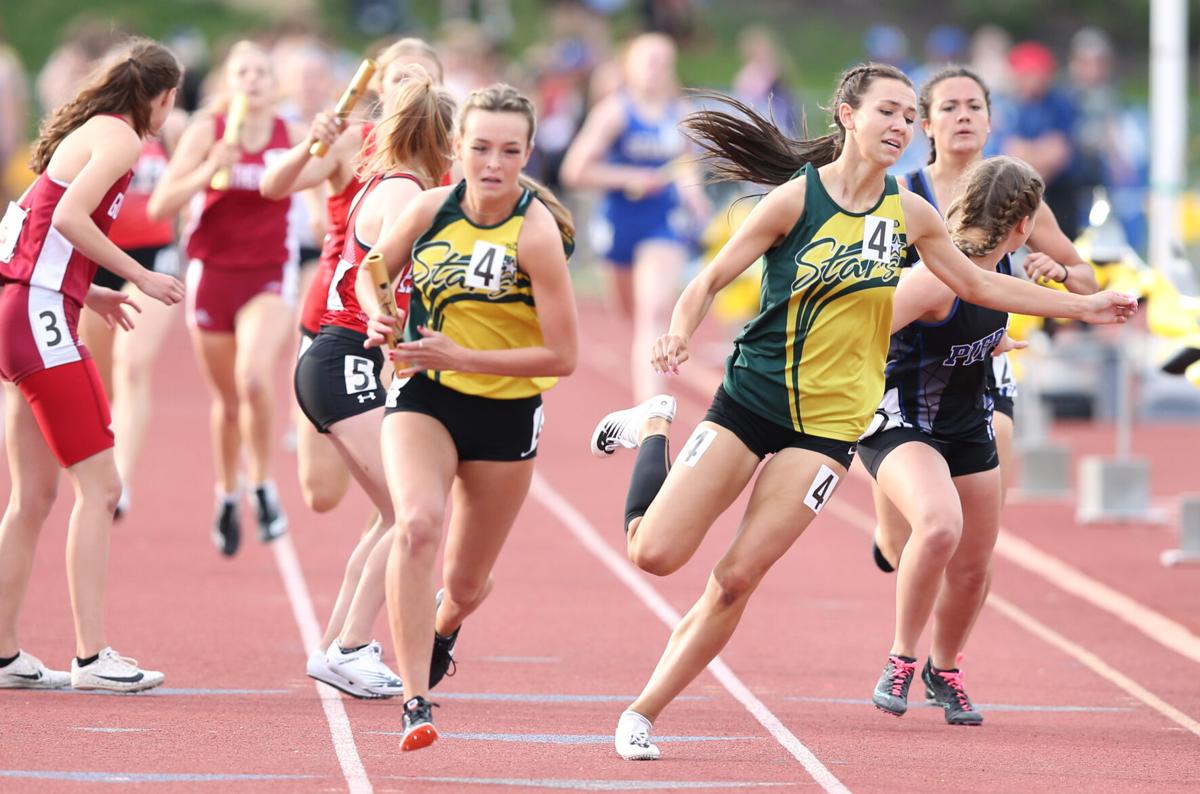 OMAHA — Somehow, the track gods were looking down on Kearney Catholic's 4x400 relay team on the second day of the Class B Nebraska State Track and Field Championships on Saturday.
The Stars ended their season on a high note when the girls relay team placed seventh with a time of 4 minutes, 10.56 seconds.
"They've been such a fun group all year, and they've been so excited," Stars co-coach Katlin Petri said. "To see them work so hard and finally get that medal. It's just been amazing."
Originally the quartet was supposed to take eighth in the relay after finishing third in the first heat. However, Waverly was disqualified for after a runner stepped off the track in the third leg, bumping the Stars to the seventh spot.
Emotions ran high for the good and the bad.
"It's always tough seeing Waverly getting disqualified because they also worked hard, and Waverly is great team, but at the same time, it's a lot of fun seeing our girls get to medal," Petri said. "Like I said, they worked hard for it, and they deserved it."
During the heat, the Stars showed life when Grace Oberg passed the baton to Ashley Keck, and Keck outran the rest of the runners, giving KCHS a lead when she passed it on to Wischimeier.
"I kind've wanted to chase those people and try to catch them," Keck said. "I told our girls that I have longer legs, so I used that to our advantage, so I seemed to bring us to the front, which really helped."
Unfortunately, Wischimier tired out to finish third.
The Stars then had to wait for the finish of the second heat, made up of teams that ran faster times at the district meet, to see where they finished.
"Waiting for the results I think was the most gut-wrenching thing ever, and then we saw on the big screen, our heart just dropped because we worked so hard all year," Keck said.
The relay runners felt they were the underdogs going into the first heat. Their willingness, communication and support for one another got them throughout the day.
"For starters we had to come out in the slow heat tp compete, so we had that pressure on us to come out from the start. We didn't know where we would end up after the second heat because we needed to run our best times," Wischmeier said.
Kearney Catholic ended its season with eight state qualifiers. Half of them were first-time competitors at state, and the team earned two medals. For Petri as a co-coach with Elizabeth Haarberg, she enjoys her first season with the group outside of the track.
"Honestly, the memories come off the field are as much as fun as it is for them to win the medal, and they are going to remember that," Petri said. "But I also think they had a lot of fun getting to hang out together, and I think they are really going to cherish those friendships."