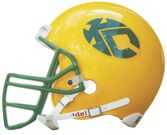 KEARNEY — Kearney Catholic faces one of its toughest challenges of the year, at least according to the ratings, when it hosts unbeaten Adams Central Friday night at Miles Field.
"This would be a big one for us. Even though it's a non-district game, it's a big game. ... We have a good rivalry with them and it usually turns out to be a good game," KCHS coach Rashawn Harvey said.
n Last week: Adams Central got a scare from Cozad. After going ahead 21-0 in the first half, the Patriots surrendered 13 points in the second half and needed to survive a late scoring threat by the Haymakers. Kearney Catholic gave up two long plays to Broken Bow that tied the score at 14-14 in the first half. But the Stars made adjustments at halftime and won 38-14.
n Scouting the Patriots: Running back Hyatt Collins could go over the 1,000-yard mark in the game. He has rushed for 872 yards in the Patriots' first six games and scored 12 touchdowns. Quarterback Cam Foster has completed 39 of 69 passes for 491 yards and eight touchdowns.
"They are very similar to us … on defense, on offense and even in the special teams," Harvey said. "But they want to run the football. They want to establish the run game … and we have to be focused on the run."
n Scouting the Stars: Nebraska commit Heinrich Haarberg had his best game of the year against Broken Bow. Haarberg has passed for 872 yards and nine touchdowns in five games and he's ran for four touchdowns. Logan O'Brien, Logan Miner and Brett Mahony have double-figure receptions
Best thing Coach Harvey saw from the Stars: "Second-half adjustments," he said. "We came out in the first half and the guys weren't playing assignment football for the option and they had two long runs for touchdowns. So we made those adjustments and the kids executed those adjustments."
Offensively, the Stars came out in the second half and put together a 15-play scoring drive.
Keys to the game: "We need to establish the run game. We need to keep the ball out of their hands a little bit," Harvey said. "We need to stop the run and force their young quarterback to throw the football."
What this game means: "It would be great to get a win over a Division I (winning) opponent with the Nebraska playoff system and how the points work. That would help us tremendously especially if we went on to win our district. It could mean a difference of getting into the playoffs and having to go on the road or getting into the playoffs and having a home game."
Final note: "I think special teams are going to have an impact in this game because we both have pretty good kickers and it could come down to a field goal to win the game," Harvey said.
Get in the game with our Prep Sports Newsletter
Sent weekly directly to your inbox!