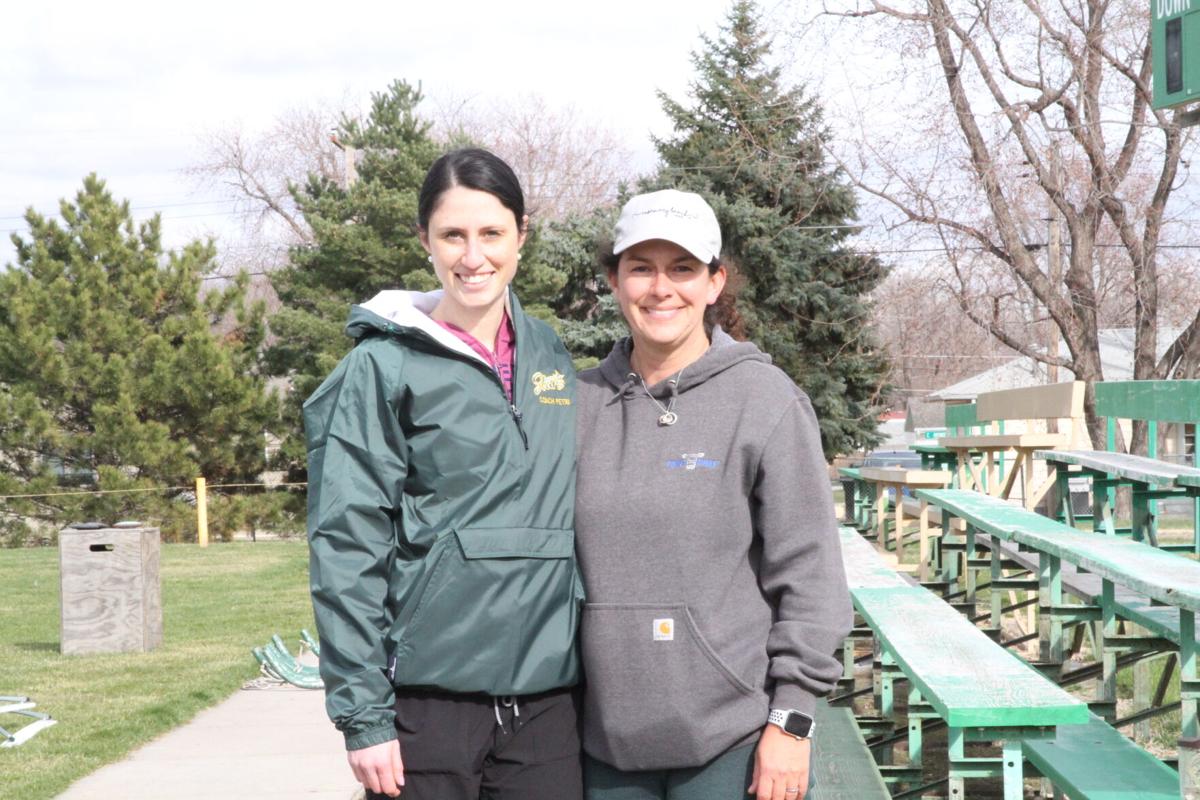 KEARNEY — At Kearney Catholic High School, two head coaches are better than one.
Before the spring season, KCHS decided to hire Elizabeth Haarberg and Kaitlin Petri as co-head coaches to run the track and field program. Two women with athletic backgrounds and ties to the Stars not only made them suited for the job, but the passion for the sport was convincing enough to take some time away from their busy schedules and personal lives.
"I love the sport of track," Haarberg said."There is an event for all types of athletes. It is a sport that everyone can enjoy. I like being a head coach with Kaitlin because she is reliable, engaged and enjoys sports. She is very organized and has a gift of administration, which is not necessarily an area I enjoy."
Haarberg was a high school track star coming out of Batesville, Arkansas. She was good enough to land a scholarship at Oklahoma State University, where she competed in four events. A mother of four, when Haarberg is not coaching or parenting, she is a full-time student, taking night classes at the University of Nebraska at Kearney as she is pursuing her master's degree in clinical mental health.
" I would not have accepted the job if I was the only head coach, it would not be fair to the team," Haarberg said. "Taking classes at night pulls me away from practice at times. In addition, my husband and I have four children and only one is in high school track. Kaitlin and I have relayed to the other coaches that family is a priority and none of us should miss our kids participating. It's really important for children to be present for them."
Petri teaches business and computers at KCHS and is working on her teaching degree. She is a KCHS graduate who played college basketball at UNK and Chadron State College. When Petri wasn't on the basketball court, she participated in the triple jump, long jump and 4x400, where she was coached by longtime Stars track and field head coach Dwaine Schmitt.
"I was pretty excited," Petri said. "I didn't know Liz very well going into this but it's fun getting to coach with her and working with her so far. She has a lot of knowledge, and I think that's very helpful. And we worked really well together.
"I always really love the sport. I would even find myself watching it on TV sometimes when it's on. It has been something I enjoyed watching and being a part of. So when the opportunity arose, I was excited. "
Both Haarbarg and Petri have high hopes of building success and carrying on the tradition. To make it possible, both had to create chemistry with one another.
"One of things we felt strongly about is making sure that we build the program," Petri said. "We want it to continue for years and build it to be successful. We both really work well together and are able to communicate almost constantly to ensure that and everyone and everything is where it needs to be."
Both coaches share different roles to keep the program in line. Petri will create spreadsheets and planning, while Haarbarg will do team warm-ups during practice sessions. One could fill in when the other is unavailable during an event.
"There's a lot of behind the scenes that I didn't realize the head coach was responsible for," Haarberg said. "Since Kaitlin teaches at the school she is able to talk to kids and ask questions to the administration face to face. Athletes are expected to be at every practice unless they are excused from school. Because of the wide range of goals athletes have come into track, some athletes are very focused on competing and others may view their personal goals as priorities.
"The Stars don't have a lot of experience in some events. Some are competing at the varsity level for the first time, and because of COVID-19, the freshman class was not able to do track and field while they were still in middle school. However, despite lack of experience, depth not backing down a challenge brings positive vibes for Kearney Catholic."
Haarberg said, "We have good numbers for track this year, and they help to fill spots but actual knowledge of the events is delayed due to missing last spring. The strength of this team is there seems to be very little jealousy of each other. Teammates truly want the best for each other.
"Athletes were as excited for their teammates and their success. That is a mature mindset and speaks volumes to the parents that have raised these kids and Kearney Catholic for instilling and supporting that idea."