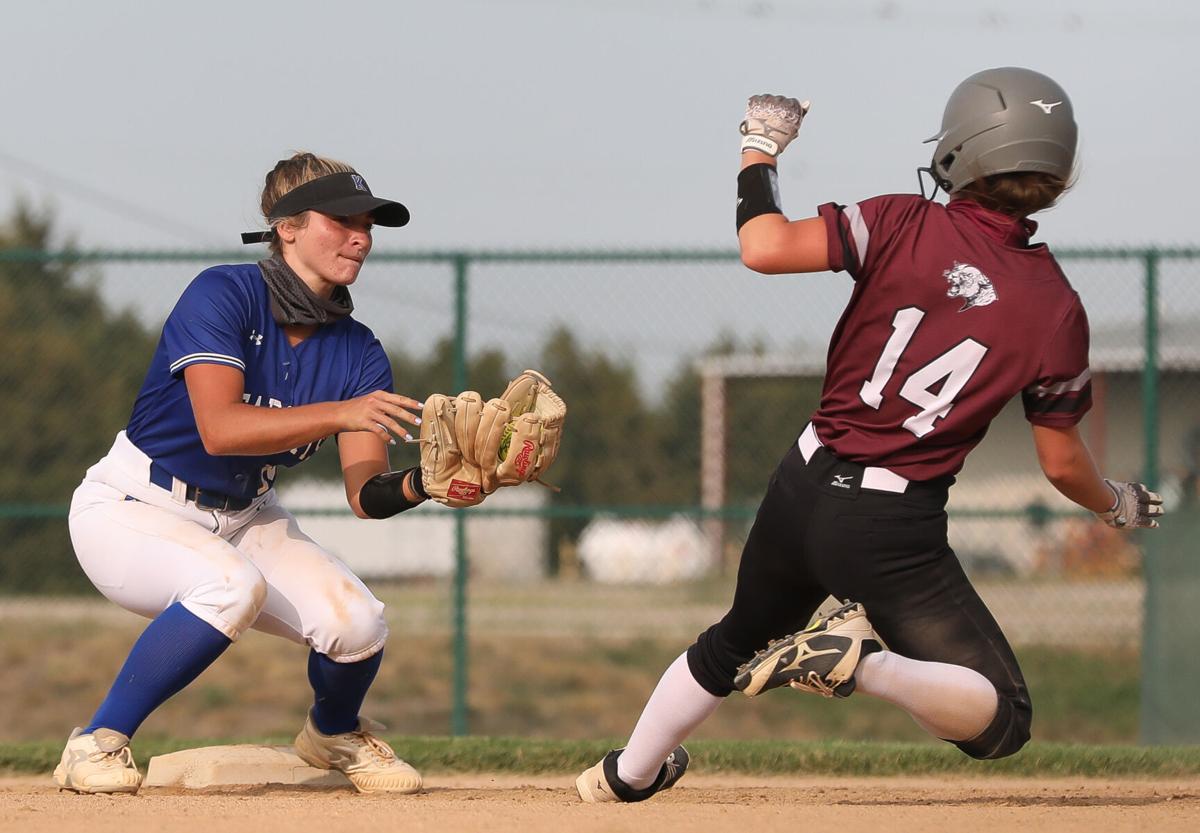 KEARNEY — Five runs wasn't enough for the Kearney High School softball team Tuesday night as Norfolk swept the Bearcats, 7-5 and 6-5, in a doubleheader at Patriot Park.
"It was a couple of tough ones. They're a good ballclub and we were awfully close and we'll see them again," KHS coach Barb Wegner said.
Norfolk (17-4) broke 5-5 ties in both games to come away with the sweep.
In the first game, the Panthers scored solo runs in the third and sixth innings while holding KHS scoreless after both teams put five runs on the board in the first two innings.
In the second game, the Panthers' Brandy Unger hit a home run to left field in the top of the seventh inning to break the deadlock.
Kearney's Bella Molina lit up Unger, who pitched the first game, going 2 for 4 with a home run and four RBIs. Kyan Nickel was 2 for 3 with an RBI.
In the second game, Sophi Junker hit a solo home run in the first inning. She was 2 for 4 and Kelsey Choplin was 2 for 4.
It was the third time this year Norfolk beat Kearney. The Panthers also won 3-0 at the Norfolk Invitational.
"We had just come off a tough loss against Omaha Marian. ... We were ahead 7-2 in that game and lost 8-7, so I think we were a little bit down in the dumps and we just did not hit at all that day. I mean we maybe had a handful of hits sporadically that day," Wegner said. "So we hit much better tonight off of both pitchers, so that was encouraging to see. Just errors killed us."
Kearney (9-7) had 18 hits in the two games Tuesday. Norfolk only had 20 hits. But Kearney had four errors to Norfolk's one.
Kearney used three pitchers — Haley Becker, Marisa Chamberlin and Choplin — in both games.
"I thought we had three solid pitching performances. ... We were executing plays. We're doing some squeeze plays and we can get the bunt down when we needed it," Wegner said. "We saw a lot of good things. I know the errors are frustrating and it's easy to focus on the negative, but we see a lot of really good things from our girls."
Since starting 6-0, Kearney has had a herky-jerky season because of the COVID-19 pandemic. Since playing Lincoln High on Sept. 3, Kearney has had one game canceled, two postponed that were rescheduled and two more that have been postponed but not rescheduled.
The Grand Island Northwest games were played Friday then Saturday, Kearney was on its way to Lincoln to play Lincoln North Star when the found out the games were called off and they turned around at Aurora.
"We've had too much time off. We always just want to play, we don't always want to just practice. Practice is good, but we like to play," Wegner said.
Kearney is scheduled to host Columbus on Thursday.
Stars' win streak ends.
Polk County scored early and often Tuesday night to upset Kearney Catholic High School, ending the Stars' 13-game win streak.
With three in the first, five in the second and seven in the third, Polk County (7-7) laid the foundation for a 15-11 victory.
KCHS (14-2) outhit Polk County 18-10 but committed five errors. The errors led to four unearned runs.
The Stars' Carleigh Eurek went 3 for 4 with two home runs and four RBIs. Liv Nore, Bralen Biddlecome, Alexis Keim and Lauren Marker also went 3 for 4.
Kearney Catholic's game Thursday at McCook has been postponed. The Stars' next action is Saturday at a tournament in North Platte.
Get in the game with our Prep Sports Newsletter
Sent weekly directly to your inbox!