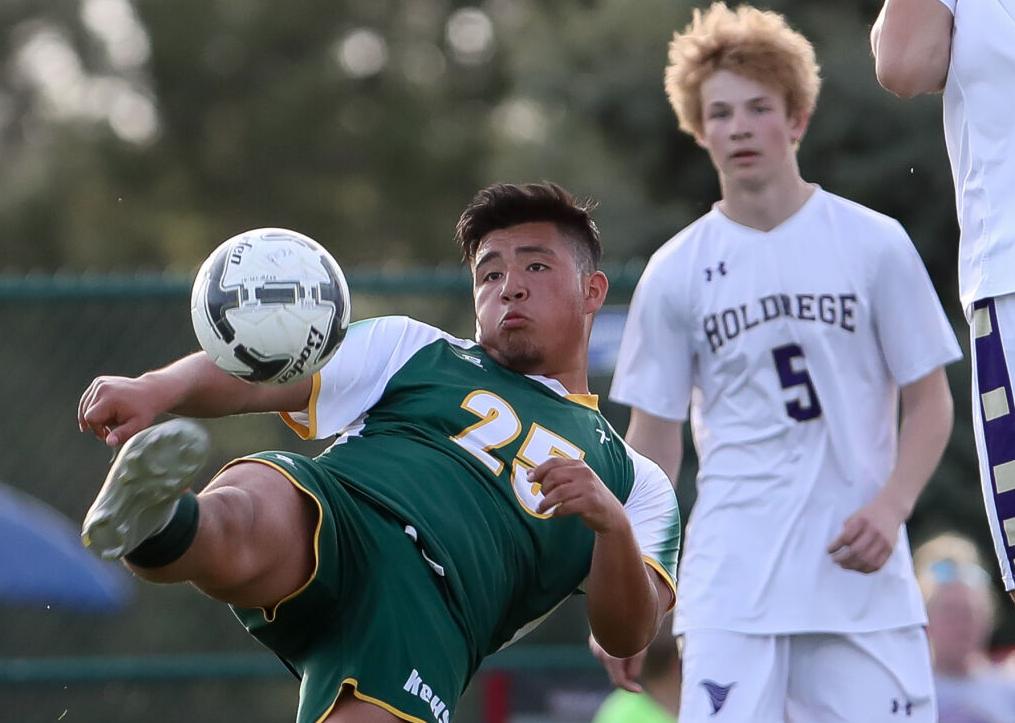 KEARNEY— Typically, coaches will be mad at their star player for being selfish on the field, but it's quite the opposite for Jhordy Solares on the Kearney Catholic boys soccer team. As a matter of fact, KCHS coach Amer Arram wants Solares to be more selfish when he's on the field but it's just not in him.
Solares is the starting forward for KCHS, but he attends Gibbon High School. This season, Solares has played at a high level with his ball skills and footwork. He's also a vocal leader who takes command on the field, coaching up his teammates and being a better communicator. For Arram, the best way to describe Solares is simply, unbelievable.
"He's a great team player. He communicates a lot and wants to win," Arram said.
While for Solares, the best way he would describe his game is simply, unique.
"Being a bigger player, I feel like I might not be the fastest or anything, but just being sneaky and a bit creative," Solares said. "I'm just unique, and my teammates make my job a whole lot easier."
While the Stars have a loaded senior group, Solares, a sophomore, still stands out. Solares leads the Stars with 12 goals and 16 assists. In the last three games, Solares recorded six assists. KCHS finished the regular season with a 9-3 record, and holds the No. 2 seed in the Subdistrict B-7 bracket.
"We made a huge climb," Solares said. "We would've been a strong team last year because we didn't have any seniors at all."
Soccer was Solares' first love, but there weren't any soccer programs in his area. It was not until later in his early teens when he played for Arram after merging with Gibbon and Amherst to build the soccer program at Kearney Catholic. Despite not being at the school with his KCHS teammates, he still stays connected with them whenever they are on the soccer field.
"We just come together and make it work and have the season that we are having," Solares said. "It's great, and we want to carry it in the postseason. It's been crazy how we get along with each other and build chemistry in a couple of weeks, couple of months. It's been great."
Due to the pandemic, Solares didn't get to play his freshman year. After the cancellation of the spring season, Solares remained active by playing in local soccer tournaments in the fall, and basketball in the winter. Once basketball season was over, he would reach out to some of his KCHS teammates and put in some fieldwork together.
"We were all excited after getting the season taken away from us," Solares said. "We're super grateful to be playing together this year. Kearney has a great club program. I know some guys that I played with over the years. I think for myself, trying to be a captain and a leader, knowing the guys' names, and knowing that we all wanted to win. It's enough for us to play together."
Solares, who might be the Stars' scoring leader who averages one goal a game, said he would rather prefer to see his teammates shine and stay involved. It's a way for Solares to show that the Stars have enough talent to do what he's been doing all season long.
"I never like the attention, and it always makes me feel good to see other players like my teammates scoring goals," Solares said. "I know I can do it, but it makes our team come together even more when I give them assists for the rest of my team. It just uplifts us and we carry on more. They know if Jhordy can score, I can score too. I feel like if I can make plays for them, they will do the same for me as well."
KCHS will face third-seed York High School at 6 p.m. Monday at Grand Island Northwest High School.