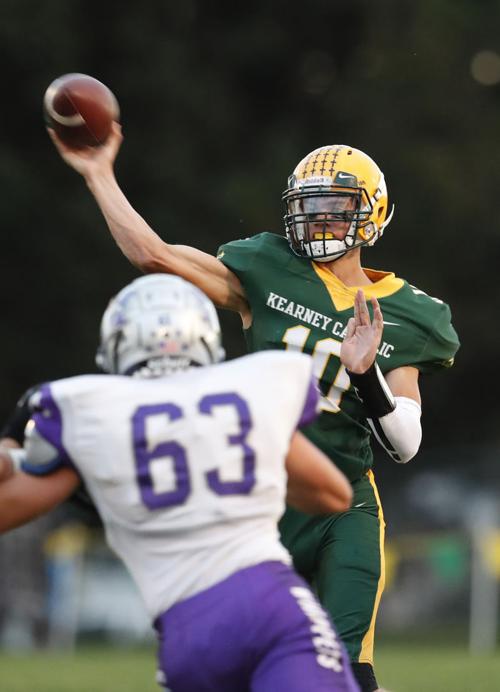 KEARNEY — Kearney Catholic quarterback Heinrich Haarberg received a scholarship offer from the University of Nebraska this morning.
It marks the second Power Five offer the dual-threat QB, who's part of the 2021 recruit class, has received. He previously announced on April 8 an offer from Boston College.
Nebraska coach Scott Frost called Haarberg this morning to inform him of the offer. Frost originally wanted to watch Haarberg throw in person at a camp this summer, but with the status of the summer camps unknown due to the coronavirus pandemic, it changed his mind.
"He said that he really trusted the tape and that my tape was one of the best in the nation," Haarberg said. "That meant a lot coming from him. He's an awesome QB evaluator, so that was a cool thing for him to say. He told me today that they were going to offer me because they didn't know when they were going to see me throw live."
Haarberg said he wasn't surprised to receive an offer, as Nebraska quarterbacks coach Mario Verduzco has "made it clear that I was kind of his guy that he wanted."
Haarberg said he didn't necessarily expect to receive the offer Monday but has been in contact with Frost and Verduzco about twice a week since December.
"We've had some really cool conversations, especially since we open up our year with Wood River/Shelton," said Haarberg on his talks with Frost, who went to Wood River High School. "I like to give him ... a hard time and talk trash, obviously all in fun.
"I was excited to have the opportunity to stay in-state if I want to. My dad played for the Huskers in the early 1990s. That's a huge thing. My dad has always said to go where I want. There is an opportunity to carry on a legacy almost."
Haarberg is the first in-state high school quarterback that the Cornhuskers have offered a scholarship to since Papillion-La Vista's Allan Evridge in the early 2000s. Evridge committed to the Huskers but switched to Kansas State, and later played at Wisconsin, after the firing of then-head coach Frank Solich in 2003.
Haarberg, who's 6-foot-5, 195 pounds, passed last season for 1,869 yards and 23 touchdowns for the Stars. He also scrambled for 458 yards and four scores.
Before the pandemic, Haarberg hoped to make a verbal commitment by late June. But with the coronavirus hindering in-person visits, Haarberg likely won't make a decision until after his original date, he said.
"My recruitment is still wide-open," Haarberg said. "I am going to take my visits as I can. I'm not going to rush into a decision. I'm not in a rush, and I'm not set on one school. I don't have a dream school. I'm looking for a fit."
Haarberg also hopes the Nebraska offer will attract more offers from Power Five programs.
"Not a lot of people know this, but almost every ACC and SEC school that doesn't have a quarterback commitment (for 2021) has contacted me," Haarberg said. "They're calling me and texting me every day and making sure I know that they're interested. I'm confident enough that even if I didn't get this offer that those schools would've come through and offered. But I just think this speeds it up."
Get in the game with our Prep Sports Newsletter
Sent weekly directly to your inbox!