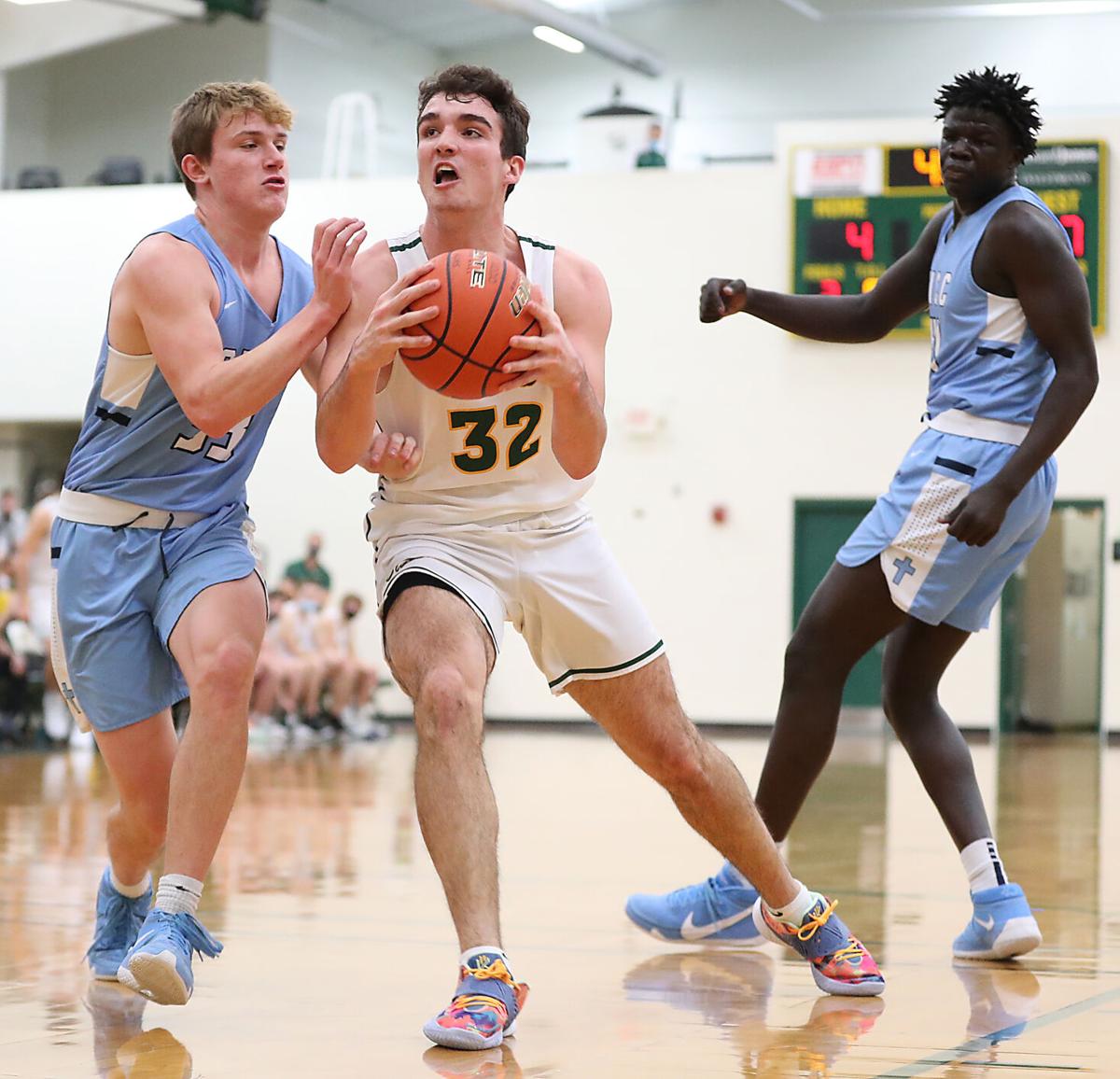 KEARNEY — The Kearney Catholic boys basketball team ended last season on a sour note after playing arguably its worst game of the season during a loss to Wayne in the Class C1 state tournament quarterfinals.
It's easy to say the Stars might carry a big chip on their shoulders as they hope to pick up where they left off.
"At one time in the third quarter ... we have four juniors and a senior out on the floor, and that was probably our best lineup at the time against Wayne," KCHS coach Bob Langan said. "I think we're going to be on the same spot this year as we were last year. We can compete with anyone if we bring our 'A' game.
"I think the difference with this group of kids — bringing them up, coming through — I think we will be a little bit tougher down the stretch. I think that will help out in certain games down the stretch."
It's only been two weeks since the state semifinals loss for the KCHS football team. Members of the football team have had little time to recuperate. Langan, who will be entering his sixth year with the Stars, gave those guys an option to take some time off while getting their legs under them. They refused.
"I think they did a great job," Langan said. "I told them that the football season didn't end the way they wanted to so the transition could get them off their mind, and we'll have some hungry guys from that as well."
The Stars have more upside despite losing three of their five starters from last season. One of those bright spots includes the return of their top scorer, Brett Mahony.
Mahony, a four-year starter and all-state player, has high hopes of returning to the state tournament and wants to prove the Stars can get a state win.
"It's a chip on our shoulders for sure," Mahony said. "We know we can get there, but now it's time to show that we can win some games at state."
KCHS also doesn't have to worry about its size. At least four players are 6-foot-3 or taller. It starts with Garrett Schmaderer running the point and ends with Dylan Merz crashing the boards with his 6-foot-5 frame.
"We lose three starters, but we have guys that have played in big games. Jaden Seier and Mason Mandernach also saw some varsity time last year and will be in the mix for having bigger roles this year," Langan said. "As the season goes on, we would like to be able to build some depth. This summer, we gave multiple guys opportunities to step up, so we are excited to see who steps up this winter."
Schmaderer mentioned that the defense could also be one of the Stars' advantages to go with their size and strength. Not much of a scorer last season, but Schmaderer always has been the Stars' top defender and facilitator at the point.
"I know I love to play defense, so I'm trying to get the other guys to get that same mentality to make someone not score," Schmaderer said.
The Stars may not duplicate last year's shooting, especially losing players like Logan O'Brien, Keegan Bosshamer and Blake Thiele. However, the Stars still could be the team to beat in Class C1.
"Our goal is to play three games in the state tournament in March," Langan said. "We graduated three starters that did a lot for our program the past four years, but we bring back two starters and have some seniors that have experience and are ready to step up and fill those roles."