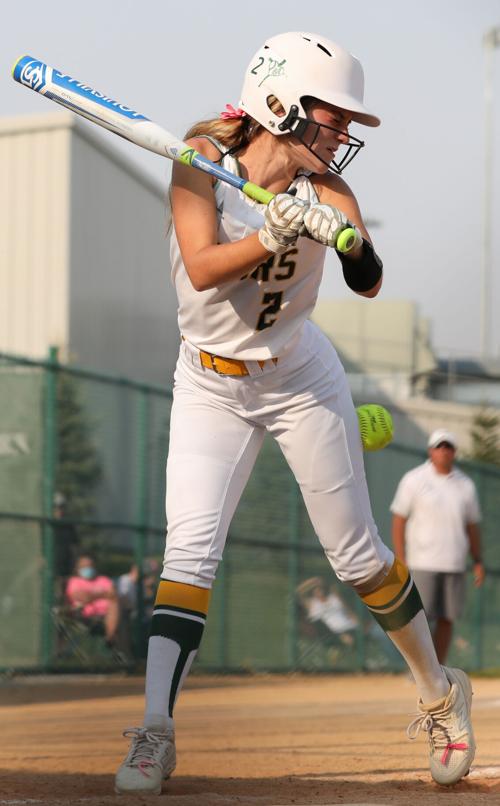 KEARNEY — Kearney Catholic is returning to the state softball tournament.
The Stars claimed the C-5 District championship Friday evening by beating Southern Valley/Alma 9-4 and 11-9 at Patriot Park.
The KCHS players "were absolutely elated," said first-year coach Jon Ruyle, who took over the program after Russ Hiemstra died suddenly during the summer. "With this being the kind of year it's been, and with all the stipulations coming into it, and losing Coach Russ (Hiemstra), it has just been an emotional roller-coaster and they're just tickled."
They had to put together big rallies for come-from-behind victories in both games of the district final.
Southern Valley/Alma led 3-0 in the first game before KCHS put five runs across the plate in the bottom of the third.
The Stars outhit the Saints 12-6 and got a boost from two Southern Valley/Alma errors. Liv and Jacee Nore had two hits apiece while Krista Lee and Payton Schirmer doubled.
The Stars' 5-run third started with consecutive singles by Jacee Nore, Schirmer, Lee and Liv Nore. Sydney Owen drove in a run when she was hit by a pitch, making it 3-2. Then, with two outs, Lexi Keim singled to drive in two runs. An error and a passed ball pushed the fifth run across.
Bralen Biddlecome was the winning pitcher, striking out 11.
In the second game, KCHS started fast by leading 6-2 after 3 1/2 innings.
"It was one of those things. We felt we were in a good spot, but we knew they had another run coming at us," Ruyle said. "Six runs in two innings was a little more than we were looking for.
"We knew that was going to be a pivotal point in the game and we got three back so we knew we were OK."
Down 8-6 going to the sixth, the Stars responded with back-to-back singles by Schirmer and Lee then a double by Liv Nore. After a passed ball, Nore scored on a sacrifice fly by Carleigh Eurek.
The Stars then added an insurance run in the seventh.
Lee, Schirmer and Lauren Marker had three hits each. Marker had a home run and a triple, Lee had a double and a triple, Liv Nore had a triple and Eurek had a triple.
Biddlecome again handled the pitching duties, striking out four while giving up 11 hits.
"I felt we played a pretty complete game as far as what we needed to do. ... Lauren Marker had some big bats and I think we had more triples today than we had in an entire weekend all season long," Ruyle said.
The Stars (27-5) will play at 9 a.m. Wednesday in the first round of the state tournament at Hastings.
Get in the game with our Prep Sports Newsletter
Sent weekly directly to your inbox!