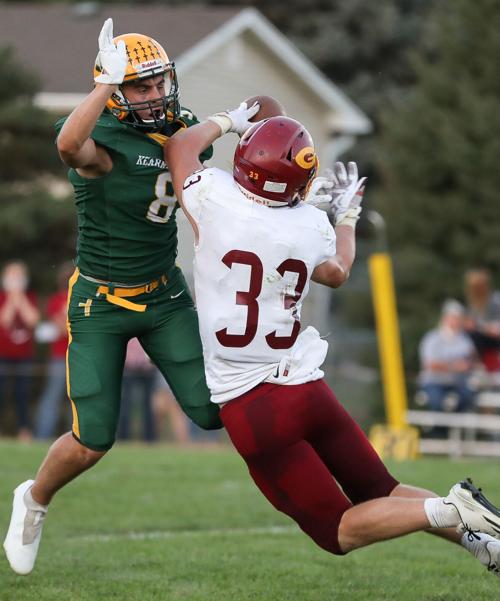 KEARNEY — The Kearney Catholic Stars dominated the trenches, took advantage of four turnovers and had a big third quarter to grind out a 35-0 win over Gothenburg Friday night at Miles Field in Kearney.
The third-ranked Stars improve to 2-0 while a young Swedes squad falls to 0-2.
"The defense was the star of the game for us tonight. They did a great job … the O-line turned it up in the second half," KCHS head coach Rashawn Harvey said.
Kearney Catholic out gained Gothenburg by more than 200 yards, got a 100-yard rushing effort from senior back Cale Conrad and saw junior safety Brett Mahony recover a fumble and bring back an interception for six points.
"The defense was challenged and said 'we want to show that we can stop the run.' For years people know that is the Achilles heel for Kearney Catholic. Our kids have challenged themselves in the preseason and even in the summer to be better run stoppers," Harvey said. "We've made some adjustments and that showed tonight."
Gothenburg ran the ball 36 times with 26 of those attempts resulting in a gain of less than three yards.
"We have more speed on the field and our team looks more physical than in the past," Harvey said.
Mahony pounced on a loose ball on the third play from scrimmage to set up Kearney Catholic's first score. Quarterback Heinrich Haarberg scampered 20 yards down the left sidelines on fourth and one with Conrad plunging into the end zone on the next play.
Gothenburg, mustering just 77 yards of total offense, trailed 10-0 at the break as the Swedes defense got a fourth down stop late in the first and forced the Starts to attempt two field goals in the second quarter. Senior Spencer Hogeland boomed a 46-yarder with 9:01 left in the half to make it a two-score game.
"At halftime the offensive line said let's just run these three plays. We didn't run very many different run plays just because what Gothenburg came out in. They showed on film a 40 front but they came out in a three-man front," Harvey said. "We just had to switch our brains to a 30 front."
Conrad amassed 68 yards on seven straight carries to start the second half, highlighted by a 30-yard run that moved the ball into the Swedes' territory. He capped the ground-and-pound drive with a four-yard run.
"At the break we talked about some of the balls we dropped. We catch those and we're probably up 35 points," Harvey said. "But our offensive line really wanted to show we can run the football. They wanted to prove that Sports Illustrated article wrong. They wanted to show they are not subpar."
The Stars defense continued to be a wall, keeping GHS on its side of the field nearly the rest of the night. Besides several short fields for the offense, this dominance resulted in a 21-yard pick six by Mahony, a safety after a high snap on a punt attempt and another interception.
Conrad, in around three quarters of action, tallied 117 yards on 20 carries with Haarberg taking all the snaps and tallying 105 yards passing and 46 yards rushing.
"We tried to go vertical tonight so we kept Heinrich in there a bit longer. We'll need that down the road. You can't always dink-and-dunk because people will figure that out," Harvey said.
Kearney Catholic entertains St. Paul (2-0) next weekend.
GHS (0-2)0   0   0   0 — 0
KCHS (2-0)7   3  16   9 — 35
KCHS — Cale Conrad 1 run (Spencer Hogeland kick) 8:49
KCHS — Hogeland 47 FG, 3:57
KCHS — Conrad 4 run (Hogeland kick) 9:01
KCHS — Brett Mahony 21 int. ret. (Hogeland kick) 3:49
KCHS — Riley Grieser 2 run (kick failed), 9:13
KCHS — Hogeland 36 FG, 4:40
Get in the game with our Prep Sports Newsletter
Sent weekly directly to your inbox!