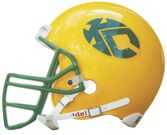 COZAD — The Kearney Catholic football team is one win away from going undefeated in the regular season and heads out on the road to Cozad on Friday.
Cozad started hot going 5-0 at the beginning of the season. Since then, the Haymakers have been winless during October. With Cozad in desperate need of a win to secure their playoff spot, KCHS coach Rashawn Harvey is taking every precaution so they can take care of business against Cozad.
"We figured if they need any chance of getting in the playoffs right now, a 50-point win over Kearney Catholic could boost their chances," Harvey said. "We also want to go into the playoffs on a high note and not on a down note. We've got to go out and handle our business and not overlook this team. We know they are dangerous, and they've got great athletes on their team. They may have some things that are slowing them down a little bit, but we got to show up and figure them out at full speed Friday night."
The Stars' offense continues to click in the hands of senior running back Riley Grieser. In the last two games, Grieser rushed for 360 yards and eight touchdowns in 35 carries. Already a 1,000-yard back, Grieser is also the compliment for the offensive line.
"Riley does a great job reading the holes and the blocking schemes, and the O-line is doing a great job creating holes, presenting the opportunities in our blocking schemes, but he's doing a great job of just hitting the holes and taking what's giving to them." Harvey said. "He's taking care of the football better. He's the type of person who doesn't get frustrated when he doesn't get it. He does his part, and when he does not get the ball, he's making great fakes, creating opportunities for other people in our passing games. He's a key component on our passing game not directly, but indirectly. "
Friday's game could go either way, and Kearney Catholic has won in all aspects of the game. In all three of Cozad's losses, it ended in a low-scoring, one-possession game, including a 12-6 loss to Broken Bow last week. Some notable players the Stars have been accounting for all week is Jacob Weatherly, who has been their second-leading tackler on defense and an offensive weapon. The Haymakers are also led by Nolan Wetovick at quarterback. The senior has thrown for 919 yards and gained 554 more on the ground.
"I think both sides of the ball will be challenged," Harvey said. "They have good size and strengths upfront. Their losses haven't been blowouts. It has been one-possession losses in their games. They present a challenge on both sides of the ball. They've got some athletes that we got to be aware of where they are in every formation and what they like to do in certain formations, so they are well-coached. They didn't start out for most of the season undefeated for no reason at all."
With the win, Kearney Catholic could be one of the remaining four teams that are unbeaten. Other undefeated teams in Class C include Ashland-Greenwood, Columbus Scotus and Chadron. Ashland-Greenwood carries the No. 1 spot while Kearney Catholic sits in the second spot, and Scotus is third. Ashland-Greenwood will face Platteview and Scotus, a team that took down Boone Central last week, will be at Lakeview. Chadron, ranked fourth in the class, has Ogallala at home.