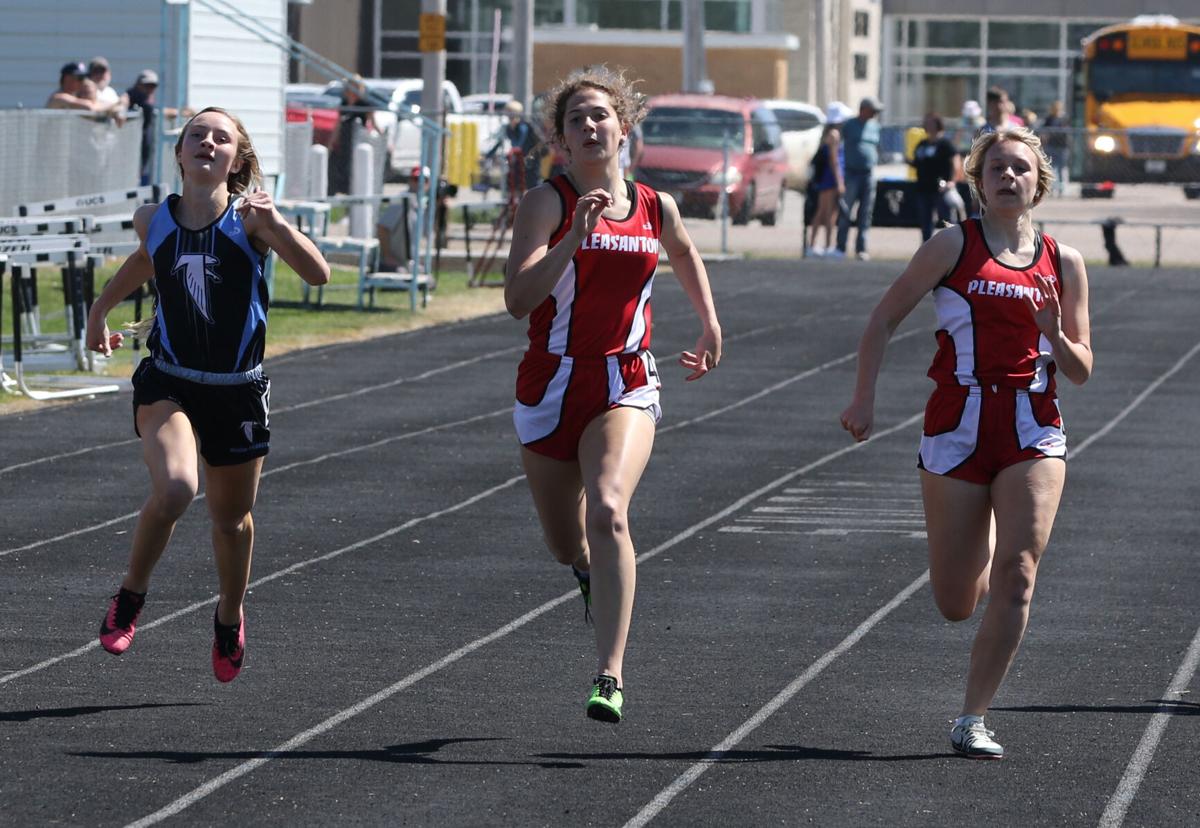 WILCOX — Throughout the season, the Pleasanton Bulldogs have counted on solid point production from Isabelle Paitz.
On Friday, the senior sprinter took four gold medals away from the Fort Kearny Conference Track Meet, leading the Bulldogs to the girls team championship.
"I feel like it went pretty good. I was pretty loose and the warm weather helped a lot after having cold track meets all year," Paitz said.
Layered clothing was replaced by multiple application of sun block as temperatures climbed into the 80s for Friday's meet at Wilcox.
For Paitz, that meant times that "were a little faster than normal because of the weather again. We got hot weather, so that helps big time," she said.
She won the 100-meter dash in 13.18 seconds, edging Amherst's Tenley Hadwiger by .15 seconds. They went 1-2 in the 200, too, with Paitz finishing in a season-best 27.35 seconds and Hadwiger in 27.43.
Paitz's teammates, Natalie Siegel and Katy Lindner, finished third and fourth in the 200 and that trio teamed up with Hailey Mollring to win the 4x100 relay by more than a second and a half over Amherst. The Bulldogs' winning time was 53.05 seconds.
"I feel like we're really good. After figuring out our handoffs and all of our places, I think it's helped us a lot and hopefully we'll make it down to state," Paitz said. "For the past couple of years we got third down at state so I'm hoping we get second or first, I feel like we have a good chance."
Paitz also won the high jump on Friday, clearing 4 feet, 10 inches.
Looking ahead, Paitz hopes to qualify for the state meet in the 100 and 200. She placed sixth in the 200 at state as a freshman and seventh in the 100. However, she failed to qualify for either as a sophomore.
"I don't know what was wrong. I had a tough time my sophomore year, but senior year, I guess I got my mojo back," she said.
While Pleasanton eked out an eight-point win over Amherst in the girls team race, the Axtell boys rolled to a 46.5-point win over runner-up Hi-Line. Loomis was third, just half a point behind the Bulls.
For the Wildcats, Qwentin Kappelmann won the 1,600, Jaron Bergstrom the 3,200, Aaron Skaggs the 110-meter high hurdles and Quinn Bertrand the 300-meter intermediate hurdles.
The Wildcats also won the 4x800 relay.
Other double winners at the meet included S-E-M's Carson Rohde in the shot put and discus, Hi-Line's Ryker Evans in the 200 and 400 and Ansley/Litchfield's Carli Bailey in the 400- and 300-meter low hurdles.
Team Scores — 1, Pleasanton 100. 2, Amherst 92. 3, Elm Creek 77. 4, Loomis 63. 5, Axtell 62. 6, Ansley/Litchfield 49. 7, Overton 38. 8, Wilcox-Hildreth 19. 9, S-E-M 16. 10, Hi-Line 11.
Event Winners – 100: Isabelle Paitz, P, 13.18. 200: Isabelle Paitz, P, 27.35. 400: Carli Bailey, AL, 1:00.74. 800: Maeli Meier, OV, 2:27.50. 1,600: Trinity Houchin, AX, 6:14.82. 3,200: Josie Smith, SEM, 13:34.03. 100m Hurdles: Reagan Nordhausen, AX, 16.33. 300m Hurdles: Carli Bailey, SEM, 48.07. 4x100: Pleasanton (Paitz, Mollring, Lindner, Siegel) 53.05. 4x400: Amherst (Herrick, Bivainis, Tesmer, Hadwiger) 4:21.93. 4x800: Axtell (Smidt, Houchin, Erickson, Johnson) 10:53.75. High Jump: Isabelle Paitz, PL, 4-10. Pole Vault: Samantha Schemper, L, 11-1. Long Jump: Hannah Herrick, AM, 16-2. Triple Jump: Katy Lindner, P, 33-10 1/4. Shot Put: Natalie Billington, WH, 37-2 3/4. Discus: Hanna Stewart, L, 109-11.
Team Scores — 1, Axtell 126.5. 2, Hi-Line 80.5. 3, Loomis 80. 4, Ansley/Litchfield 72. 5T, S-E-M 39. 5T, Elm Creek 39. 7, Amherst 34. 8, Overton 31. 9, Pleasanton 16. 10, Wilcox-Hildreth 9.
Event Winners — 100: Kody Keller, HL, 11.49. 200: Ryker Evans, HL, 23.64. 400: Ryker Evans, HL, 53.14. 800: Collin Arehart, AL, 2:03.08. 1,600: Qwentin Kappelmann, AX, 5:02.12. 3,200: Jaron Bergstrom, AX, 10:49.78. 110m Hurdles: Aaron Skaggs, AX, 16.31. 300m Hurdles: Quinn Bertrand, AX, 43.05. 4x100: Ansley/Litchfield (C. Arehart, H. Arehart, Cunningham, Lewis) 45.92. 4x400: Hi-Line 3:42.33. 4x800: Axtell (Kappelmann, Lorenzo, Cole, Miller) 9:11.33. High Jump: Ethan Eloe, AM, 6-4. Pole Vault: Hunter Arehart, AL, 13-0. Long Jump: Nolan Eloe, AM, 19-10 1/2. Triple Jump: Will Kulhanek, OV, 41-10. Shot Put: Carson Rohde, SEM, 52-5 1/4. Discus: Carson Rohde, SEM, 156-6.