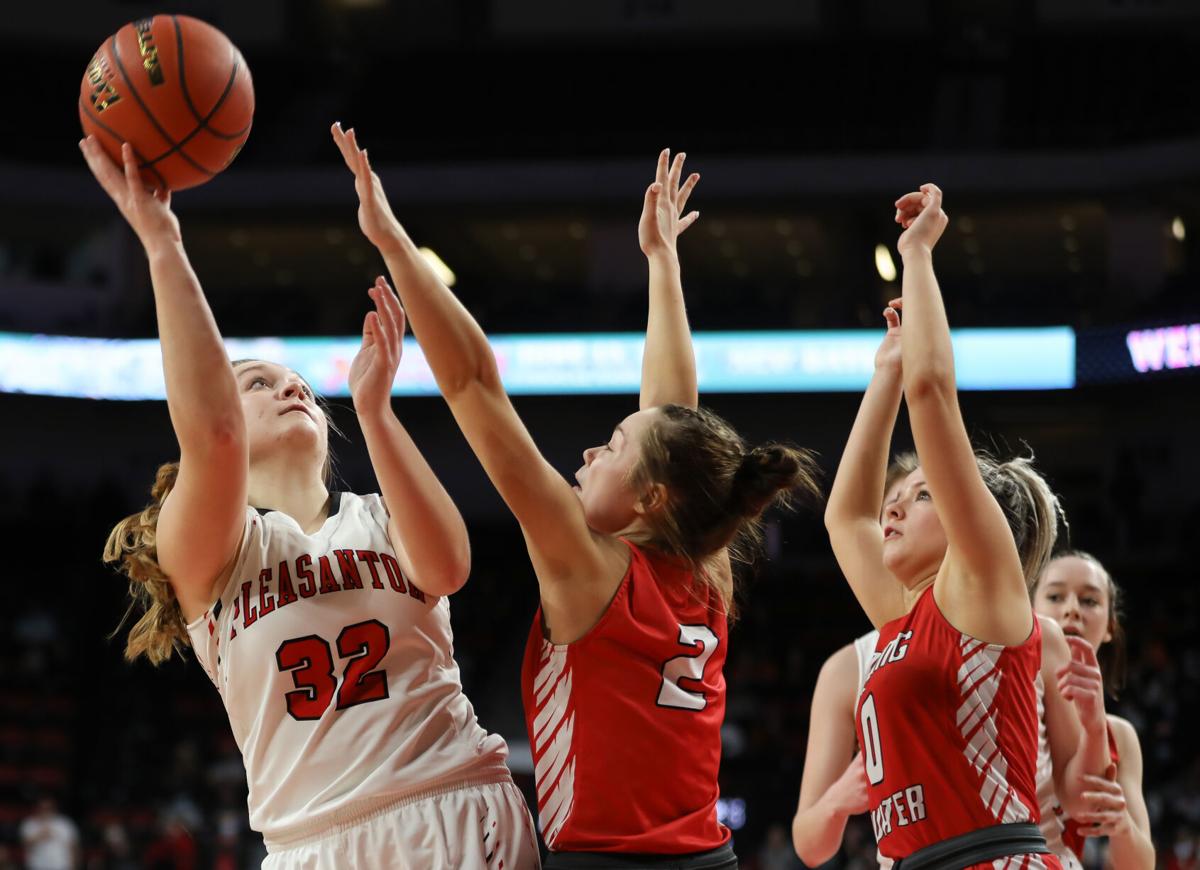 KEARNEY — When it came to clutch time, the Pleasanton Bulldogs knew who needed the ball — Kaci Pierce.
On a team of accomplished athletes, Pierce stood out.
"We always knew she was going to come up big," Pleasanton coach Jordan Arensdorf said. "You saw that in state tournament in the championship game. (In the last 2 minutes, 17 seconds) she scored eight straight points to take the lead. She came up big for us in critical times."
While that lead didn't hold up, and Weeping Water walked away with the state championship trophy, the effort by Pierce didn't go unnoticed. Nor was it unexpected.
The 5-8 senior, averaged 12.7 points and 5.4 rebounds per game this season. She also averaged nearly three steals and two blocked shots per game.
And, for the second straight year, she has been named the Kearney Hub Girls Basketball Player of the Year.
Arensdorf said Pierce played pretty much the same role that she did in Pleasanton's state championship season of 2020, only with more confidence and more experience. She filled a variety of different roles and positions, at times being a shooter, at times a facilitator and at times a physical, post-up presence down low.
"She's a smart player. She's been around the game a long time and uses that to her advantage," Arensdorf said. "She was a lot more confident in herself coming off a junior season where she was named Player of the Year and on the Omaha and Lincoln papers' all-state teams. After being named to those awards, it only builds confidence. She shot the ball a lot better and was definitely more aggressive offensively."
Even though the Bulldogs came up one point short of winning back-to-back state championships, Pierce said this season, "was a great year. ... We had a great ride and made lots of good memories. We set high goals and we didn't quite reach them all, but we were pretty dang close, so I would say it was a successful year."
The core of Pleasanton's success revolved around six seniors who have been playing together all their lives. They established their reputation early, winning the Fort Kearny Conference championship as freshmen. They won the conference tournament the next three years, too.
Pierce rates the sense of accomplishment from that four-year run as conference champions right up there with winning the state championship.
"It's just cool, the legacy that we're leaving behind," she said. "When you go to school it's pretty sweet seeing all the banners and trophies in the hallways. It's definitely rewarding because a lot of little kids look up to us and that makes it fun."
In many ways, the Pleasanton girls have been the heartbeat of the community — a phenomenon reserved for small towns. Having a four-year run, and one that covers multiple sports, has been rewarding.
"We had a lot of support from the whole town. Everybody wanted us to do our best," Pierce said. "Everybody's pretty close-knit. Everybody supports everybody, Everybody is at the games and, especially with the stupid COVID thing, everybody did a great job. They always had their masks all the way up and they did that so that we could have a season."
The challenges of dealing with COVID-19 will leave an indelible mark on this school year. Playing games with limited attendance, wearing masks, using hand sanitizer, everything turned into a distraction.
"I think it was a huge benefit for us that we had such an experienced team. It wasn't as big of a deal that we missed some camps or we didn't see each other as much, or get in the weight room as much, so I think that our experience played a big part in the success," she said
The pandemic restrictions didn't put a damper on Pierce's game. She merely got to spend more time honing her skills.
"I've always loved playing and that started when I was little. I think, in just last couple of years, I've definitely matured with the game; just like making better decisions and stuff," she said. "Yeah, basketball is something I could do every day. I never get tired of it. When I'm bored, I go shoot hoops, or go to town and find some friends and shoot hoops."
Where her future takes her on the court is still unknown. She's had some offers, but she's still undecided.
She has a more clear view of her future away from basketball.
"I definitely want to do something medical, maybe something to do with anesthesiology. I might be like a nurse anesthetist or go and be a full anesthetist. I haven't decided yet," she said.
No matter what, she will always have the memories of the great FKC and state tournament runs she made with her best friends.
"I've had opportunity to be on four completely different teams and they are all great. ... I've always loved sports and it will be dfferent not playing every day but it's something I'll always remember," she said.