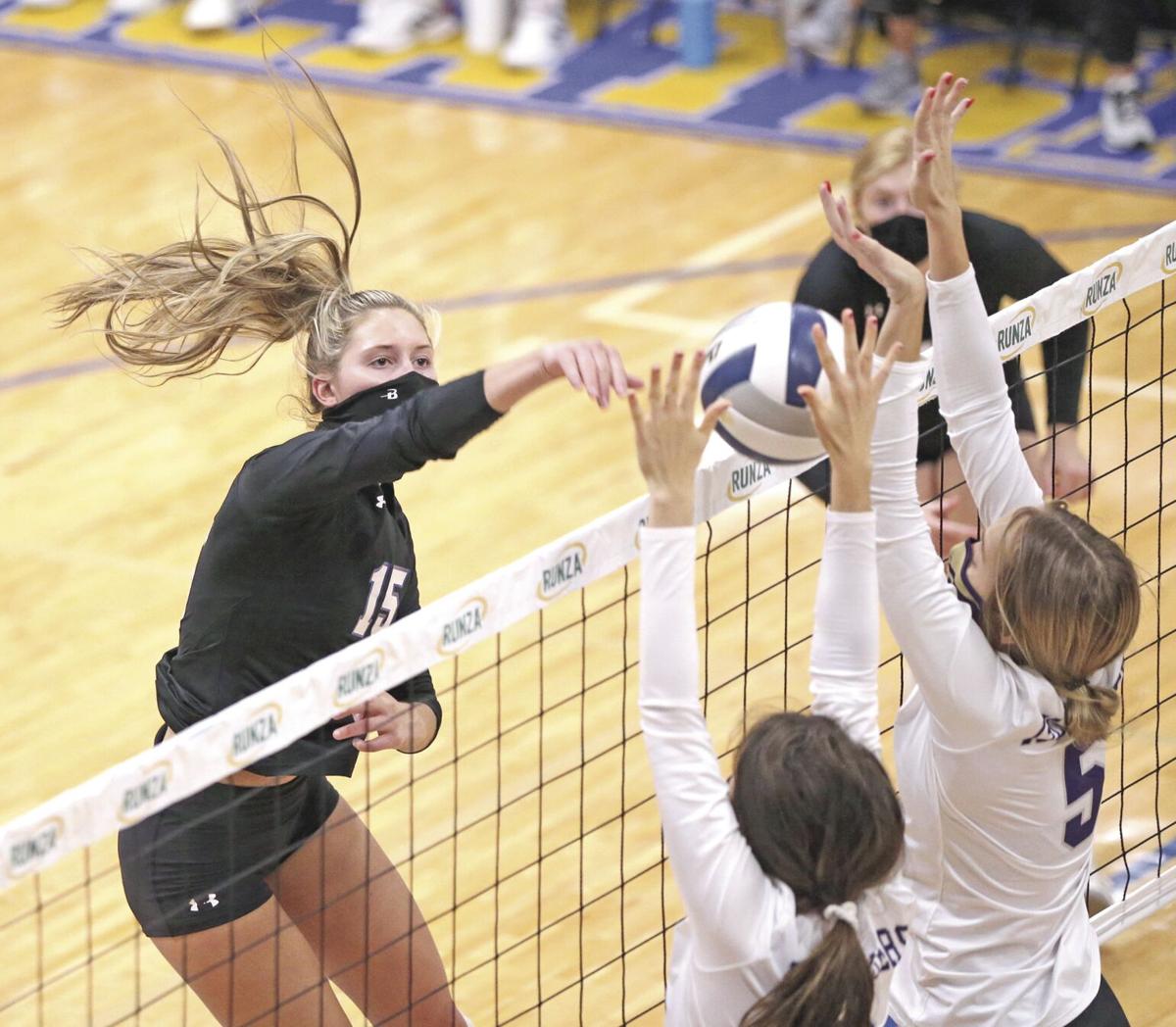 KEARNEY — Kearney High School came close to winning the Kearney High Volleyball Invitational.
Rallying from a 17-10 deficit, the Bearcats tied the score and extended the match before losing to Gretna, 25-23, 20-25, 26-24 Saturday afternoon at KHS.
"It was not quite enough there. I don't want to know how many serves we missed leading up to that," KHS coach Jessica Day said. "We missed at least 10 serves in that game. Missing that many against a team as good as Gretna is something you can't do. ... It's a little disappointing, but we'll fix it. We'll work on it."
The Bearcats were led by 6-foot senior setter Lucy Bartee, who has committed to NCAA Division I Augustana. She had 116 assists in the four matches the Bearcats played.
"She's got such pretty hands and she leads the offense well. She puts people in good positions for hitting and ... she has a knack for who to set and when to dump and she's long," Day said.
KHS opened the day with a 25-16, 22-25, 25-11 win over Grand Island Senior High, then defeated Grand Island Northwest 25-20, 25-22 in Northwest's first action since coming out of quarantine.
The Bearcats won their pool by beating North Platte 25-16, 25-17.
"All in all it was a positive day, 3-1 is a good day," Day said. "I was happy for the most part with what we put out there against Gretna on the last match of the day. I was proud of the fight they showed coming back in the third set. I would have loved to have seen us complete it but fundamentals really kind of bit us there a little bit."
Senior Lily Novacek led the Bearcats with 12 kills and four blocks.
"She's definitely been a leader in the front row and putting the team on her back and saying 'come along with me right now,'" Day said.
Freshman Avery Franzen and senior Aspen Rusher had 10 kills apiece while Bartee had 37 set assists. For Franzen, who hit .375, it was a season-high for kills.
Against North Platte, Novacek had 10 kills, two ace serves and three blocks, while Bartee had three blocks and 23 assists.
Rusher was the leading attacker against Northwest with nine kills, while Novacek had eight. Sidney Province had a team-leading three blocks while Franzen had three ace serves.
Novacek had 12 kills and four blocks against Grand Island Senior High while Rusher had eight kills and Kaleigh Hatcher had three blocks. Bartee had 32 assists.
The pool wins gave 10th-ranked Kearney an eight-match win streak.
"We've been building from the beginning, playing a couple different lineups and I'm really happy with the attitude and the effort of the girls. We're settling in right now and kind of hitting a nice stride," Day said.
In other matches in the Hub Territory:
-- Pleasanton, undefeated and ranked No. 1 in Class D1, won the Elm Creek Invitational, beating the host team 25-17, 25-11 in the final. Katy Lindner led the Bulldogs with 12 kills and Chelsea Fisher had nine. In a 25-21, 25-20 win over Hershey, Lindner had 10 kills, Fisher eight and Belle Paitz seven. Lindner also had three blocks. In a first-round 25-18, 25-15 win over Wood River, Lindner had 12 kills and Paitz had nine. Taryn Flood had three ace serves and Fisher had five blocks.
-- Ashley Brown had six kills and two blocks in Elm Creek's 25-10, 25-10 win over Sutherland. Avery Sindt had three blocks. In a 25-20, 25-18 win over Amherst, Brown had eight kills and Maci McCarter had six. In the loss to Pleasanton, McCarter had a team-leading five kills and Whitney Bauer had four.
-- Silver Lake (7-3) handed Bertrand its first loss of the year at the Loomis 9/11 Memorial Tournament, 25-17, 25-16. The Vikings were held to 18 kills, six by Johanna Ford and five by Erin Boggs. Bertrand (8-1) defeated Maxwell in the first round 25-12, 25-6 with Ford scoring nine kills and Sadie Maloley five. Boggs had five ace serves. In a 25-19, 25-20 win over Franklin, Ford had six kills and Maloley had five. Maloley also had four ace serves.
-- Loomis went 1-2 in its own tournament, beating Hi-Line while losing to Shelton and Hampton. All three matches went three sets. In a 19-25, 25-20, 27-25 loss to Hampton, the Wolves' Samantha Schemper pounded 13 kills and Hanna Stewart scored 11. Schemper also had six ace serves. In a 25-20,, 26-24, 25-14 loss to Shelton, Schemper had a team-high six kills. And in a 25-22, 14-25, 25-20 win over Hi-Line, Schemper had 15 kills, Stewart nine and Caitlynn Wahls seven. Stewart had three ace serves.
-- Amherst went 2-1 at the Elm Creek Invitational, beating Hershey 26-24, 25-12, and S-E-M 20-25, 25-18, 25-14 and losing to Elm Creek 25-20, 25-19. Against Elm Creek, Jaelyn Potts had seven kills and one block for the Broncos while Saryn Prickett and Tenley Hadwiger had three kills each. Prickett had seven kills and one ace serve in the win over Hershey. Potts had six kills and one ace, and Breanna Trampe had two ace serves. In the win over S-E-M, Hadwiger had 11 kills, one ace and one block. Hannah Hedrick added six kills, two blocks and two aces.
-- Axtell finished third at the Hn itchcock County Invitational, beating Hitchcock County in the crossover match after splitting with Maywood-Hayes Center and Wauneta-Palisade in pool matches.
In a 25-18, 24-26, 25-17 win over Wauneta-Palisade, the Wildcats' Lexie Eckhoff had seven kills while Reagan Nordhausen and Paige Lindau had six kills each. Nordhausen also had four blocks.
In a 25-22, 25-22 loss to Maywood-Hayes Center, Jessebertrand and Eckhoff had five kills each and Nordhausen had two blocks.
Eckhoff had five kills and Lindau had four in a 25-18, 25-11 win over Hitchcock County. Jacey Smidt contributed three kills and three ace serves.
Setter Audrey Nelson had 58 assists in the tournament.
Get in the game with our Prep Sports Newsletter
Sent weekly directly to your inbox!