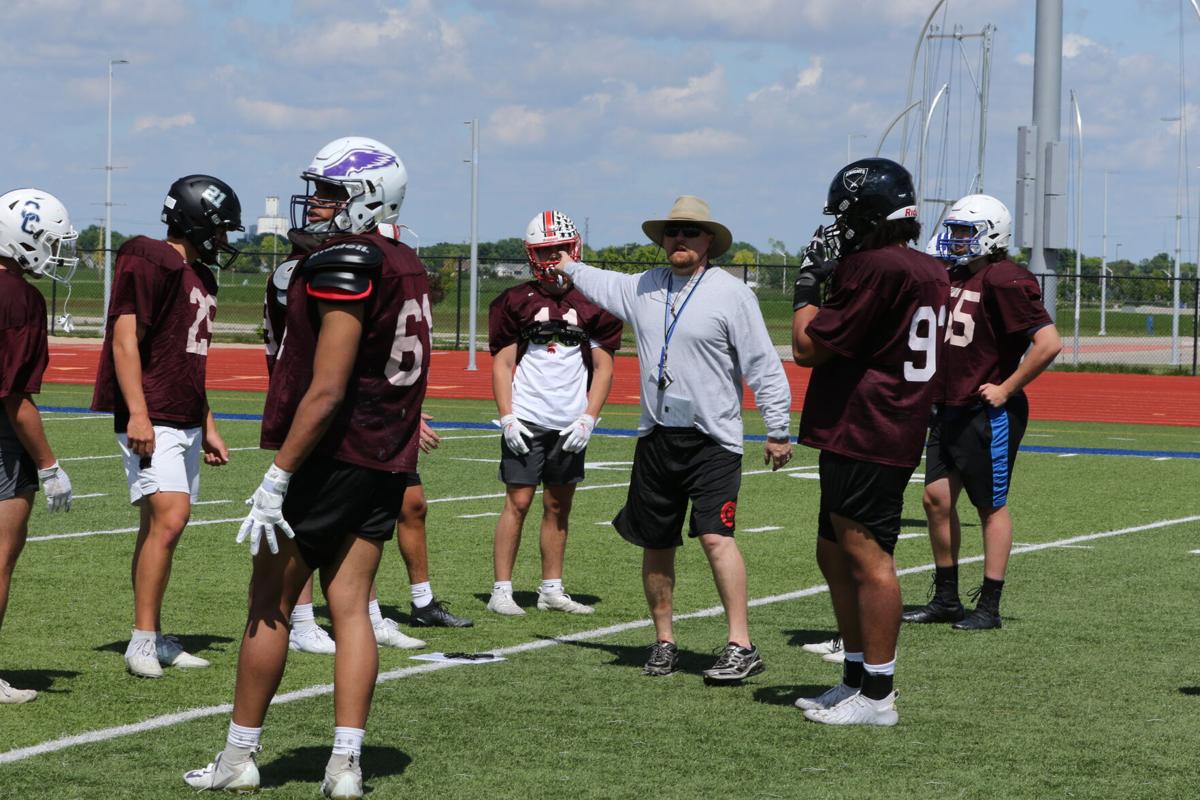 KEARNEY — After an odd year of limitations, the 2021 Shrine Bowl will have no restrictions or guidelines.
Dave MacDonald, the executive director of the Shrine Bowl committee, confirmed that the approval by the Two Rivers Public Health Department and working with the local medical team checked all the boxes to run a regular operation.
"This year the medical staff didn't feel there was a need to have to implement any of those such protocols and that we would be going back to normal," McDonald said.
While the Shrine Bowl will not be mandating face mask requirements, practicing social distancing and proper hygiene still was recommended. The University of Nebraska-Kearney also will be providing hand sanitizers throughout the week.
"We're still asking kids to bring their masks," MacDonald said. "Obviously, if any of those players or coaches feel that they need to wear a mask, they are more than welcome to, but with where we're at, talking with our medical staff, it was made aware to us that there is nothing where we needed to mandate something this year. With everything being in the green and the numbers are going in the right way with people being vaccinated, we were OK not to have a mandate in place, but we are obviously suggesting people to be cautious and understand this new post pandemic world that we're in."
There will be some minor changes and new additions.
For example, the Shrine game will kick off at 6:05 p.m. instead of 2:05 p.m.
"We have got Shriners that will be coming to Kearney from across the state," MacDonald said. "Some of the feedback we got from our organization throughout the years is that they like to see what it is to have a night game from a participation standpoint with Shriners. I know that the Shrine is planning a big hospitality thing for all the Shriners, the band parents and the football parents. Another thing about the night game is it gets us away from the heat of the afternoon and allows us a little cooler temperature."
The Shrine Bowl also will be feature the performance of the Masonic All-Star Marching Band this year. A band that carries between 225 to 300 band members from across the state did not participate last year because of the pandemic.
They will hold a concert Friday at Harmon Park, and then they will be in the parade the next day and perform during halftime. The activities will include a cheer camp for the first time. The parade will kickoff at 11 a.m. in downtown Kearney instead of 10 a.m.
"Nothing out of the ordinary from years past but kind've much different than last year. Definitely back to normal," MacDonald said. "The only real addition is the cheer camp that we are adding and inviting teams and cheerleaders to come participate in that camp this year."
This will be Kearney's eighth year hosting the Shrine Bowl, and the plan is to continue the relationship for years to come. Both parties agreed to have Kearney host Shrine Bowl weekend through 2025 at the minimum. The NCAA prohibited non-scholastic sporting events on a Division I campus. So playing at Memorial Stadium was out of the question after playing there for all these years. What closed the deal was last year. After being denied by both Nebraska Wesleyan University and Doane University, UNK contacted the organization and made it work to have the game at Cope Stadium.
"Because of the pandemic last year, we were told that we couldn't be there," MacDonald said. "Kearney said, 'Hey, let's figure this out together,' and they have always been supportive, but especially last year when they went up-and-beyond to help us ensure that we can play that game. We've been extremely happy with our relationship with all of those people. The corporations and support that we've received from these entities as well as the community itself has been overwhelming. We're thrilled to be back in Kearney."
All game tickets are $14 and general admission, first come, first served seating (price does not include service fees). Tickets are not required for children under the age of 2. Tickets can be purchased on game day at Cope Stadium Box Office. Military and first responders can contact the Shrine Bowl office direct, at 402-477-8908, for a special discount ticket offer of $12 each, advance sale. Students are eligible for a special discount ticket offer of $8 with proof of a valid school ID.