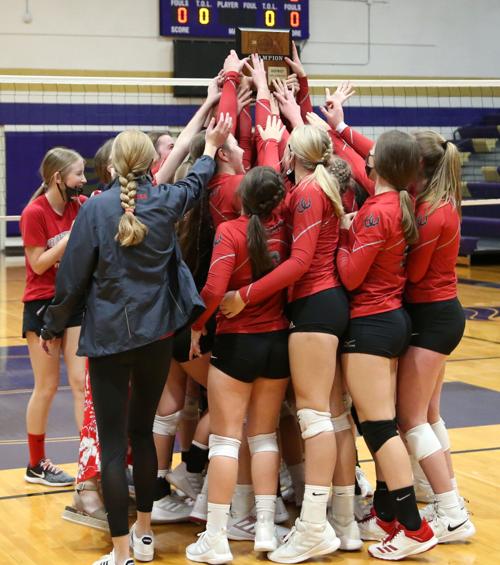 HOLDREGE — Amherst's path to the state volleyball tournament turned into a ski slope.
The Broncos (20-10) stormed to a 25-7, 25-10, 25-14 win over North Platte St. Pat's in the D1-7 District Final Saturday afternoon at Hastings.
It was even easier than it looked as Amherst rolled out to a 12-0 lead in the first set, an outburst that carried over throughout the match as Amherst led 15-3 in the second set and 15-5 in the third set before polishing off the victory.
"We knew they were young and struggled passing some and if we could serve the way we knew we know how to serve, then they might struggle getting their offense set up," Amherst coach Jonie Fader said.
Freshman Hannah Herrick played a big part in that game plan as the first server for the Broncos. Herrick had two ace serves as did Rylee McCurdy, who had back-to-back aces in the third set when the Broncos could sense they were going to earn a state tournament berth.
Amherst will play Archbishop Bergan in the first round Thursday afternoon at Lincoln's Pinnacle Bank Arena. Amherst will play the second game in the 2 p.m. session. Amherst will be the sixth seed in the Class D1 bracket. Pleasanton, which plays in the first time slot in the 2 p.m. session, is the top seed.
After building the early leads, Amherst didn't let up on the Irish. The Broncos had 43 kills, four blocks and five ace serves to account for 52 of their 75 points.
Tenley Hadwiger led the way with 18 kills and three blocks. Jaelyn Potts had 12 kills.
St. Pat's finished with 20 kills but also had 21 attack errors.
"North Platte has a very nice team and their setter has phenomenal hands. They have some outside hitters with great arm swings so we were wanting to keep those hitters from getting hold of their arm swings, so the kids did a good job serving," Fader said.
Fader also hoped the Broncos could take advantage of their experience while taking on a team with only one senior.
"We were a young team last year ... and because we know how it feels to be young it was important to jump out quick and sometimes young kids don't always recover emotionally from getting down that far," Fader said.
KCHS returns to state tournament with sweep over Malcolm
AURORA — Ashley Keck nailed 16 kills and Kearney Catholic swept Malcolm 25-15, 25-19, 25-22 Saturday in Aurora to earn a spot in the Class C1 state tournament after a three-year absence.
Syd Conner added three ace serves to go with 25 set assists as the Stars won their 30th match of the year. Bailey Spangler finished with three blocks.
"We did a nice job of containing their scoring runs and made some good decisions offensively," KCHS coach Kris Conner said.
The good decisions led to a .360 hitting efficiency.
"I'd take a .360 team hitting efficiency any day," Kris Conner said. "That's kind of been our achilles heel, maybe being too aggressive on out-of-system swings, but today we executed well."
The Stars will be the third seed in the Class C1 bracket and will play Lincoln Lutheran in the second match of the 2 p.m. session on Wednesday.
Overton earns return trip to state with win over Gordon-Rushville
OGALLALA — Overton locked up a state tournament berth with a 25-13, 25-11, 25-9 rout of Gordon-Rushville in the C2 District Final at Ogallala.
Haley Fleischman led the Eagles with 14 kills, six aces and four blocks. Rachel Ecklund had nine kills, three blocks and two aces.
In all, the Eagles had 18 ace serves with JoLee Ryan scoring four and Kenzie Scheele two.
Overton (26-2) will play Guardian Angels Central Catholic in the first round of the state tournament Thursday afternoon. The Eagles are the second seed in the Class C2 bracket after qualifying in Class D1 last year.
Pleasanton, 30-0, keeps rolling
KEARNEY — Pleasanton stayed undefeated and claimed the No. 1 seed in the Class D1 state tournament bracket by sweeping Anselmo-Merna 25-19, 25-13, 25-12 Saturday afternoon at Kearney High.
The Bulldogs (30-0) outscored the Coyotes 39-22 in kills and 13-2 in ace serves.
Chelsea Fisher led the Bulldogs at the net with 10 kills and three blocks. Isabelle Paitz also had 10 kills and Katy Lindner had nine kills.
Kaci Pierce had five ace serves and Natalie Siegel had four ace serves to go with her 32 assists.
Get in the game with our Prep Sports Newsletter
Sent weekly directly to your inbox!