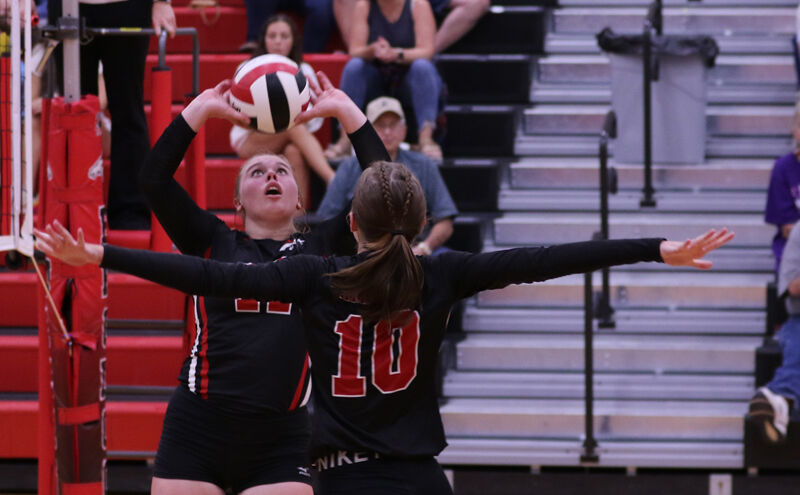 AMHERST — The Amherst volleyball team answered the bell this week.
Facing two teams with a combined record of 20-2 at gametime, the Broncos never broke stride, beating S-E-M (7-2) in four sets on Tuesday and Alma (13-2) in four sets on Thursday.
The wins were exactly what Amherst coach Jonie Fader wanted to see as the Broncos (10-1) try to fight back through an injury rash that beset them at the start of the season.
"We're still not all back. We still have a starter who's out injured. So we're proud of those young kids for jumping in and playing that spot. ... We started the season with three starters injured, and they're just slowly trickling back in and so this was a tough week for us."
Amherst won the first two sets against Alma, 25-20, 25-20. The Broncos led the first set 23-14 and saw the Cardinals win four set points before Amherst claimed the win.
In the second set, Amherst led 16-6 and 23-13 before Alma rallied again, scoring six points while the Broncos needed one to win the set.
In the third set, Amherst broke a 16-16 tie with four straight points but couldn't shake the Cardinals. After leading 25-24, the Broncos had a pair of attack errors and Alma's Carlee Stuhmer had a kill to give the set to Alma, 27-25.
Amherst regrouped to win the fourth set 25-18, never trailing after taking a 5-1 lead.
"We had some down moments, of course, but I'm just so proud of the kids. We're still kind of a young team so to come through emotionally and mentally, that's been our focus, how to pull ourselves out of slumps quickly. I thought the kids did that and recovered well in that fourth set," Fader said.
Amherst had a balanced offense with Hannah Herrick, Tenley Hadwiger and Katy Prickett knocking home more than 15 kills.
Herrick and Prickett had two blocks each and libero Josie Loschonkohl served for two aces.
Addison Siebels led Alma with 10 kills while Stuhmer had nine. The Cardinals also had nine ace serves.
Amherst is back in action Saturday at the Ord Invitational, playing Ord and Stuart in pool play.
"We are pushing for power points. ... Since we've jumped up to (Class) C2 and get through our district and then keep our power points strong," Fader said.
In other volleyball action in the Hub Territory Thursday night:
- Overton's Jolee Ryan had 12 kills and Blair Brennan had six kills in the Eagles' 25-12, 25-15 win over Wilcox-Hildreth. Maeli Meier and Kenzie Scheele had two kills apiece.
In the Eagles' 25-5, 25-10 win over Elm Creek, Ryan had 11 kills and Brennan had five. Ashley Bauer had three kills for Elm Creek while Avery Sindt had four blocks and Ryann Erickson had three.
In a 21-25, 25-19, 25-22 loss to Wilcox-Hildreth, Bauer had eight kills while Adysen McCarter had six and Sindt had five. McCarter also had four ace serves and Bauer had four blocks.
- Bertrand rallied for a 23-25, 25-17, 25-10 win over Arapahoe with Sadie Maloley and Jordan Himer scoring 10 kills each. Emma Brown contributed four ace serves and Bethan Pelton had three.
Bertrand also needed three sets to get by Southern Valley, 25-23, 21-25, 25-21. Hilmer netted 13 kills. Pelton and Leah Schutz had three ace serves apiece.
n Loomis squeezed by Hi-Line 25-16, 17-25, 25-22 with Hannah Stewart smashing 15 kills and Zeigh Booe 10. In a 25-21, 25-18 loss to Axtell, Stewart had six kills.