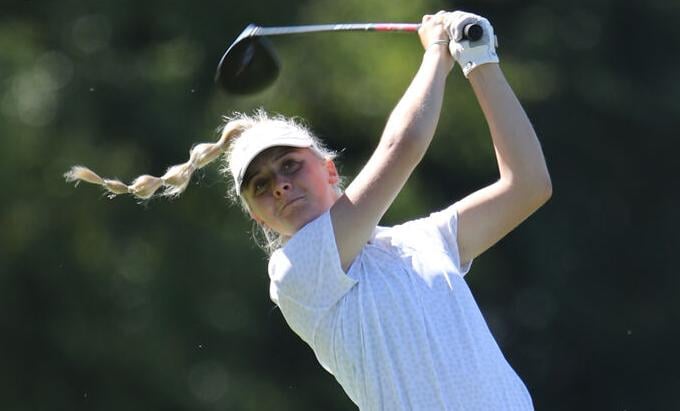 KEARNEY — Two Lincoln Southwest golfers broke 70 and the Silverhawks set a state record for the lowest district tournament score at the A-2 District golf meet played Monday at Awarii Dunes.
Kate Strickland shot a 67 and Neely Adler a 69 to help Southwest shoot a 293 team score that surpassed the North Platte score shot at Awarii Dunes in 2019.
Omaha Marian finished second, shooting a 321, and Kearney placed third, shooting a 355 to advance to the state tournament. This is the sixth time in the past seven years that Kearney has qualified for the state tournament.
"Overall, our team score ended up kind of right around our average or a little below it which, on our home course, we would expect," KHS coach J.D. Carson said.
Senior Hannah Lydiatt led the Bearcats by shooting an 82 to place eighth.
"Hannah has really had some good rounds and really, for the most part, smooth rounds with a lot of bogeys and pars and very few what we would call mistakes that lead to doubles or bigger numbers," Carson said.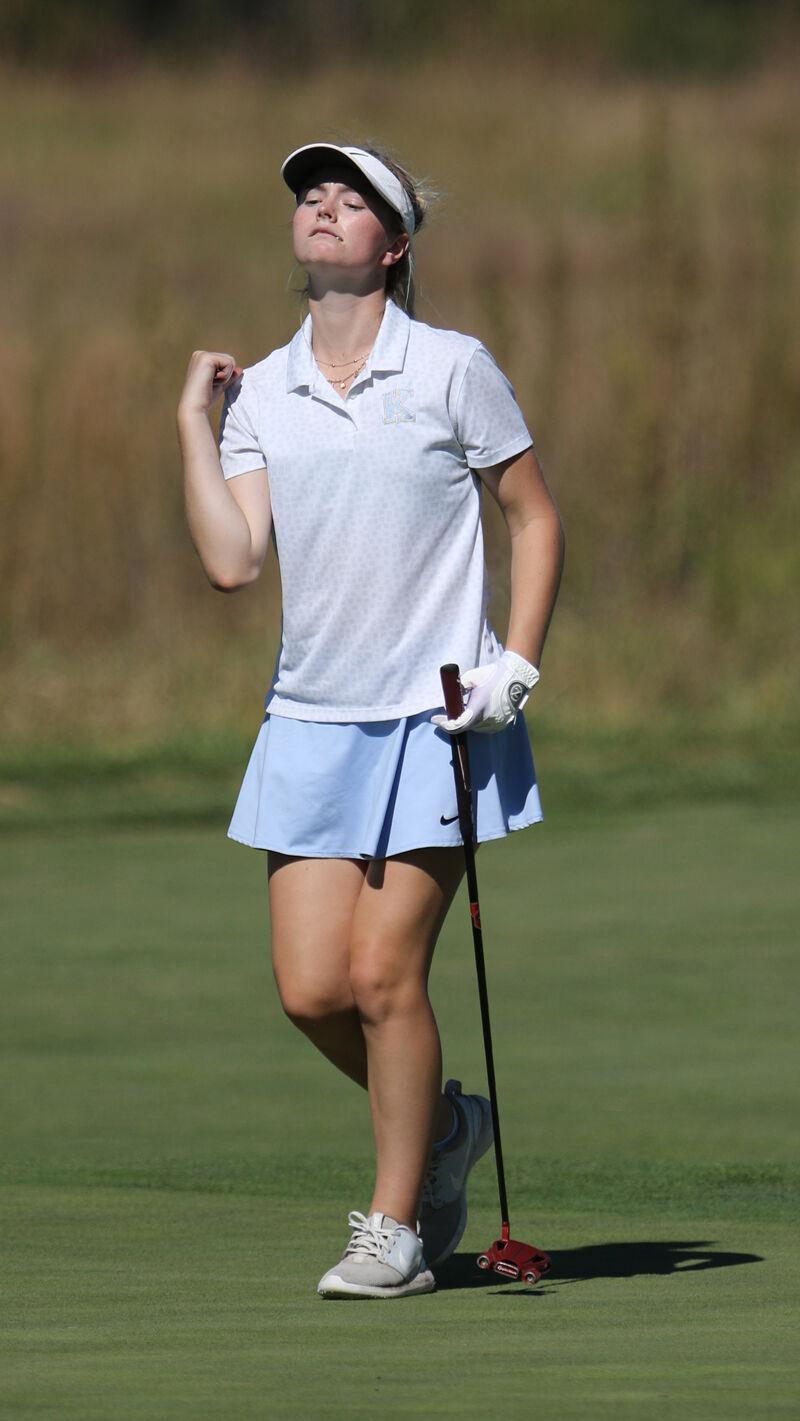 Sydney Peterson finished just out of the Top 10, shooting an 87 followed by Olivia James with an 89, Alexa Mahalek with a 97 and Addi Peterson with 108.
For James, a freshman, Monday's round was a personal best, despite shooting an 11 on one hole.
"It was just an awesome response by her. She just got in a bad spot and made a big number but she followed it up with a birdie and three pars in a row," Carson said. "That's just great mental toughness and awesome to see out of a freshman."
Others had some bumps in the road along the way.
"We definitely threw quite a few strokes away and know we can play better golf," Carson said. "It's a physical sport where you're always going to feel like you can play better, but we definitely know we can play better than that. ... Hopefully it's kind of like basketball, survive and advance. We took care of that job and hopefully we'll be a little bit better next week."
The state tournament is Monday and Tuesday with Class A at Norfolk, Class B at Scottsbluff and Class C at Columbus.
A-2 District at Awarii Dunes
Team Scores — 1, Lincoln Southwest 293 (District record). 2, Omaha Marian 321. 3, Kearney 355. 4, Gretna 402. 5, Ralston/Mercy 409. 6, Omaha Bryan 673.
Top 10 and ties — 1, Kate Strickland, LSW, 67. 2, Neely Adler, LSW, 69. 3, Brielle Abbooud, OM, 77. 4, Alysen Sander, LSW, 78. 5, Lauryn Ball, LSW, 78. 6, Jeslynn Baumgart, OM, 79. 7, Madison Mernan, OM, 81. 8, Hannah Lydiatt, KHS, 82. 9, Lilee Surdell-Eichten, RM, 83. 10T, Ayla Strong, Grand Island, 84. 10T, Tori Schenkelberg, OM, 84. 10T, Tatum Terwilliger, LSW, 84.
SIDNEY — Scottsbluff and Gering finished 1-2 at the B-4 District tournament in Sidney.
Lexington was fifth, four strokes out of third place in the team race. No Lexington golfers qualified as individuals.
B-4 at Hillside Golf Course
Team Scores — 1, Scottsbluff 354. 2, Gering 415. 3, Ogallala 425. 4, Chadron 425. 5, Lexington 429. 6, Alliance 464. 7, Sidney 532. 8, McCook 587.
Top 10 and ties — 1, Emily Krzyzanowski, GER, 71. 2, Anna Kelley, SB, 75. 3, Nielli Heinold, SB, 81. 4, Shae Willats, SB, 89. 5, Jessica Folchert, OG, 95. 6, Sarah Jones, CH, 95. 7, Maralee Rischling, CH, 99. 8, Madison Mumm, GER, 99. 9, Julia Wilson, ALL, 99. 10, Aubree Larson, SID, 99.
HOLDREGE — Four individuals from the Hub Territory qualified for state at the C-4 District in Holdrege.
Broken Bow (372), Cozad (395) and Grand Island Central Catholic (412) claimed the team spots from the district. Minden missed by six strokes and Kearney Catholic by 26.
For the Stars, Maddie Waggoner shot a 99 and tied for 10th to earn a trip to the state tournament.
Ravenna's Sarah McKeon and Holdrege's Ella Jacobsen both shot 92 and finished fifth and sixth to earn a trip to state.
Minden's Callie Whitten will join the state tournament contingent after shooting a 98 and placing ninth.
Team Scores — 1, Broken Bow 372. 2, Cozad 395. 3, Grand Island Central Catholic 412. 4, Minden 418. 5, Kearney Catholic 438. 6, Holdrege 453. 7, Gothenburg 482. 8, Gibbon 506. 9, Cambridge 515. 10, St. Paul 534. 11, Arcadia/Loup City 537. 12, Doniphan-Trumbull 552.
Top 10 and ties — 1, Angela Messere, GICC, 81. 2, Lynzi Becker, COZ, 83. 3, Camryn Johnson, BB, 86. 4, Emery Custer, BB, 91. 5, Sarah McKeon, Ravenna, 92. 6, Ella Jacobson, HOL, 92. 7, Molly Custer, BB, 94. 8, Macy Jones, CAM, 94. 9, Callie Whitten, MIN, 98. 10T, Maddie Waggoner, KC, 99. 10T, Karissa Jackson, COZ, 99.