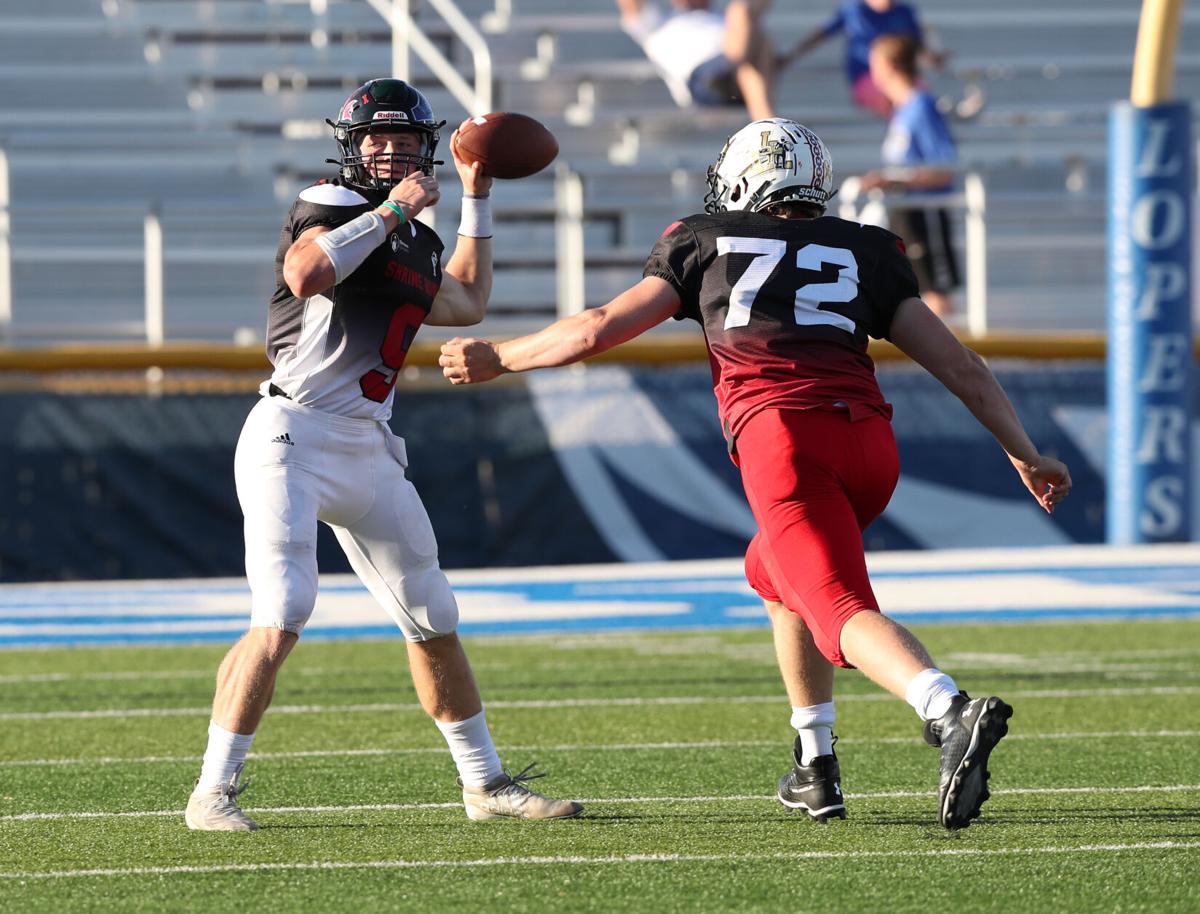 KEARNEY— The North team defense was far from intimidated when playing against this year's Nebraska's Gatorade Player of the Year and North Dakota State-bound quarterback, Cole Payton.
Quite frankly, the defensive front was having a field day during the 63rd annual Nebraska Shrine Bowl on Saturday at UNK's Ron and Carol Cope Stadium at Foster Field..
The North's game plan was quite simple — run to the football and gang tackle, according to North's coach Kurt Frenzen.
The defense kept Payton grounded in the pocket and the pressure from the defensive front and the shut-down coverage from the secondary combined for a 10-3 North victory.
"That's what you have to do when you are playing against guys like that, and that's the biggest thing we had to do and I thought we did that," Frenzen said. "We got multiple guys there to bring him down because you can't bring him down with arm tackles, and I thought we executed well."
Payton struggled to find his rhythm, only completing 25 percent of his passes. On his first drive, after the offense moved the chains to put the South in the red zone, a miscommunication with his receiver led to a one-handed interception grab by James "Jimmy" Quaintance of Millard North.
"I saw the receiver and he wasn't looking back at the time," Quaintance said. "He tried to get up in my face. I just stuck my arm out there and it happened to come in."
Quaitance finished the night with four tackles along with the interception, awarding him Defensive Player of the Game. However, Lincoln High grad Isaac Montgomery was a close second with three total sacks. Two of them were back-to-back.
"Coming into this game, I didn't think I was going to get that type of numbers but with my skills, I knew that I was going to be working the best I could to get back to that quarterback. But three sacks, that's a big accomplishment," Montgomery said.
The North scored on the first drive led by Kale Bird of Bennington. After completing six straight passes in nine plays, a wildcat play by Dexter Larsen from Blair put the North team on the board first.
Bird was named offensive player of the game as he completed 16 of his 26 passes for 133 yards.
"He did a tremendous job, and we had a couple drops that we could've kept driving," Frenzen said. "That was tough.I was so proud of Kale Bird . He's a heck of a kid."
Kelen Meyer of Ord attempted a 57-yard field goal late in the first quarter, but was not successful. He bounced back back with another attempt at the 31 to give the North team a 10-0 lead.
Later in the fourth quarter, Payton created a spark with a 75-yard scramble that put the South team in the red zone. That run was only 1 yard shy of breaking the Shrine Bowl's record for longest run. Afterward, the South settled for a field goal made by Trenton Brehm from Papillion-La Vista South, cutting the lead to 10-3.
The South failed to execute another scoring drive in the final two minutes as the North defense continued to shut down the South offense. Montgomery gave defensive coordinator Wade McVey a shoutout for game-planning against the future Bison.
"He kept us motivated," Montgomery said. "He told us to keep Cole Payton in the pocket and don't let him get outside. You saw that he had that run. Shoutout to the defensive plan we had. We knew coming into this game how great of aplayer Cole Payton was."
---