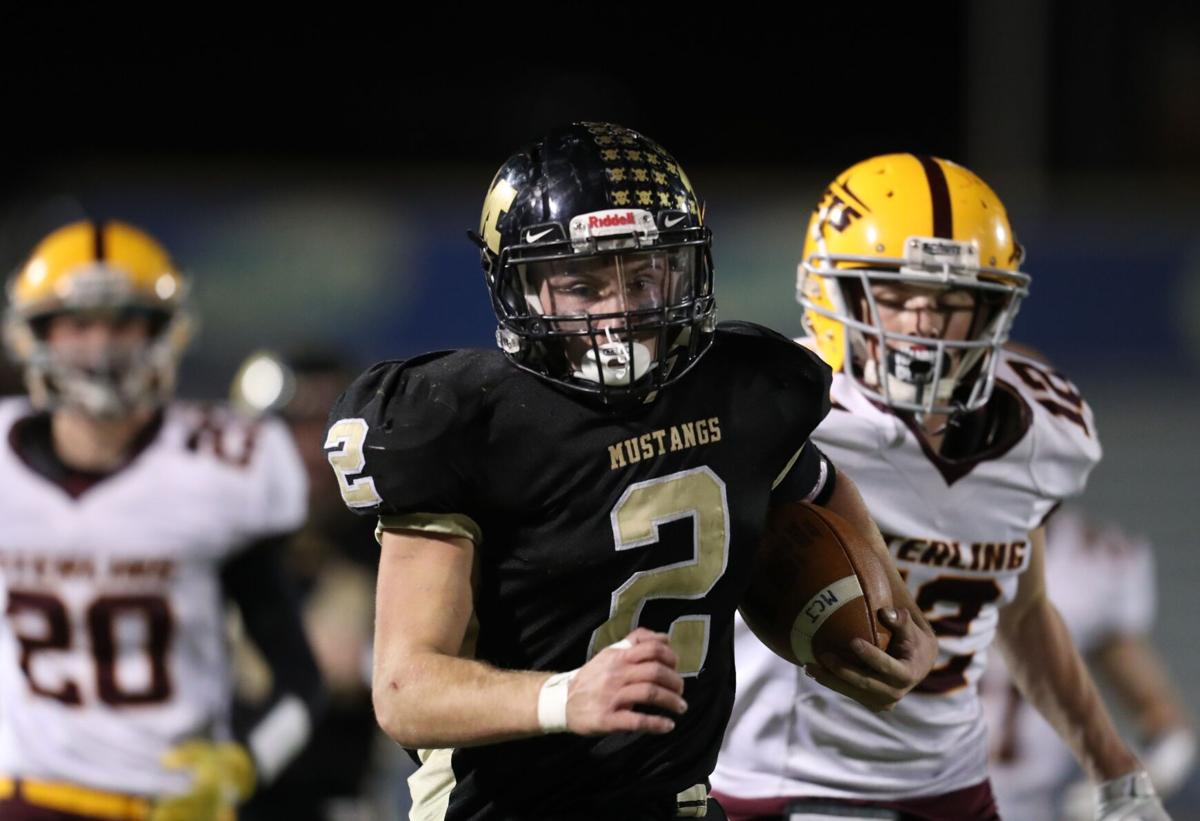 KEARNEY — The six-man state championship football game turned into a one-man show.
McCool Junction's Owen McDonald broke the six-man playoff record for rushing yards with 393, tied the record for rushing touchdowns in a playoff game with eight and he was 8 of 9 on extra-point kicks for 64 of the Mustangs' points in a 70-20 victory over Sterling Friday night at UNK's Ron & Carol Cope Stadium at Foster Field.
At halftime, McDonald, a 5-10, 156-pound senior, had 334 yards on 21 carries. His first, and only, carry in the second half was a 59-yard touchdown.
"I owe it all to my blockers. I have the best blockers in D-6 football without a doubt," McDonald said. "Every touchdown I get is a touchdown to them because they open up the holes like no other."
McDonald averaged nearly 15 yards per carry during the regular season. He peeled off a 52-yard run on his second carry of the championship game, then strung together touchdown runs of 2, 11, 64, 28, 5, 33, 62 and 59 yards.
"If he gets a crease, you're not going to catch him. That's just the way it is," McCool Junction coach Jarrod Weiss said.
The championship paired two unbeaten teams and Sterling struck first. Derek Buss caught a 30-yard touchdown pass from Sam Boldt on the Jets' first possession.
The Mustangs tied it less than a minute later after McDonald's 52-yard run led to his 2-yard touchdown.
But the Jets seemed ready to come right back when Kaden Kirkpatrick sacked Boldt and forced a fumble. Kaeden Bristol scooped up the loose ball and ran 49 yards to the end zone to put the Mustangs ahead for good.
Bristol had his own amazing performance as he rushed for 107 yards on three carries in the first half but scored his only touchdown on defense.
McDonald also did his part on defense where he was the leading tackler with eight and intercepted a pass.
"We knew Owen McDonald was going to be a handful and unfortunately he turned out to be that way," Sterling coach Brent Heusman said. "Their big guys, they're bigger than we are. ... Their line was able to control what we wanted to do unfortunately."
Sterling graduates only three seniors. One, center Kaleb Masur, didn't play in the championship after breaking his leg during the semifinals.
n McCool Junction 70, Sterling 20
McCool Junction30 32  8   0 — 70
Sterling — Derek Buss 30 pass from Sam Boldt (Carson McAuliffe kick) 9:15
McCool Jct. — Owen McDonald 2 run (McDonald kick) 8:24
McCool Jct — Kaden Bristol 39 fumble ret (McDonald kick) 6:30
McCool Jct. — McDonald 11 run (kick failed) 4:09
McCool Jct. — McDonald 64 run (McDonald kick) 3:01
Sterling — Boldt 46 run (kick failed) 2:49
McCool Jct. — McDonald 28 run (McDonald kick0 7:59
McCool Jct. — McDonald 5 run (McDonald kick) 4:31
McCool Jct. — McDonald 33 run (McDonald kick) 3:04
McCool Jct. — McDonald 62 run (McDonald kick) 0:53
McCool Jct. — McDonald 59 run (McDonald kick) 9:49
Sterling — Boldt 18 pass from Garrett Hier (kick failed) 0:31
Rushing — SHS: Sam Boldt 9-72, Wyatt Rathe 1-19, Derek Buss 3-10, Jesus Gonzalez Gonzalez-Castillo 1-0, Andrew Richardson 1-(minus 1). MJHS: Owen McDonald 22-393, Kaeden Bristol 6-108, Chase Wilkinson 4-8, Dylan Rieken 1-3, Team 1-(minus 2), Ryland Garretson 1-(minus 2).
Passing — SHS: Sam Boldt 7-12-1, 66 yds; Andrew Richardson 2-7-0, 19 yds; Garret Hier 2-6-1-, 25 yds.; Derek Buss 2-4-1, 17 yds.; MJHS: Jonah Barrow 2-3-0, 40 yds.; Kaeden Bristol 1-1-0, 13 yds; Owen McDonald 1-1-0, 13 yds.
Receiving — SHS: Derek Buss 5-49, Garret Hier 3-29, Tanner McDonald 2-18, Sam Boldt 1-16, Kody Goracke 1-9, Andrew Richardson 1-6. MJHS: Bradley Lewis 3-54, Ryland Garretson 1-12.
Be the first to know
Get local news delivered to your inbox!