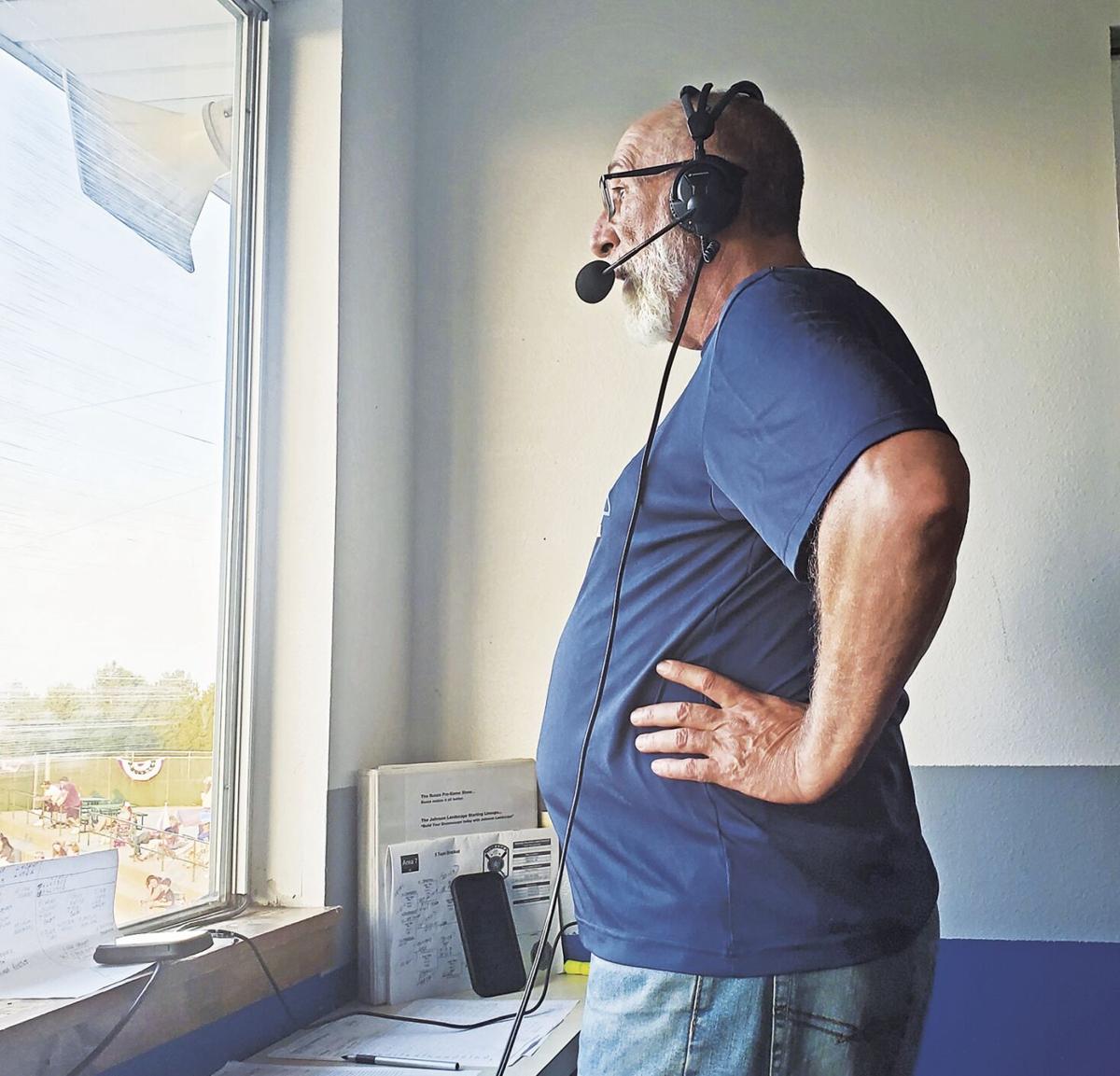 KEARNEY— As the Kearney Runza baseball team ended its season last week, KGFW's David Jenner made his final radio call.
Prior to the game, Jenner officially announced his retirement from KGFW and Hits 106.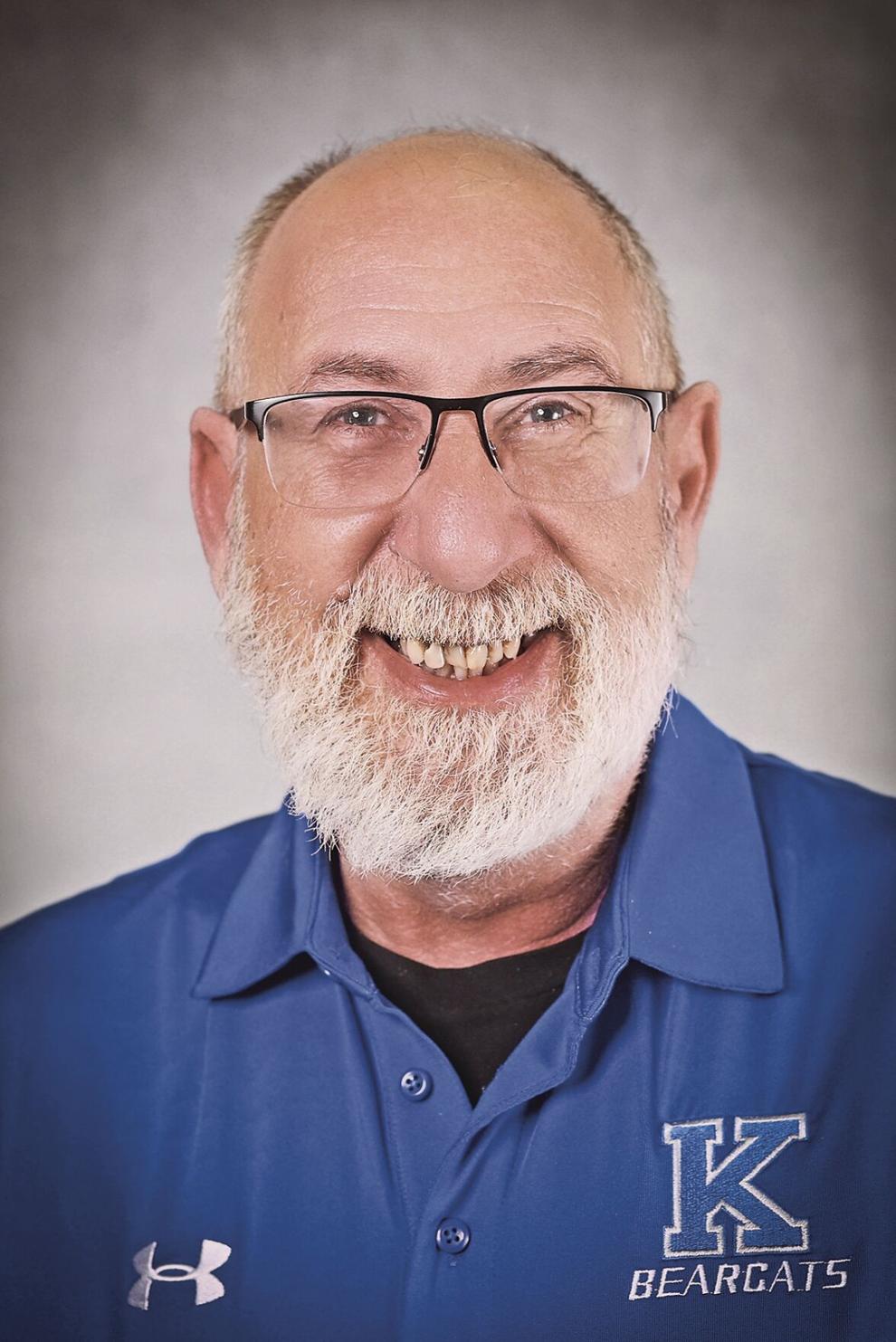 The Yankton, South Dakota, native always has been involved in local sporting events and in music as a professional guitarist at 15 years old, which eventually led him to a radio career.
Now 30 years later, it was an emotional decision for Jenner to not only put down the headset and microphone for good but to declare the city of Kearney his home.
"Kearney is part of my family. Not just the people in this building, but the people in the community. Kearney is a pretty special place. I didn't think I was going to call any place home after leaving Yankton. All the young men and women that I've had the opportunity to watch compete, and work hard to succeed and sometimes fail," Jenner said. "The support I received from the families and stuff, it has meant a lot to me. It really has. Walking away is not easy, but I don't think it ever is.
"... but like I said, I feel like I've given what I could give, and I just pray that it just continues for everybody in this community because I love this town."
Throughout the years, Jenner has provided joy to the Kearney community with his sense of humor and passion for sports broadcasting and radio programming. Also known as "Lil Dave," Jenner had to wear different hats while being part of the radio station.
In the morning, he hosts "The Morning Crave" with Eugene "Bic" Bichlmeier, and in the evenings, he's in a local press box covering a Kearney sporting event. Jenner dealt with the demanding hours of clocking in at 5 a.m. to coming home at midnight, consistently. Jenner said he thought about retirement a year prior and what he could do if he ever left the radio business. It was then he realized how he had dedicated 30 years of nonstop radio airwaves to the public.
"I feel like I've done my part," he said. "I tried to contribute to the sports program in this town and the radio station. I feel like I could walk away with my head up high right now."
One thing Jenner is going to miss is some of the perks that come with the job. That includes attending a game for free. Being well-known in the Kearney community, it will be an adjustment for him as a spectator.
"I'm going to miss not having to pay to get into a ball game," Jenner said. "I was thinking about that last night. I told my wife that I can't believe I have to pay to get into a ball game. I always thought it was kind of funny that I have been here for 30 years and some places will give you the identity badge and stuff. I don't need an identity badge. Everybody knows who I am. That's going to be weird."
When asked about his favorite memory of a game or player he covered during the last 30 years, Jenner could not pick one and has enjoyed all the times he had as a broadcaster.
"I've worked with a ton of amazing talented people over the years, and I learned an awful lot," he said. "Sometimes, and that's for any industry, you learn what to do and what not to do. I was fortunate enough to have people who showed me what to do, and had a lot of patience with me."
Jenner began his career as a board operator and engineered all the local baseball games, which opened his eyes.
"I remember calling my dad and saying — with tears in my eyes — 'I'm getting paid to listen to a baseball game,'" he said.
Jenner had the pleasure of working with long-time radio directors Paul Wice and Steve Altmaier. Wice was known as the "Voice of Kearney" and Altmaier covered sports before Jenner took over. Some would call the two legends, Jenner called them mentors.
The best advice Altmaier gave to Jenner was to show up early when covering a game. According to Jenner, Altmaier would show up at least two hours before a game and Jenner benefitted from the advice. After Altmaier retired, Jenner took over, and he utilized all the tools he learned from his mentor.
"Everything that I learned," Jenner said. "I learned from Steve. Steve was an amazing broadcaster, and I learned so much by his side for years. Then when I took over, I hoped that I could continue the legacy that he built."
Jenner has worked with three different hosts for morning shows. Bichlmeier will be his last co-host.
Bichlmeier and Jenner have been working together for four years but have been friends for 10 years. The first day working together had a little twist to it.
"Our show had a unique start," Bichlmeier said. "He was actually out of the country for his honeymoon, and our first show together was during the solar eclipse of 2017, which was ironic that it was our first day."
The chemistry kept growing the more they got to know one another. Bichlmeier took things seriously when he first started in KGFW. Jenner taught Bichlmeier how to stay loose and not take things too seriously, or in Jenner's terms, "flop with the mop."
"When the microphone is turned off, he is completely down to earth," Bichlmeier said. "He's caring and loving and will do anything for everybody. There's going to be some growing pains when he moves on. This is someone who I've been with for years now in the morning, and he's going to be missed."
Bichlemeier admires Jenner and he hopes to follow in his footsteps. He loves all the fun times they had together. He also mentioned how his friendship grew closer after the death of Jenner's son.
"I know what it's like to lose a parent, but a parent should never go through the process of losing their own, and I'll never forget that day before Thanksgiving when I got that phone call from him," Bichlmeier said. "He told me what happened, and it was just heart-breaking. Being with him through the process made us closer, but this guy is a family man, he's a hard worker in what he does professionally with the radio station."
As Jenner departs, he doesn't know what he wants to do during his retirement. He does, however, have plans to move to Geneva with his wife, Dawn. Jenner wants to find a regular 9-to-5 job to keep him busy. However, he will never forget his time in Kearney and at KGFW.
Jenner said, "I do love my job, and I love the people that I work with, but like I said, if I'm going to leave, I want to leave and feel like I accomplished a lot, and I can feel good about what I have done."